Hospice Courts Gift Aid Donors Following CHARiot Roll Out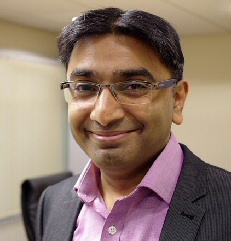 QUEENSCOURT Hospice are planning a 'Gift Aid Month' in October to kick start gift aid collection after installing the CHARiot electronic point of sale (EPoS) system from Nisyst. The move follows the charity's success in signing up 500 Gift Aid donors and processing 1,000 donation bags within a month of implementing the:- 'CHARiot' system which is part of Queenscourt Hospice's target for recouping Gift Aid on 30% of donations. The hospice provides palliative care for adults from across the Southport, Formby and West Lancashire area and has 6 shops selling donated goods to help raise funds. The charity was keen to implement a Gift Aid system to help it maximise the value of donations and asked four specialist charity EPoS providers to tender for the contract, selecting Nisyst's CHARiot system thanks to its ease of use. Explains Natalie Cornall from Queenscourt Hospice:- "I had previously worked for another hospice and knew that an EPoS system is the only effective way to collect Gift Aid, which we had previously only recouped from furniture donations. Our main priority was to ensure that we selected a system that is simple for all our team of staff and volunteers to use and when Nisyst came in to demonstrate the CHARiot system, everyone could operate it straight away with no previous EPoS experience, which ticked that box straight away." Queenscourt Hospice decided to install the CHARiot system in all 6 of its shops and its warehouse facility, making the change in 3 shops at 1st and rolling it out to the remainder over the next few weeks.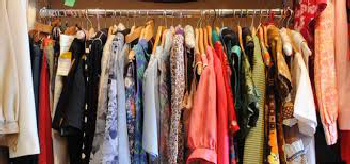 A one day on site training course was provided for staff by Nisyst as part of the installation process and the trained team members then passed their knowledge of the system onto the remainder of the volunteers. Natalie continues:- "One of the other main priorities for us when we were selecting an EPoS system was ease of management. Thanks to the helpline support provided by Nisyst, we can be confident that our volunteers are only a phone call away from technical support if they need it. That fact alone has really helped with the transition and our volunteers are comfortable using the system, knowing that there will be a friendly voice on the phone to talk them through any problems in simple steps without patronising them." With the shops now all using the CHARiot system, Queenscourt Hospice will drive recruitment of Gift Aid donors during its Gift Aid Month in October 2014, with the tills automatically processing the additional revenue. Natalie added that:- "Gift Aid helps us gain more from each donation and doesn't cost the donor anything. With CHARiot now in place across all our shops processing that revenue is genuinely as easy as selecting the right field on the touch screen."
Blacklight Run to start in 2015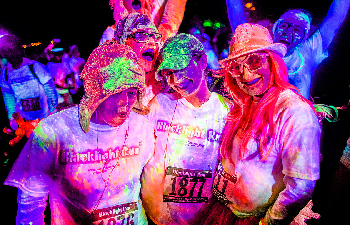 THE Blacklight Run is a family fun event that is focusing on the fun rather than speed encouraging people to walk, dance, run or crawl their way around the 5k route. Along the route they will be showered with biodegradable glow powder. In addition to the course, there is a pre and post run party with more glow powder shower and a DJ entertaining the crowd with music etc. The all inclusive event is open to all ages and abilities; people can bring children in pushchairs and elderly relatives in wheelchairs! Please spread the word and let the people of Liverpool and surrounding areas know about this extremely fun event. It has taken America by storm and it is hoped to bring the same success to the UK, next year! The event takes place at Aintree Racecourse on 31 October 2015, making it a Halloween Party to remember! More information can be found on the event's website, on Facebook and on Twitter, using the handle:- @blacklightrunuk.
Liverpool Astronomical Society November Monthly Meeting Update
THE Next meeting will be held on Friday, 21 November 2014, at 7pm, in the Quaker Meeting House, located on School Lane, Liverpool (L1 3BT). the Society is please to announce that they will be having Adele Horton, from the:- 'Astronomia – Surrey's Astronomy Centre' as the guest speaker for the night. His talk will be intitled:- "How to Choose Your First Telescope." the event will be free. For more information, please go to:- LliverpoolAS.Org and to acknowledge your attendance please email:- ggastro@liverpool.ac.uk. This event should be one of the best ones the Society has hosed this year, so it is not to be missed if you like all things astronomical!

Karen Potter Craven Minor JFL
Fixtures Week Ending 9 November 2014
Under 11 Premiership
Burscough 9-0 Birkdale United
Southport FC Juniors 3-4 Formby JSC White
Trinity White 2-3 Redgate White
Under 11 Championship
Redgate Yellow 2-4 S&A Blue
Hesketh Colts 1-3 Formby JSC Black
Crosby Stuart 5-2 Trinity Blue
Formby Athletic 6-1 Phoenix
Under 12 Premiership
Hesketh Colts 3-1 Trinity Blue
Trinity White 1-9 Birkdale United
Altown United 9-0 Formby Athletic
Under 12 Championship
S&B Red 1-3 Mitch Green
S&B Yellow 0-6 S&A Amateurs
Redgate Rovers 8-1 Phoenix
Under 13 Tom Galvin Cup
Birkdale Black 5-2 Southport Trinity
Formby JSC 9-1 Redgate Rovers
Under 13
Birkdale S 2-0 Hesketh Colts
Southport FC Juniors 9-0 S&A Amateurs
Under 14
Southport FC Juniors 2-3 Birkdale Black
Formby JSC 1-5 Birkdale United
S&A Amateurs 2-3 Redgate Rovers
Under 15
Churchtown Athletic 2-4 Birkdale United
The Hares 4-2 Southport Trinity
Southport FC Juniors 3-4 Formby JSC
Under 16 Adam Bell Cup
Churchtown Athletic 9-0 Redgate Green
Under 16
Jaguars White 6-2 Jaguars Red
S&A Amateurs 2-3 Southport FC Juniors
Under 17/18 Geoff White Memorial Cup
Birkdale United 6-3 Hudson Celtic
Under 17/18 Premiership
Lydiate 3-3 Hudson Rangers
AFC Liverpool 7-2 S&A Red
Town Green 3-5 Redgate Rovers
Under 17/18 Championship
Formby JSC Black 4-4 Dynamo Ranger
Southport Trinity 3-0 Birkdale Black

Fixtures Week Ending 16 November 2014
Under 11 Premiership
Burscough v Southport FC Juniors
S&A Red v Trinity White
Birkdale United v Redgate White
Under 11 Championship
Phoenix v Hesketh Colts
Trinity Blue v S&A Blue
Formby JSC Black v Formby Athletic
Under 12 Premiership
Town Green v Formby Rangers
Trinity Blue v Formby Athletic
Altown United v Trinity White
Under 12 Championship
Formby JSC Black v S&B Yellow
Southport FC Juniors v Mitch Green
Ormskirk v Redgate Rovers
S&B Red v Phoenix
Mitch Red Warriors v S&A Amateurs
Under 13
Birkdale R v Birkdale Black
Formby Athletic v Hesketh Colts
Southport FC Juniors v Southport Trinity
Formby JSC v Birkdale S
Under 14 Anita Shaw Memorial Cup
Southport Trinity v S&A Amateurs
Under 14
Formby JSC v Hesketh Colts
Southport FC Juniors v Redgate Rovers
Under 15
Churchtown Athletic v Formby JSC
Birkdale United v Redgate Rovers
Under 16
Redgate Green v Formby JSC
Hesketh Colts v Jaguars White
Southport FC Juniors v Redgate Yellow
S&A Amateurs v Churchtown Athletic
Under 17/18 Premiership
S&A Red v Birkdale United
Town Green v AFC Liverpool
Under 17/18 Championship
Dynamo Rangers v Redgate Yellow
Southport Trinity v Hudson Celtic