"Drop a Drink Size and have a Drier January"
PEOPLE in Liverpool are being urged to start 2015 by dropping a shirt or dress size through reducing the amount of alcohol they drink. Drier January, run by the Public Health team at Liverpool City Council, aims to get people thinking about their alcohol intake in the run-up to the festive season, and commit to drink less through the first month of the New Year. It is estimated that more than 40,000 adults in Liverpool drink more than they should do; with around 11,000 at a high risk of harm. They are being encouraged to "Drop a Drink Size" in the new campaign. As well as the other health risks involved in drinking too much alcohol, many people are not aware of the extra calories involved. Three pints of beer, for example, is the equivalent of eating two burgers.

People are being asked to consider:-
The calorie content of their favourite tipple
Having 2 alcohol-free days a week
Alternating alcohol with soft drinks
Choosing drinks with fewer units
Not keeping lots of alcohol at home
They are also being asked to sign up to Drier January through the website, which has tips about reducing drinking. Participants will be asked if they want to complete a questionnaire to find out if their drinking falls in line with the Department of Health guidelines which say men should not drink more than 3 to 4 units of alcohol per day and women 2 to 3 units. And they will be offered the opportunity to attend free physical activity sessions at the City Council's Lifestyles.

"Drop and Drink Size" was launched during Alcohol Awareness Week at the Brink on 19 November 2014 when Art and Soul will present a thought provoking one act play and workshop with health messages about reducing alcohol consumption.

Deputy Mayor and cabinet member for Social Care and Health, Councillor Roz Gladden, said:- "This is a really important issue as alcohol misuse is very important health concern in Liverpool. Although we have had success in reducing the number of hospital admissions we still rank 13th out of 326 Councils in England for alcohol related reasons. As well as the other health issues many people just do not know how many calories there are in drinks. Lots of people want to lose weight but they, perhaps, don't realise just how many calories they are consuming when they have a drink. Signing up to this campaign will help them to really drop a drink size in the New Year."
Public meeting on private rented housing
A public meeting to be held at Liverpool Town Hall next week will examine the role of the private rented sector in the City. The meeting, on Tuesday, 25 November 2014, from 6.30 to 8.30pm, will ask:- "Does the private rented sector in Liverpool work well for landlords and tenants?" It is open to landlords, tenants, students and anybody with an interest in this sector. A panel with representatives from the City Council, the National Landlords Association, Generation Rent , Sigma Regeneration, Engage, and Liverpool Student Homes will lead the discussion and answer questions. Question time will be chaired by Radio Merseyside's Roger Phillips

Among the issues to be discussed are:-
► Driving up Standards in the private rented sector.
► Being a Landlord in Liverpool.
► Tenants' Perspective.
► Investing in the Rented Sector.
► Impact on Our Neighbourhoods.
► The Student Market.
Councillor Ann O'Byrne, the cabinet member for housing, said:- "The private rented sector has an increasingly important role in the City. The number of privately rented properties has more than doubled in the last decade and there are now over 50,000 tenancies and more than 5,000 landlords. We will be looking at whether the growth of the private rented sector is a good thing for those looking for accommodation in the City and what impact it has on local neighbourhoods. But we want to give everybody with an interest in this area the chance to have their say and to question experts about it so I would hope both tenants and landlords take the opportunity to attend this meeting."

The old Vic gets a new lease of life following £150,000 refurbishment
POPULAR Southport pub, the Victoria, is hosting a grand reopening, 28 November 2014, following a £150,000 refurbishment package. The investment; funded jointly by leading Lancashire brewer, Daniel Thwaites, and pub landlords, Steve and Sue Kirkbride; will re-launch the historic local, which has established itself as a haven for Southport residents and visitors to the area. Steve and Sue have been landlords at The Victoria for over 6 years. Located opposite the popular Southport Pier, the pub is one of the busiest in the town and regularly hosts gatherings and headline music events, such as Southport's Superstar, taking place in 2015. Construction work started on 27 October 2014 and is due to be completed mid-November, in time for the official opening on 28 November 2014. No strangers to the pub trade, Steve has been a landlord for over 22 years, following in the footsteps of his parents, after a brief stint as a long-distance lorry driver. Commenting on refurbishments at The Victoria, Steve said:- "We can't wait for the refurbishments to be completed. Everyone's really excited to see what changes we're making. They will be substantial, but in keeping with the Victorian building; nothing ultra-modern."

As part of the extensive refurbishments, The Victoria large central bar is being relocated to open up the space and make room extra seating and a performance area for live music. The pub's menu and wine list is also set for a transformation, with the addition of a new cocktail menu. The new look food menu will feature a host of classic pub favourites, including lamb shanks, spaghetti bolognaise and fresh, hand cut chips. Steve commented:- "Our vision for The Victoria has always been to create a warm, friendly, family run pub with real atmosphere. We're flying the flag for tradition and bringing old-school independent pubs back to British towns."

Catering for ale lovers, the full range of Thwaites award-winning hand-pulled cask ales including Wainwright golden ale, Nutty Black, Lancaster Bomber and Thwaites Original will be on the bar. They will be joined by 'The Ale that I Breathe' – an ale brewed especially in honour of the opening and which takes its inspiration from the 60s hit by popular rock band, The Hollies. Steve added:- "The beer's name is a nod to our famous fans, The Hollies. They come whenever they play in Southport and chat with the locals. They're playing a gig the weekend of our reopening, so we'll be showing them the results of the revamp and letting them their sample The Ale that I Breathe."

Other notable guests in showing their support at the pub's reopening of the Southport Lifeboat Crew; an organisation which landlords Steve and Sue have raised money for, for 12 years. Live music will be provided by local musicians 'BJ Franklin & Jackie' and 'Thwaites' famous shire horses; Bomber and Wainwright; will be making an appearance.

Andrew Buchanan commented:- "The Victoria is a fantastic pub, with a rich history and loyal customer base. The pub had a fantastic boost when Steve and Sue took on the licence 6 years ago and is set for a further revitalisation with this investment package. We're fully supportive of all our pub tenants and I have no doubt that Steve and Sue's commitment and dedication will ensure The Victoria is the pride of Southport."
Portrait paints hope for children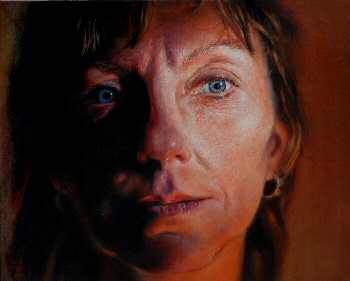 MAREK Jarotta, a Slovakian Artist featured in the famous Saatchi gallery, is selling a one-off portrait in The Children's Society's charity shop on Ormskirk high street. Marek's paintings often look like film stills due to a rich use of colour and the portrait being sold in the Ormskirk shop is a 80x100cm oil painting of the artist's mother. The portrait was being delivered to the BP Portrait Awards but became lost. Through a partnership with ParcelForce, whereby undelivered items are donated to the shop after a certain amount of time, the portrait found its way here. It is now on sale for £1,500 with proceeds going towards the charity's work with some of the most disadvantaged children, including those living in poverty. Marek said:- "I'm really proud that my portrait will help children desperately in need of support and I hope it goes to a loving home." Heather Jones, Ormskirk shop manager, said:- "We were quite surprised to have such an unusual item in the shop, but we are really excited to have some keen art lovers visit the shop." To find out more about the portrait please call the Ormskirk shop on:- 01695 579692.