Aintree Sell Out Bursting with Entertainment for the Betfred Becher Chase Community Day
AINTREE legends Hello Bud and Neptune Collonge to be showcased in the parade ring before Betfred Becher Chase Crabbie's Grand National Trophy will be on display with photo opportunity for racegoers Aintree bringing Ladies Day fashion show to the Betfred Becher Chase

The Betfred Becher Chase Community Raceday sell out will be packed with entertainment, Aintree legends and 1st class racing on Saturday, 6 December 2014, with the initiative being supported by Racing UK and Merseyrail.

The Betfred Becher Chase is a Grade Three National Hunt chase run over the Grand National fences, with a total prize fund of £140,000. It is one of the most exciting days in the racing calendar with the Betfred Grand Sefton Chase also over the Grand National fences and another feature on the day.

In addition to the off the track activity already announced, Aintree Racecourse is delighted to reveal that Betfred Becher Chase legend, Hello Bud, and Grand National winner, Neptune Collonge, will both be showcased on the day. Hello Bud, 2 time winner of the Betfred Becher Chase in 2010 and 2012, was ridden both times by Crabbie's Grand National ambassador Sam Twiston-Davies; and Neptune Collonge who was victorious in the 2012 Grand National will both appear in the parade ring prior to the 2014 Betfred Becher Chase.

As well as Hello Bud and Neptune Collonge, Aintree is having a side saddle display in the parade ring before racing starts. Side saddle is a form of equestrianism that uses a type of saddle which allows a rider to sit aside a horse. Sitting aside dates back to the 19th Century and is a retained specialty equestrian niche, even in the modern world. Amy Bryan-Dowell and Chloe Gunn, who regularly compete at side saddle, will lead the display on Saturday, 6 December 2014.

Aintree Racecourse has also confirmed that the current Grand National trophy will be on display in a trophy marquee opposite the Queen Mother Stand. Racegoers will be encouraged to have a picture taken with the trophy for £1, which will go to the featured charity of the day, The Walton Centre.

Aintree will be looking ahead to the Crabbie's Grand National Ladies Day with a flavour of style and fashion being showcased in the Lower Saddle Bar. There will be an upbeat theme to the area with a DJ and a catwalk where dancers will model current trends for Ladies Day in April. Aintree will be holding a number of competitions in the lead up to the Betfred Becher Chase to win one of ten exclusive course and parade ring facing booths, with champagne for the day. Competitions will run each Friday until Friday, 5 December 2014... For latest go to Twitter:-@AintreeRaces #FabulousFriday.

John Baker, North West Regional Director for Jockey Club Racecourses, commented:- "The Betfred Becher Chase is proving to be a fantastic day's racing for the 42,000 people who've registered to come. Aside from the Grand National fences being showcased for the first time this jumps season, we have an abundance of exciting activity taking place off the track for kids and adults alike. We're delighted to have the Crabbie's Grand National trophy here for people to see and look forward to showcasing a snippet of the Ladies Day fashion ahead of the National. We also have two true Aintree legends here in Hello Bud and Neptune Collonge, which will be great to see. At Aintree we always try to give the best possible customer experience and we're confident that with all the fantastic activity taking place, racegoers will have a great day out."

Aside from the above activity Aintree recently announced plenty of other activity off the track such as Juice FM roadshow and stage, the famous Winners Bar being transformed into a children's Christmas area with Santa Claus and goodies for the kids, as well as a large variety of catering options with more pop up bars and eateries including a Big Red London Bus Bar and a converted Tuk Tuk Curry van.

The world famous racecourse will also be launching its new Community Programme, so there will be a large community feel to the day. Liverpool based Palm Sugar will also be on site providing cocktail service in the Platinum Lounge, while The Upper Saddle Bar will also be transformed into a winter Ice Bar.

With The Crabbie's Grand National only four months away, Aintree TV will provide insight into the Grand National Festival itself and there will be a "Punter's Panel" with special guests looking ahead to not only the day's racing, but providing pointers to the Crabbie's Grand National Festival 2015. Racegoers will also be able to buy 2015 Crabbie's Grand National tickets cheaper than normal with Aintree waiving the booking and postage fee of £7.50, if people buy on Becher Chase Day.

Even though the Betfred Becher Chase is sold out of general tickets, limited hospitality places are still available, please contact the racecourse for more information.

Organisers are expecting a large crowd for the event and stress that racegoers make suitable travel arrangements to and from Aintree Racecourse. Parking on site is available, but public transport is advised. Please go to:- merseyrail.org for timetables and more information on the most convenient way to travel to and from Aintree on Saturday, 6 December 2014. The initiative has been driven by Racing UK (Sky 432/Virgin 536/Freeview 231/UPC 411) which has organised free entry at many of its 34 racecourses. For further information please go to:- aintree.thejockeyclub.co.uk or call:- 0844 579 3001.

Merseyside celebrities get ready to be locked up for 'Good'!
WITH just over a week to go until the event, Merseyside Police is getting ready to 'lock up' celebrities as well as business leaders as part of an event to raise thousands of pounds for the Princes Trust. Samantha Giles (Bernice Blackstock from Emmerdale), actor Paul Barber (Only Fools and Horses, the Full Monty and One Night in Istanbul) and Philip Olivier who's appeared in Brookside, Hollyoaks and Benidorm, amongst other things, will all be spending time in the cells in a bid to raise as much money as possible for the Trust. The trio will be joining business leaders from across Merseyside and will be subject to the full custody experience from being transported in a Police van, fingerprinted and questioned to locked up in the custody suite. The more money that everyone raises for the Trust, the longer people will stay in the cells. The event is taking place on Friday, 28 November 2014. Inspector Steve Richardson said:- "This promises to be a fantastic event where people will raise money for a great cause. We're delighted that Samantha, Paul and Philip have agreed to take part. They all have close ties to Merseyside and hopefully they will all enjoy the experience whilst, at the same time, helping us to reach our fundraising target. There are still four cells left and if anyone wants to take part they can register their interest or get more information by visiting the Merseyside Police website or by email. You can also follow all the action on Merseyside Police's twitter account, using the hashtag, #LU4G."
Life changing support for the Armed Forces Community!
THE National charity Veterans Council is unveiling AFCOM Directory, a revolutionary new website that has the potential to provide life changing choices for members of the Armed Forces Community. As a result of Covenant funding and effective stakeholder engagement Veterans Council has worked with a team of specialists to completely revamp The Armed Forces Community Directory (AFComD). AFCOM Directory provides a single point of contact into Health, Mental Health, Education, Employment, Housing, Welfare and Legal. Each and every service provider listed on the site has been assured to ensure they are aligned to the Armed Forces Covenant and understand the issues faced by serving personnel, veterans, reservists and their families. In the case of healthcare, all registered organisations must comply with the relevant NHS, NICE or CQC guidelines.

AFCOM Directory offers an assurance process for service providers and an excellent customer journey that makes it easy for members of the Armed Forces Community to find the support they need. Qualified staff behind AFCOM Directory are on hand to support people through this process to ensure the Armed Forces Community gets the right support from the right service, at the right time.

GPs, professionals and organisations from the public, private and 3rd sectors working with the Armed Forces Community are being encouraged to register their services on AFCOM Directory. Visitors to the AFCOM Directory website can search for assured services or contact a selection of service providers committed to assisting them. Just one click on the 'I need support' button will start the search. AFCOM Directory will be presented to a selected audience of stakeholders, trustees and members of the Armed Forces Community at Veterans Council's prestigious Centre of Excellence Awards, Thursday, 27 November, 2014, Manchester Imperial War Museum.

Des White, Veterans Council Chairman, said:- "The Centre of Excellence Awards is the biggest event in our annual calendar, so it seemed fitting to use the Awards as a platform to show our unique AFCOM Directory, one of our most exciting projects to date. This Directory fulfils a dire need within the Armed Forces Community - the need to connect with assured service providers who understand their needs."

AFCOM Directory will be launched at the Centre of Excellence Awards on Thursday, 27 November, 2014. Interviews and photo opportunities are available with the Veterans Council and at the Centre of Excellence Awards. For more information, please contact Shelley O'Neill on:- 01565 632 112 or email:- shelley@boxedred.com.
Witness appeal after bag stolen from Sandhills train - Merseyside!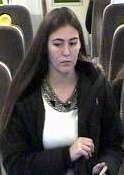 THE British Transport Police (BTP) are appealing for witness after a bag was stolen from a train travelling between Sandhills and Maghull. The incident happened at around 1.30pm on Saturday, 25 October 2014. Investigating officer PC Rahim Ithnin said:- "A passenger had left his black holdall on at the train at Sandhills. He checked with lost property but nothing had been handed in. A woman later boarded the train at Sandhills, but left the train Ormskirk, with the man's holdall. We believe the woman in the CCTV could have vital information that could help us with our investigation. If anyone recognises her, we would urge them to come forward. If anyone has any information please contact British Transport Police on:- 0800 40 50 40, or text 61016, quoting background reference:- PSUB/B5 of 21/11/2014. Information can also be passed anonymously to the independent charity Crimestoppers on:- 0800 555 111."