Accessible Tourism survey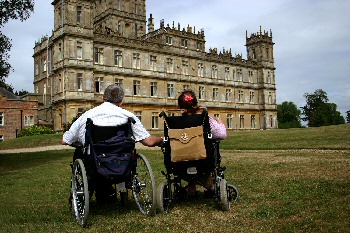 NORTH West's museums among best for accessibility, finds new survey by disability charity Vitalise. But charity warns tourist venues could risk missing out on a share of £212 billion a year value of 'Purple Pound' due to lack of accessibility and launches #AccessNow campaign to push for urgent change

Museums in Liverpool and Manchester came among the top performers in a new accessibility survey of the UK's top 100 most visited tourist attractions, released by the national disability charity Vitalise. But, Vitalise is warning, many of the North West's leading visitor attractions could be putting vital income at risk through a lack of access for disabled visitors.

Among the many visitor attractions excelling for accessibility in the region were the Museum of Liverpool, which came 2nd in Vitalise's survey, the World Museum Liverpool at 6th and the Imperial War Museum North in Manchester, which ranked ninth.

Liverpool's Walker Art Gallery, Merseyside Maritime Museum and Tate Liverpool, and Manchester's Museum of Science and Industry also figured among the 30 best performers for accessibility featuring in the survey. But many people with disabilities could be missing out on the best of the UK's cultural heritage this half term break due to a lack of accessibility, the study found. This also means that many tourist attractions could miss out on their share of the estimated £212 billion annual spending power of disabled visitors; the so-called 'Purple Pound'.

Vitalise runs the Sandpipers respite holiday centre in Southport and regularly takes its disabled guests on excursions to major visitor attractions in the North West. The charity has today published the findings of its new survey of the UK's top 100 most-visited tourist attractions in the form of an easy online reference guide for people with disabilities.

The study is the culmination of several months of research by Vitalise to gain an accurate picture of the state of accessibility across the UK's most popular visitor attractions, as well as to provide an invaluable online guide for people with disabilities.

The Vitalise study found that:-

► 27% did not have essential accessibility information on their websites.
► Only 17% had all their staff trained in disability awareness.
► Only 15% were equipped with hoists; an indispensable item for many disabled visitors.

► At the same time as flagging up where more work on accessibility is still clearly needed, Vitalise also cautiously welcomed other findings suggesting gradual progress:-

► 82% had overall Vitalise accessibility scores over 70%.
► 36% of the venues surveyed had a ratio of disabled to non-disabled toilets of 20% or more; greater than the proportion of disabled people in the general population (19%).
► 8 out of 10 venues had fully accessible approaches from outside areas. ...continued...

...continued... However, as people around the UK plan half term trips to local visitor attractions, a recent Vitalise survey of its guests found that 65% of people with disabilities have decided against visiting a tourist attraction because they found their accessibility information to be insufficient, confusing or difficult to obtain.

This highlights a need for greater clarity, thoroughness and ease of access in the information tourist attractions provide for their disabled visitors, suggests Vitalise.

In the light of its research, Vitalise is calling for more effort on the part of the UK's visitor attractions to become fully accessible and easier access to key accessibility information online, in order to ease the worries of people with disabilities. They risk losing out on a share of the estimated £212 billion annual value of the 'Purple Pound' if they don't take accessibility seriously, Vitalise is warning.

At the same time the charity has launched #AccessNow, a new campaign to enlist the support of people with disabilities in its push for urgent improvements to accessibility.

Vitalise is asking people with disabilities to share their experiences of visiting tourist attractions and other public venues via an online form on the charity's website or by emailing them to:- media@vitalise.org.uk.

People are also being encouraged to share their experiences with Vitalise via social media by posting photos, videos and updates on Facebook and Twitter, with the hashtag #AccessNow.

Vitalise provides respite breaks for people with disabilities and carers, combining 24-hour nurse-led care with a real holiday experience, at Sandpipers and two other accessible UK centres. Accessible excursions to local tourist attractions are an integral part of the experience. The charity conducts a thorough assessment of the accessibility arrangements of each tourist attraction to which it takes its guests.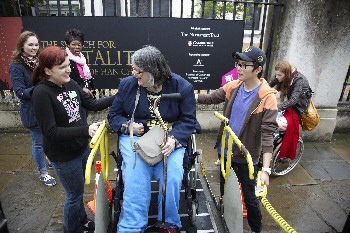 Commenting on the charity's survey findings, Vitalise Chairman Mindy Sawhney said:- "We're delighted to acknowledge the efforts of those venues that not only represent the very best of our cultural life, but that are making that cultural life fully accessible to everyone. The fact that 1 in 3 of us lives with a disability or has someone close who does strengthens the case that accessibility is the right thing to do. But we say to tourist attractions that it's also the smart thing to do. Disabled people and their households spend around £212 billion each year; have you done everything you can do to make sure that their spending some of this money with you? We're asking venues to focus their efforts on three things: first and easiest make sure your website has clear, practical and accurate information about accessibility. Shockingly, many do not. Second, be imaginative about how to make 100% of your visitor experience accessible to people using wheelchairs. And third, make a hoist available at every venue: these cost comparatively little to install and yet are often the determining factor in whether or not a person living with a disability can enjoy what so many of us can take for granted. The best advice we can give to venues is to involve people with disabilities in your plans; they know what real accessibility means and will tell you the truth about whether you're getting it right. Finally, we ask visitors to attractions everywhere to tell us about your experience; the terrific and the terrible; through our Access Now campaign. Let's build a body of knowledge that makes planning a trip easy and that provides decision makers everywhere with overwhelming evidence about the real state of accessibility."
Please email us your views on this issue to:- news24@southportreporter.com and let us know your thoughts about accessibility in and around Merseyside.