Customs raid illegal fuel operations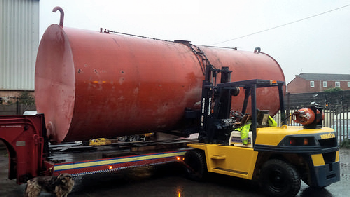 2 suspected diesel laundering plants, capable evading an estimated £12 million in duty between them, have been dismantled by HM Revenue and Customs (HMRC) in Essex and Merseyside. The discovery of the plants, which are capable of producing 20 million litres of illicit fuel a year, is connected to activity by Kent Police, investigating the theft of fuel from commercial pipelines in the UK. During a series of multi-agency operations last Thursday, on 20 November 2014, HMRC, accompanied by officers from Merseyside Police, searched commercial premises in the Bootle area where they discovered a laundering plant in an industrial unit. In coordinated activity, HMRC and officers from Kent Police searched a number of commercial premises in the Upminster and West Thurrock areas of Essex and uncovered a second fuel laundering facility.

Pat Curtis, National Oils Co-ordinator, HMRC, said:- "Every illegal diesel laundering operation typically generates tonnes of toxic waste and robs UK taxpayers by evading fuel duty. Taxpayers are not only missing out on the stolen tax that ends up the pockets of the criminals, but will have to pay the substantial clean-up and disposal costs. Buying illicit fuel not only funds crime, it supports and encourages these dangerous activities within our communities and we will continue to work with our partners in the Police to target this criminality, which costs millions in lost taxes every year."

Investigations into the seizures are continuing.
£2.3 million to improve Merseyside's local services
MERSEYSIDE has been awarded nearly £2.3 million by the government to improve services in the county. Local authorities will receive a share of the £89.4 million Transformation Challenge Award for 3 projects in the county. £1 million will be used to set up a Health and Employment Action Team in Wirral, with the aim of getting people off health related benefits and back into work. In areas of Birkenhead, over a third of the working population claimed these kinds of benefits in 2013. All 6 of the county's local Councils will also receive £765,500 to improve local care services, and Liverpool has been awarded £512,987 to support struggling families and prevent problems becoming crises. Local Government Minister Kris Hopkins said:- "Merseyside has shown what can be done to improve the services people get and reduce the costs of public services. By working with others, local public bodies are eliminating waste and creating services which help people first time; not services which send people from pillar to post to get problems sorted." All of the bids were submitted by partnerships which set out how they would work together to eliminate duplicate services and provide more coherent support for people. In total, the 73 successful bids involve 287 partners including 122 local authorities and 165 other organisations across the public, private and voluntary sectors.
Almost 24,500 2 year olds accessing free childcare
FREE childcare is offered to 2 year olds from low income families and the government has doubled the number of available places to include 40% of families. Evidence suggests that children from less advantaged backgrounds often start school 19 months behind their peers, but also reveals that good quality childcare can reduce this gap and have a significant benefit in terms of a child's development. The support is part of a raft of free childcare offered by the government, worth more than £8,000 per child for families with small children. Parents are today being called on by Sam Gyimah, Childcare and Education Minister, to check their eligibility and access every penny of funding they can. Childcare and Education Minister, Sam Gyimah, said:- "The early years count which is why making sure parents have access to affordable, high quality education is part of our plan for education. I know that childcare costs can be a real burden for some parents and am pleased to see so many parents in the North West taking up the free childcare offered for their 2 year old. I want every parent in the North West to look at the Government support on offer and access whatever you can."

The government is also supporting parents by offering:-

► 15 hours of free childcare a week for all 3 and 4 year olds.

► tax-free childcare worth £2,000 per child per year, from 2015, expected to help 1.9m working families.

► support for families on the lowest incomes, by meeting up to 85% of their childcare costs under Universal Credit.

Design success for City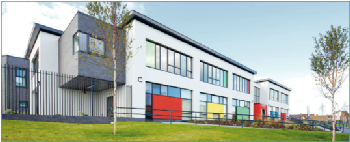 2 Liverpool buildings have been recognised nationally for their architectural credentials. The Society for Construction and Architecture in Local Authorities (SCALA) award ceremony highlights excellence in design and construction across the UK and Liverpool Central Library and Four Oaks Primary School have topped the list.

Central Library scooped the top prize in the Regeneration Category of the Civic Building of the Year, and the judges said:- "This building has a magical quality and cannot fail to impress any visitor. Behind the classical facade both new and existing elements have been successfully moulded to produce a stunning interior and a library of the highest class. The acute orientation of the oval atrium and location of the link bridges between floors is a master piece of modern design."

Four Oaks Primary School in Everton was highly commended with judges saying:- "The bold use of natural light floods the reception area and sets an uplifting tone for the whole school. At its heart there is a unique cone shaped hall which is surrounded on 2 levels by innovative teaching and recreational spaces. The first floor play decks and external landscaped courtyards complete the creation of a safe and uplifting learning environment."

Assistant Mayor and Cabinet Member responsible for libraries, Councillor Wendy Simon, said:- "I'm delighted that 2 Liverpool venues have deservedly had a spotlight shone on them for their outstanding architectural design. Since Central Library reopened in 2013 the response from both members of the public and industry professionals has been overwhelming, with praise being given to the transformation which saw the retention of some of the classic features and the introduction modern facilities and materials. Four Oaks Primary is a brand new building, opening only 2 years ago in 2012, and gives pupils the opportunity to learn in state of the art surroundings which has been making a positive difference to their education. To have 2 Liverpool entries on the UK wide shortlist is commendable enough, but for one of them to win and the other to be highly commended is a real coup, and all the teams who worked on both sites should be incredibly proud."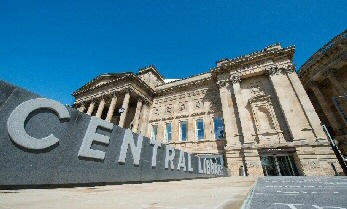 Central Library re-opened its doors in May 2013 following a £50m restoration which took 10 years in the planning and more than two years in construction. Inspire Partnership delivered the scheme and the main contractor were Shepherd Construction. Austin-Smith Lord were the architects responsible for the project. To date it has welcomed 1.2 million visitors through the door.

Neil Chapman, Austin-Smith: Lord Partner and Head of Urban Regeneration, said:- "It has taken some time, but re-presenting this wonderful collection of historic buildings to the community was tremendously fulfilling for all the team; but much as we love the buildings, to see the atrium buzzing with activity and a client excited with opportunities for the future is really rewarding. I think this is what the regeneration award is all about and we are proud to have been involved."

Four Oaks Primary School was formed from the federation of Hope Valley and Breckfield Primary Schools. The 2 storey building was designed by the City Council's design joint venture partnership, 2020 Liverpool. Outside there is an extensive play area providing a "park like" setting, and the 1st floor has access to an internal "play deck" with large roof lights to let in large amounts of natural light and sunshine.

Four Oaks Headteacher, Sara Robinson, said:- "We are over the moon, firstly to have been shortlisted, but then to go on to be highly commended is a real honour. We're massively proud of our school and both the staff and children find it an inspirational and enjoyable place to work and learn. When the SCALA judges came to the school for a site visit a couple of months ago they could clearly see the impact this new building was having on everyone which is why we received such a commendation. Since the accolade, we have been approached by another local authority which was so impressed by images of the school, their team want to come and see it for themselves and maybe look to replicate the model in their own area which is hugely rewarding for everyone connected to the school."