Independent report outlines benefits of regenerated Walton Hall Park
LIVERPOOL City Council has released an independent study which outlines the potential benefits of a regenerated Walton Hall Park which would include a new stadium for Everton FC. The outline feasibility report by Volterra Partners has found that the scheme has the potential to unlock regeneration opportunities and develop long term step changes in the area. The authors found that it could create up to 1,250 permanent jobs, 1,000 new homes and 30,000 square metres of leisure, retail and restaurant space. It envisages re-providing all of the facilities that are currently available, including the Lifestyles Leisure Centre, Liverpool Soccer Centre, children's play area and sports pitches. It is estimated that a 50,000 seater stadium and associated development would take 40% to 50% of the 130 acre park, but that the remaining green space would be upgraded, offering better quality facilities and links with neighbouring housing. The regeneration scheme could also accommodate university facilities linked to sports, a school and a larger primary health practice. Joe Anderson, Mayor of Liverpool, said:- "Today we have published an outline feasibility report which looks into the extent of the impact of the Walton Hall Park regeneration project. This report, which is wholly independent, is in no way a plan or an agreement, but is an investigation only into the potential of a project of this scale. The figures used within it are looking at the maximum possibilities. It looks at statistics such as crime, education and unemployment figures and analyses the difference and benefits that a regeneration project could make to the area. I can state that, at this time, no plans have been presented to us by Everton FC, but clearly it would be irresponsible of us to allow anyone to come to us with any proposal, for anywhere in the City without us first taking a full and in-depth look at the situation. During all the discussions and public consultation events we have been open and transparent about the process that we are undertaking and so we have a responsibility to share this report and its findings with the public. We are listening to residents and we will continue to do so throughout the whole process. We have a designated team who will answer any questions and we will continue to keep you involved every step of the way." The Council and the Club are working with public, private and voluntary sector partners, including Liverpool Mutual Homes (LMH) and Everton in the Community, to explore and understand community needs and then develop and ultimately deliver a new, vibrant and sustainable neighbourhood for North Liverpool. More information about the overall scheme can be found online. Also for Everton fans looking for more information can visit:- EvertonFC.com.
Police widen their appeal to trace Good Samaritans who helped sexual assault victim
DETECTIVES from Merseyside Police are investigating a non-recent serious sexual assault have widened their appeal to trace a couple who came to the aid of the distressed teenage victim. Officers have been trying to trace the man and woman who helped the teenager back in 1990, but have so far been unable to track them down. The victim reported the incident to police earlier this year and enquiries have been ongoing since then. This week, officers widened their search for the pair as it is believed they may have now moved out of the area. The victim, who was 15 at the time, was raped at an address near Halton Road in Runcorn in 1990. She managed to escape from the house and ran along Halton Road until she flagged down a car driven by a man in his early 20s. His passenger was a woman of around the same age. They kindly dropped her off and made sure she got into her house safely. The woman knocked on the door and urged the girl to tell her parents what had happened to her. However, the victim made her go because she did not want her parents to know what had happened. DI Clare Coleman, who is investigating the incident, said:- "We initially appealed for the couple to come forward a few months ago hoping that they would see the appeal and come forward. But so far we have not heard from them. Our initial appeal was focused on the local community hoping that the couple still lived locally. Given that no-one came forward we now believe that the couple may have moved out of the area and are extending our appeal to a wider audience in the hope we can trace them. Even though it was a long time ago, I am sure that the couple will still remember picking up a teenage girl who was clearly in a distressed state and certainly remember hearing the shocking revelation that she had been raped. The man and the woman kindly dropped her off and made sure she got into her house safely. Maybe as an afterthought, the woman knocked on the door and urged the girl to tell her parents what had happened to her. However, the victim made her go because she didn't want her parents to know what had happened. I would urge this man and woman to come forward and help us with our investigation. I′m sure they must wonder whatever happened to that young girl they helped; and would want to do anything they could to help her again if they had the opportunity. This is their chance; if you recognise yourself as the man and woman who helped the teenager please contact me or my team in the Dedicated Rape Unit on:- 101 quoting incident number:- 114 of 26 April 2014." Alternatively information can be given anonymously by contacting Crimestoppers on:- 0800 555 111.

Celebrating rock & roll's 60th Anniversary, in Formby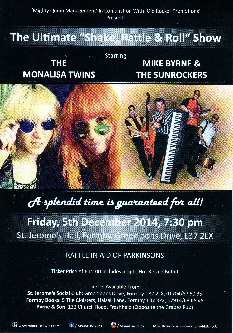 A concert billed as:- 'The Ultimate Shake, Rattle & Roll Show' will hit Formby's St Jerome's Hall on Friday, 5 December 2014.
The event will feature the popular Merseyside band Mike Byrne and The Sunrockers together with the MonaLisa Twins, the show is an early celebration of the 60th Anniversary of Elvis Presley's first trip into the recording studio and the birth of Rock and Roll.
Mike Byrne will also have a personal celebration of his own as this concert will mark his 50th year as a professional entertainer on the same day! Mike says:- "I was just 21 years old and had joined progressive Merseybeat band 'Them Grimbles' and couldn't wait to turn professional. All the bands were going to Germany and it seemed the natural thing to do. We left in December 1964 to play at the Star Palast Club in Kiel which was close to Hamburg. What an eye opener. Crazy teenagers and we had to play 5 hours a night."

The MonaLisa Twins relocated from their native Austria to Merseyside earlier this year.
Real life twins Mona and Lisa have just turned 20 years of age, but were influenced by their father's Rock and Roll and Mersey Beat albums to pick up guitars and form their own band when they were 13. They have been recording, touring and songwriting ever since.
Lisa said that:- "Merseyside was a natural place for us to build a home. We have so many influences here and it is fantastic to work alongside Mike who has such a rich history in the music business."
Sister Mona continues:- "We can't wait for this show. We will be playing some of the best music from the Rock & Roll era alongside our favourite songs of the Sixties. We will also throw in some of our own songs. We both love Formby and St Jerome's is a superb venue."

The MonaLisa Twins currently have a Saturday night residency at Liverpool's famous Cavern Club and they are favourite guests on BBC Radio Merseyside's Billy Butler Show. Mike Byrne says:- "The MonaLisa twins are probably the most exciting musical act in the UK today and St. Jeromes will be rockin'."

Tickets £15.00 including hot and cold buffet and are available from:-
► St. Jerome's; Greenloons Drive, Formby. Telephone:- 01704 875 935.
► Formby Books; The Cloisters, Halsall Lane, Formby. Telephone:- 07914 636 545.
► Byrne and Son; 132 Church Road, Frexhfield, (opposite the Grapes Pub).
DO YOU LOVE DINNER PARTIES? ARE YOU A GREAT COOK?
THE UK's Channel 4 hit show 'Come Dine With Me' is back for a new daytime series. Over 5 days, 4 strangers, from all walks of life, take turns to host the perfect dinner party for each other. At the end of the week the best host wins a £1,000 cash prize! If you or anyone you know would like to take part, then please email:- cdwm@shiver.tv or call:- 0871 244 4142.
On both Email and Phone YOU MUST leave your:- FULL NAME, FULL address, age and FULL contact details, also say you got the contact information from:- SouthportReporter.com!

(Callers from a BT landline will be charged a set up fee of 14p per call plus 10p per minute. Calls from other networks may be higher and from mobiles will cost considerably more.)

Shoot dates are:- 19 January to 23 January 2015!

"We're looking for people over 18 years of age with a passion for cooking who want to demonstrate their skills." said Shiver.