North West told by Police to:- "be prepared to play their part in keeping the country safe!"
POLICE forces across the North West are encouraging people and businesses to "be prepared to play their part in keeping the country safe from terrorism" during Counter Terrorism Awareness Week (CTAW). CTAW is a national campaign highlighting the work Police Officers and partners are carrying out 24 hours a day, 7 days a week to protect the North West and the rest of the UK from a terrorist attack. Through the week, North West forces are focusing on key themes that fall within the UK's counter terrorism strategy CONTEST - Pursue, Prevent, Protect and Prepare. The week highlights where action by the Police, businesses and the public can prevent terrorism by being vigilance in crowded places and transport hubs, preventing violent extremism, cutting off terrorist financing, and preventing access to tools that terrorists need to operate. ACC Ian Wiggett, the North West lead for counter terrorism said:- "Following the increase of the international terrorism threat to severe, there is a heightened need to ensure that the North West is in the best position to deter and detect potential terrorist threats. The week highlights the importance of training people to look out for suspicious behaviour and what they should do if an attack happens, along with preventing terrorism and radicalisation. It is important to protect vulnerable people by responding to the ideological challenge of terrorism and the threat we face from those who promote it. This is not about scaring people, but highlighting that everybody, from law enforcement to businesses, to the general public, has a role to play in keeping the UK safe from terrorism. We encourage people to be vigilant to things that are out of place or suspicious and report it to the Police." Police forces across the North West have already been briefing businesses as part of the Crowded Places theme; shopping centres, cinemas, sporting stadiums and faith venues to help them step up their security and train their staff at 11 venues across the region. Businesses will receive a briefing about counter terrorism measures under Op Griffin, which will better equip them to deal with their organisations' security challenges, both on a day to day basis, and in the event of a major incident.
Merseyside Police force's 2 weeks firearms surrender is a success!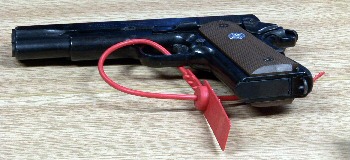 MERSEYSIDE Police has had a total of 126 weapons and lots of ammunition handed in during the force's 2 weeks firearms surrender, including 41 firearms. The surrender ran across the force area from Friday, 7 November 2014, to Friday, 21 November 2014, and was designed to give people in possession of illegal firearms an opportunity to hand them in. It also extended to giving people a safe disposal route for antique, replica and decommissioned firearms which could be capable of being reactivated and used for criminal purposes. The 41 firearms which have been handed in consist of 25 shotguns, one of which was sawn-off, 5 rifles and 11 handguns, many of which are antique or so-called:- 'grandad guns'. 20 lots of ammunition were also surrendered, amounting to 2600 rounds (not including air pellets). 12 of the firearms are being considered for assessment by the National Ballistics Intelligence Service as part of investigations into their history and use.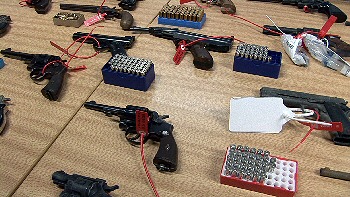 Detective Chief Inspector Tom Keaton, Matrix Serious Organised Crime Major Investigation Wing, said:- "We are extremely pleased with the results of the surrender and the firearms that the public have handed in. Of the 41 firearms that we have received, many were antique guns, exactly the type that we were targeting, and nearly all appear to be capable of being discharged. Whether or not they have been held illegally in the past all of these weapons could have been fallen into the hands of criminals who would then have used them to cause fear and violence. Every weapon handed in is one less which could potentially be used on our streets and I would like to take this opportunity to thank the public for their excellent response to the surrender operation. We have also received 26 air weapons and 24 imitation or deactivated weapons. All of these can end up being used for some form of criminal or anti-social purpose and I am convinced that our communities across Merseyside are safer places following this operation. The surrender has run alongside the pro-active work that we do every single day to take guns and the criminals who use them off our streets. Merseyside Police will be relentless in its efforts to tackle all forms of serious and organised crime and bring those responsible before the courts. We act on every single piece of information that we receive and I would appeal to anyone with information on firearms, or where they are stored, to contact us as soon as possible." Anyone with information can call the Matrix Serious Organised Crime hotline on:- 0800 230 0600 or Crimestoppers, anonymously, on:- 0800 555 111.

Did you know?

Back in 2003, nearly 500 guns and more than 70 other weapons, along with more than 10,000 rounds of ammunition were handed in to Merseyside Police during a national gun crime amnesty. Whilst, in 1996, during another national gun amnesty around 240 guns, 18 knives and 6,000 rounds of ammunition were handed in. Merseyside Police would like to remind people that there have been some recent changes in legislation and some people could be unaware of the changes. The changes in legislation are as follows:-

► Anyone previously convicted of possessing firearms, or ammunition, who has served a sentence of between 3 months and 3 years is prohibited from possessing antique firearms for 5 years. Those sentenced to more than 3 years are permanently prohibited (Section 110 Anti Social Behaviour, Crime and Policing Act).

► Section 108 amends the Firearms Act 1998, and makes it an offence to possess for sale or transfer prohibited weapons or ammunition with a maximum penalty of life imprisonment.

Roadshows are underway to remind people:- "If it's on show, it'll go!"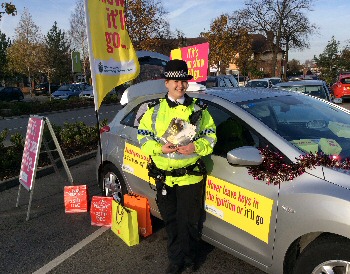 ROADSHOWS are now underway offering people help and advice to help prevent themselves having valuables stolen from their cars in the run up to Christmas. The roadshows feature 'The Crime Prevention Car', which is full of tips and crime prevention advice around thefts from vehicles. People will also be able to register their valuables with:- Immobilise and mark them with ultraviolet pens with us at these road shows. Officers will be on hand to chat to people and help them and the roadshows will take place at the following places during December 2014:-

► WIRRAL

5 December 2014 (Asda, Grange Rd Birkenhead) 9am to 15.30pm.
12 December 2014 (Asda Bromborough) 9am to 15.30pm.
► SEFTON
1 December 2014 (Asda, Aintree) 9am to 5pm.
15 December 2014 (Tesco, Hawthorne Road Bootle) 9am to 5pm.

► KNOWSLEY

1 December 2014 (Tesco Cables Retail Park, Prescot) 9am – 5pm.
5 December 2014 (Kirkby Market) 9am to 5pm.

► ST HELENS

3 December 2014 (Tesco Metro & Library, Clock Face, St Helens) 10am to 5pm.
9 December 2014 Tesco Clipsley Lane, Haydock 10pm to 5pm.

► LIVERPOOL NORTH

3 December 2014 (Asda, Utting Avenue, Norris Green) 9am to 5pm.
15 December 2014 (Sainsburys, Rice Lane, Walton) from 9am to 5pm.

► LIVERPOOL SOUTH

8 December 2014 (New Mersey Retail Park, Speke) from 11am to 7pm.
PEEL has been published!
HER Majesty's Inspectorate of Constabulary has published its first PEEL (Police Effectiveness Efficiency Legitimacy) assessments for all forces across the country, following a number of HMIC inspections over the last year (2013 to 2014). In his report for Merseyside Police Her Majesty's Inspector of Constabulary, Mike Cunnigham, concluded the following:- "In terms of its effectiveness in general, the force is good at reducing crime and preventing offending, good at investigating offending and good at tackling anti-social behaviour the efficiency with which the force carries out its responsibilities is good; and the force is acting to achieve fairness and legitimacy in most of the practices that were examined this year." Following publication of the Peel Assessment Chief Constable Sir Jon Murphy/Deputy Chief Constable Andy Cooke, said:- "The force is wholly committed to providing our communities with a police service they can have confidence in. Despite a requirement to make significant cuts we are determined to provide an effective and efficient Police force and are working hard to manage the demands that we face on a daily basis. The Peel assessment recognises that the force has 'clear priorities to prevent and reduce crime' and 'has good arrangements in place for understanding the vulnerabilities of victims of anti-social behaviour and monitoring performance'. The ability of the force to disrupt organised crime groups using a range of tactics is a clear strength, and it also deals particularly well with serious sexual offending. It also takes cognisance of the fact that we have a 'comprehensive and well managed change programme' in place to achieve the required savings we have to make, and that to date we have done everything we can to minimise the impact of those cuts on the frontline service we provide to our victims and communities. Her Majesty's Inspector of Constabulary Mike Cunningham does express concerns in relation to the force's approach to crime recording which he says:- 'is not as accurate as it should be'. We accept that an initial audit of the force's crime recording was not acceptable, but on publication of the HMIC Crime Data Integrity report last week Tom Winsor himself recognised the significant improvements made by Merseyside Police in crime recording following the initial audit. The HMIC last week said:- 'It is clear that when Police leaders realise the nature and magnitude of the crime recording shortcomings in their forces, rapid improvements can be made. This has been done in Kent and Merseyside, and it can and should be done in all forces whose crime recording is in need of improvement.' I am determined to provide Merseyside with a professional Police Service that cares, listens and delivers. And a survey of victim satisfaction referred to in the assessment leads me to believe that we are providing our communities with just that. The Victim Satisfaction Survey for the 12 months to June 2014, shows that 85.3% of victims were satisfied with their experience of Merseyside Police, which is above the victim satisfaction figure across England and Wales of 85%."