Review:- "Paul Chowdhry's Final Night of 80 Night Tour"
Review by Jo Forrest.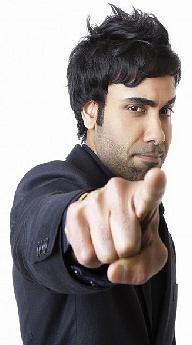 PLAYING his final night of an 80 night tour, Paul Chowdhry performed to a packed audience, at The Atkinson Theatre, in Southport, on Friday, 21 November 2014. His touring show, PC's World, is not just his initials, but also a comment on our obsession with political correctness. It is clearly not something that bothers him too much, though, as he rattles through a range of foreign accents and makes quips mocking Nigerians, Poles and the French. The Stand up for the Week host styles himself as a comedy gunslinger, here to play with his audience and say the things the rest of us are scared to say.

He's an incredibly skilful and confident performer and his material is absolutely top notch. I'd estimate that half the evening is actually spent on his routines and the other half on getting to know the people in the first few rows. He's a big tease – the kind of guy who will find your weak spot in unguarded conversation and then go for it mercilessly, just the way your mates do.

You might perceive that some of what Paul Chowdhry does and says might be considered racist. Alternatively, you might not. When it's presented in such a funny and friendly way, it's very difficult to identify. What's racist and what's not? This is the question posed in some way by almost everything that takes place in the show. He's perfectly happy to pick on himself as much as anyone else; for example, pointing out how his new beard makes him look like someone trying to get to Syria.

Paul Chowdhry never shies away from a topic which might cause offence. However, his material is sharp and intelligent enough that it never feels forced. There is never the impression that he is relying on shock factor for laughs, merely that he delights in finding the comedy amidst taboo topics. As a performer, he is engaging and energetic, haranguing audience members who get up to go to the toilet and refusing to let his targets sink back in their seats and be forgotten about.
Review:- "English National Ballet - Swan Lake"
Review by Jo Forrest.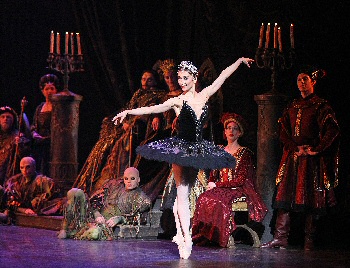 WITH a full orchestra in front a packed audience, the beautiful dancers of the English National Ballet performed Swan Lake at the Liverpool Empire Theatre, over 18 November 2014 to 22 November 2014. This particular production has been in ENB's repertoire for over a decade, but has never allowed to become stale thanks to occasional tweaks over the years.
Arguably the most famous and most loved of all ballets tells the story of Princess Odette who is captured by the wicked sorcerer, Rothbart, in the Prologue and condemned to a life as a swan. On Prince Siegfried's birthday, the Prince sets out to hunt swans at the lake, but instead falls in love with Odette, Queen of the Swans. The ballet follows their love story. The principle dancers of the night were Alina Cojocaru and Alejandro Virelles, with James Streeter taking the part of Rothbart.

English National Ballet boasts 65 dancers from 26 countries and is dedicated to bringing first class dance to as many audience members as possible. In 2013, the dancers travelled over 3,900 miles around the UK (and got through 4,992 pointe shoes!). The company has been visiting some of the cities on its touring circuit for over 60 years and continues to enchant theatre goers while passing on the "ballet bug" to aspiring dancers. The calibre of artists throughout English National Ballet is tremendous. Right at the very top, artistic director and lead principal dancer Tamara Rojo attracts audiences who have followed her since her epic stardom with The Royal Ballet. Similarly, lead principal dancer Alina Cojocaru's reputation as a shining jewel in the crown of The Royal Ballet (before she gracefully bowed out last year to join Rojo at ENB) precedes her.

Cojocaru and Virelles may make for a beautiful pairing, but a quick glance at the Principal casting for the run offers reassurance that the central couple in every performance will impress. Principals aside and the dynamic divertissement dances and tight ensemble work showcased in 'Swan Lake' makes it a marathon production for the whole Company.
Warning over lost medication in Bootle
MERSEYSIDE Police, in the Bootle area, are asking the public to be vigilant following the loss of prescription medication, on Wednesday, 26 November 2014. The medication was lost on Bedford Road and believed to have fallen out of the owner's rucksack. The drugs are sleeping tablets and in a pink and white box. They could be extremely harmful if taken when not subscribed to someone. Anyone who comes across this medication, or any other prescription drug, is asked to hand them to their nearest Police Station, GP Surgery, Hospital or Pharmacy.

Edward Scissorhands Ballet is heading to Liverpool in January 2015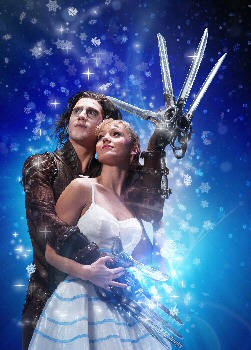 THE spectacular modern fairy tale directed by the UK's most popular and successful choreographer, Matthew Bourne, returns to the UK and will be run at the Liverpool Empire over 27 January to 31 January 2015.

Since 2005, New Adventures' magical production of EDWARD SCISSORHANDS has carved a place in the hearts of thousands with its performances being sold out in Europe, America, Asia and Australia.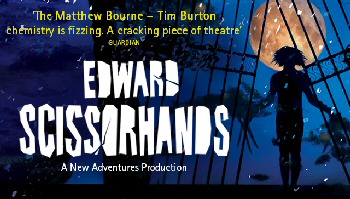 Based on the classic Tim Burton film and featuring the beautiful and unforgettable music by Danny Elfman and Terry Davies, this touching love story tells the bittersweet story of a boy created by a lonely inventor who dies leaving him alone and unfinished. Left with only scissors for hands, Edward must find his place in a strange suburban world where the well meaning community struggle to see past his appearance to the innocence and gentleness within. The title role will be shared between a popular New Adventures star, DOMINIC NORTH, and a rising star, LIAM MOWER.

Matthew Bourne is the creator of the world's longest running ballet production (Swan Lake), a five-time Olivier Award winner, and the only British director to have won Tony Awards for both Best Choreographer and Best Director of a Musical. In collaboration with his world class team, Matthew Bourne managed to produce some of the most successful dance productions ever staged. Since its formation in 2002, New Adventures has created an enviable repertory of acclaimed new works (Play Without Words, Edward Scissorhands, Dorian Gray, Lord Of The Flies and Sleeping Beauty) as well as new productions of popular favourites from Matthew Bourne's former company, Adventures In Motion Pictures (1987 to 2002) - Nutcracker!, Swan Lake, Highland Fling, The Car Man, Cinderella and the mixed programme Early Adventures. Do not miss your chance to see the outstanding production of EDWARD SCISSORHANDS!
For ticket information call:- 0844 871 3017, or visit:- ATGTickets.com/Liverpool.
TOUR DATES 2014/2015
| | | | |
| --- | --- | --- | --- |
| City/Town | Venue | Date | Website |
| London | Sadler's Wells | Tuesday 2 December 2014 to Sunday 11 January 2015 | LINK |
| Woking | New Victoria - Woking | Tuesday 13 January – Saturday 17 January 2015 | LINK |
| Nottingham | Nottingham Theatre Royal | Tuesday 20 January – Saturday 24 January 2015 | LINK |
| Liverpool | Liverpool Empire | Tuesday 27 January to Saturday 31 January 2015 | LINK |
| Norwich | Norwich Theatre Royal | Tuesday, 3 February to Saturday 7 February 2015 | LINK |
| Birmingham | Birmingham Hippodrome | Tuesday 10 February – Saturday 14 February 2015 | LINK |
| Milton Keynes | Milton Keynes Theatre | Tuesday 17 February to Saturday 21 February 2015 | LINK |
| Bradford | Bradford Alhambra | Tuesday 24 February to Saturday 28 February 2015 | LINK |
| Southampton | Mayflower Theatre | Tuesday 3 March to Saturday 7 March 2015 | LINK |
| Cardiff | Wales Millennium Centre, | Tuesday 10 March to Saturday 14 March 2015 | LINK |