Double-whammy cycle win for Liverpool Women's Hospital as they aim to fight obesity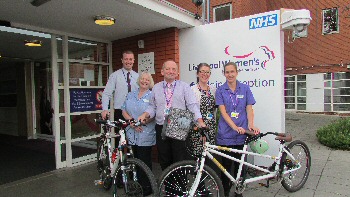 LIVERPOOL Women's Hospital has scooped 2 Merseytravel cycling awards; highlighting how seriously they are taking sustainable transport in the workplace and tackling obesity within the NHS.

Merseytravel recently hosted a 5 week Cycle to Work Challenge to raise awareness of the benefits of this mode of travel as a valid option to get to and from work and to increase the numbers of employees cycling.

Not only did Liverpool Women's Hospital win the Best Company title for clocking up 418 miles between them, their Environmental Manager John Foley was named the Most Improved Cyclist for setting new goals and beating his own personal best.

57-year-old John from Litherland is an advocate for cycling and commutes to and from work on his bike. He said:- "I try to lead by example; I love cycling to work for so many reasons, it de-stresses me, it keeps me fit and it saves money too. I am constantly reiterating the benefits of cycling to our staff and it seems to be working. Over the last 12 months I've seen a marked increase in staff taking up cycling because they see it as an efficient way to get around. The NHS has just been in the headlines for encouraging its own 1.35 million staff to take out gym memberships and lead healthier lifestyles in a bid to fight obesity. This is something we strongly advocate at Liverpool Women's Hospital as we work to promote a healthy workforce. Merseytravel have been fantastic in helping us achieve this goal by giving us vital support in promoting sustainable transport."

Merseytravel has given the hospital help in a number of ways, including bespoke advice, grants to install new bike facilities and training courses to increase the confidence of staff.

Cllr Liam Robinson, Chair of Merseytravel, said:- "It's fantastic to see that our support is helping organisations like Liverpool Women's Hospital achieve their vision of getting more staff cycling to work and encouraging them to stay fit and healthy, which ultimately helps the NHS in its fight to address obesity. We realise that one size doesn't fit all though, which is why we have a dedicated team who are able to offer tailored solutions to help organisations meet their goals and promote greener travel in the workplace."

What the cyclists at Liverpool Women's Hospital say…

► "I don't actually drive so cycling is perfect for me; I find it so much more convenient. Now that my daughter is getting older I've invested in a Tandem bike so that we can travel together. It's a great way to get around." Breastfeeding Peer Support Officer Hannah Chapman, 35, Sefton Park.

► "It was John who got me into cycling taking part in charity rides. I was scared to ride on the roads to work but after taking part in a safety training course, I have the confidence to do my 26-mile round trip to and from Rainford." Research Nurse Viv Sutton, 55, Rainford.

► "I wanted to do something epic to celebrate my milestone birthday and put in for a triathlon, which got me into cycling. Having a baby put stop to that for my 40th, but I've continued to ride my bike and while I don't cycle to and from work, I do it in my spare time to keep fit. It's also a lovely way to both spend time by cycling with family and friends; or escaping and having some me time healthy." Volunteer Services Manager Gina Barr, 42, St Helens.

► "I started cycling for the hospital's charity rides but following John's motivational leadership I started to think it would be just as easy to ride to work. It's great; I don't have to face traffic jams, I can unwind after a hard day at work, it keeps me fit and I have reduced my travel costs. I would recommend it to anyone." Marketing and Communications Manager Mark Roberts, 31, Wallasey.

For more information about cycling support or to sign up to Merseytravel's Employers Network, which offers bespoke consultancy support to enable smarter travel to work, please visit:- letstravelwise.org/employersnetwork.

Cancer centre receives second fewest complaints nationally in NHS
THE health trust that provides specialist cancer care for people in Merseyside and Cheshire received the second fewest complaints in the NHS in England from patients and relatives between April 2013 and September 2014.

The Clatterbridge Cancer Centre NHS Foundation Trust received just 19 complaints, coming second only to the Royal National Orthopaedic Hospital NHS Trust which had 12. Papworth Hospital NHS Foundation Trust came next, with 48.

The figures are published 26 November 2014 in a report by the Parliamentary and Health Service Ombudsman, an independent body that investigates cases where complainants are not satisfied with the response they get from the NHS.

The Clatterbridge Cancer Centre, which provides specialist treatment to a population of 3.2m people across Merseyside and Cheshire as well as carrying out ground breaking research and clinical trials, prides itself on putting patients and their relatives and carers first and aims to provide the highest standard of care every time.

It is consistently one of the best-rated trusts in England in national patient surveys and the Friends and Family Test, which asks patients whether they would recommend their healthcare provider.

The Trust also welcomes feedback from patients and relatives/carers, however, and encourages people to complain if they are dissatisfied with any aspect of their care.

Helen Porter, Director of Nursing & Quality at The Clatterbridge Cancer Centre, said:- "Patient feedback is incredibly valuable in helping us provide the very highest quality of care. It tells us how we are doing and where we can improve. We are absolutely thrilled that we received the second fewest complaints in the NHS in England because we want every patient to feel they received the very best care from us. It's equally important, however, that people do complain to us if there is any aspect of their care that they're not satisfied with. We really do value feedback; positive and negative; so we can address any issues and continually improve the care we provide."

The Ombudsman did not uphold any complaints referred to it about The Clatterbridge Cancer Centre in the reporting period.
National Award for Heart and Chest Specialists
LIVERPOOL Heart and Chest Hospital was recognised at the Chief Nursing Officer Summit this week for improving the experience of care for patients and families.

Hosted by Chief Nursing Officer for England, Jane Cummings, the event for senior nurse leaders from across the country incorporated an inaugural 'Compassion in Practice Awards' ceremony.

As the country's leading hospital for overall patient care, Liverpool Heart and Chest Hospital won the prestigious award for embedding Compassion in Practice into its ways of working.

The judging panel, which included representatives from NHS England, NHS Employers, front line healthcare staff and a patient representative, identified that the hospital had delivered demonstrable improvements to patient experience, by taking Compassion in Practice right to the core of the organisation.

It was also noted that the hospital provided evidence of learning from patients and patient experience data, particularly for vulnerable or seldom heard patients

"We are honoured to receive such a prestigious national award. Every member of staff here at Liverpool Heart and Chest Hospital is committed to delivering excellent, compassionate and safe care for every patient, every day. We are delighted that the judging panel have reognised this, alongside our approach to patient and family centred care and our ongoing care of patients whose family members have dementia." said Jane Tomkinson, Chief Executive.

The awards, organised by NHS Employers, took place in Manchester on Tuesday, 25 November 2014. They brought together NHS organisations from across the country and provided an opportunity to celebrate a number of outstanding organisations, teams and individuals.

For further information about patient and family centred care at Liverpool Heart and Chest Hospital, please visit:- lhch.nhs.uk.

For further details about the Chief Nursing Officer Summit, please visit:- cnosummit.co.uk/