'Iron kids' say thanks to the hospital which helped granddad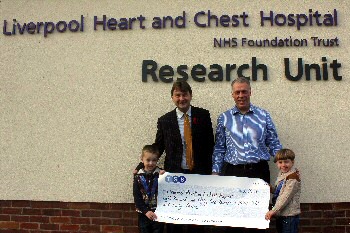 OWEN Young and Michael Wadeson were just 4 years old when they completed an iron man challenge in support of Liverpool Heart and Chest Hospital Appeal. The energetic cousins, from Ashton in Makerfield, entered the Iron Kids 500m fun run event in Bolton Town Centre, determined to raise valuable funds for the hospital; the largest single site specialist heart and chest hospital in the country; which had provided such excellent care to their grandad just months earlier. Michael Young, 60, had experienced dizzy spells for a number of weeks, but continued with life as normal. However it was during a visit to London, 12 months ago, that he realised he had a problem.

Michael Young said:- "Whilst I was standing at an underground station waiting for the tube, I was overcome with dizziness and an overwhelming sense of fatigue. All I could do was sit down on the platform and wait for help. When I returned home, I visited my GP to explain the symptoms that I was experiencing and I was subsequently referred to Dr Jay Wright, Consultant Cardiologist at Liverpool Heart and Chest Hospital to have a pacemaker fitted."

Dr Wright said:- "In Michael's case, he had bradycardia more commonly referred to as a slow heart rate, which often dropped below 50 beats per minute. Therefore he needed to have a pacemaker inserted to regulate his heartbeat."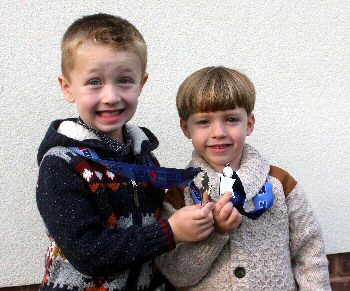 Since his procedure, Michael says his health problems are a thing of the past, his energy has returned and no longer is he concerned about his heart rate. In true fighting spirit and alongside hundreds of other youngsters, Michael's grandsons, pupils at St Oswald's Catholic Primary School in Ashton-in-Makerfield, completed the children's version of the iron man challenge in July 2014.
They raised £841 and recently visited Dr Wright to say a special thank you. Dr Wright added:- "It was wonderful to meet both Owen and Michael; 2 remarkably generous and determined young iron men! We are very grateful to receive such a kind donation, which will make a huge difference to our ongoing cardiac research programmes."
New jobs for the New Year as MyCSP expands again...
IF a new job is all you want for Christmas then MyCSP, which provides pensions services for the country's best known public sector organisations, should be at the top of your list. MyCSP has announced that it is looking for 75 new employees for its Head Office in Liverpool. The jobs on offer cover a wide range of skills including pension administration, team managers, IT systems and HR. Nicky Hurst, CEO, MyCSP, said:- "Earlier this year we appointed over 100 new employees and we are now looking to grow further. Our experience shows us that Liverpool and the surrounding areas have a huge talent pool which has directly contributed to our growth. As a growing and ambitious local business we continue to offer great career progression as well as fantastic rewards for smart people who work hard." MyCSP is seeking talented individuals with an eye for detail and a passion for delivering excellent customer service. Experience is not essential for all of the roles, though we do of course welcome those who do have a pensions background to draw upon. More important is lots of ambition, enthusiasm, natural drive and a willingness to learn. In addition to competitive salaries, successful applicants will enjoy the benefits of working for a mutual, as employee partners hold a 25% share in the business. As employee owners they have a say in the running of the business and share in its success, which for the last financial year saw all eligible employees receive a dividend bonus of more than £2,500. The news follows MyCSP's expansion into a further 18,319 square feet at their office on Tithebarn Street in Liverpool. Potential candidates are being asked to find out more from MyCSP's website and send their application as soon as possible. MyCSP will invite candidates to an Open Evening being held at MyCSP's office in Liverpool which will include a tour of MyCSP's facilities, a test and an interview. Candidates are encouraged to apply as soon as possible to avoid disappointment as there is limited availability at the open event. Open Evening on Thursday, 11 December 2014, from 6pm to 10pm, on the 5th Floor, City Square, 40 Tithebarn Street, Liverpool, L2 2BW.

Karen Potter Craven Minor JFL
Southport FC Youth 3-3 Fylde Youth
Lancashire FA Under 18 Cup
FOR a side still unbeaten over either 90 or 120 minutes the exit from 2 cup competitions via the lottery of penalty shoot outs is difficult to take. Southport U18s went into Sundays Lancashire FA Under 18 Cup game against AFC Fylde on the back of a run of form which had seen them score 26 goals in 5 games. Their opponents were the side that would have been their opponents in the Fa Youth cup had it not been for their last penalty defeat at Newcastle Benfield. With a point to prove Southport started more brightly than their full time academy counterparts forcing early saves and having efforts cleared off the line in a dominant first half an hour. The breakthrough eventually came with Adam McFarlane-Johnson capitalising on Fylde's failure to clear a goalmouth scramble. As the game settled Fylde found their rhythm, levelling before half time and taking an early second half lead. With Southport chasing the game Fylde snatched another against the run of play and 15 minutes to go were 3-1 up. Southport showed dogged determination and captain Sean Weston was the embodiment of everything good about this promising side. He lead by example as the side refused to lie down and take defeat. Substitute Cameron Dalgleish, returning from a spell on the sidelines through injury, got on the end of a cross from fellow striker Will Meredith to give Southport hope and as time ticked on Southport looked dangerous. Jake Young bagged the equaliser shortly before the death but with no extra time in county competitions it was straight to penalties as the referee blew his whistle. The Fylde keeper who had kept them in the game during the first half an hour was their hero again as he made 2 excellent penalty saves.
Final score Southport U18 3 - 3 AFC Fylde Youth (AFC Fylde won 4-2 on penalties).
Man of the Match:- Sean Weston (SFCY).
Results Week Ending 30 November 2014
Under 11 Premiership
Burscough 7-1 Birkdale United
Maghull Youth 0-2 Southport FC Juniors
Formby JSC White 3-1 Trinity White
S&A Red 2-1 Redgate White
Under 11 Championship
Trinity Blue 5-0 Hesketh Colts
Formby JSC Black 5-5 Phoenix
Redgate Yellow 6-5 Formby Athletic
Under 12 John Disley Cup
Hesketh Colts 1-4 Trinity Blue
Under 12 Premiership
Formby JSC White 4-4 Town Green
Trinity White 1-9 Formby Rangers
Birkdale United 6-1 Formby Athletic
Under 12 Championship
S&B Yellow 0-9 Ormskirk
Redgate Rovers 4-4 Southport FC Juniors
Mitch Red Warriors 1-9 S&B Red
S&A Amateurs 2-5 Mitch Green
Under 13
Birkdale Black 7-0 Birkdale S
Southport FC Juniors 1-3 Formby JSC
Under 14
North Sefton 4-0 S&A Amateurs
Southport FC Juniors 7-2 Southport Trinity
Redgate Rovers 3-5 Birkdale Black
Under 15
Redgate Rovers 4-2 Churchtown Athletic
Southport Trinity 3-1 Southport FC Juniors
The Hares 0-2 Birkdale United
Under 16
Southport FC Juniors 3-3 Formby JSC
Jaguars Red 2-4 Redgate Yellow
S&A Amateurs 1-2 Jaguars White
Redgate Green 0-9 Churchtown Athletic
Under 17/18 Premiership
Redgate Rovers 6-3 Myers
S&A Red 6-1 Lydiate
AFC Liverpool 8-4 Birkdale United
Under 17/18 Championship
Dynamo Rangers 1-4 Hudson Celtic
Southport Trinity 1-0 Redgate Yellow
Formby JSC Black 0-2 Birkdale Black

Fixtures Week Ending 7 December 2014
Under 11 Trisconi Cup
Crosby Stuart v Southport FC Juniors
Trinity White v Redgate White
Under 12 John Disley Cup
Town Green v Formby JSC White
Ormskirk v Formby Rangers
Under 13 Tom Galvin Cup
Southport FC Juniors v Formby JSC
Under 14 Anita Shaw Memorial Cup
Southport FC Juniors v Southport Trinity
Redgate Rovers v North Sefton
Under 16 Adam Bell Cup
Southport FC Juniors v Churchtown Athletic
Under 17/18 Geoff White Memorial Cup
Birkdale United v Burscough Green
Myers v Birkdale Black
Under 17 Premiership
Hudson Rangers v Town Green