Taxi War brings leading to traffic chaos in Liverpool City Centre
Photographs by Patrick Trollope.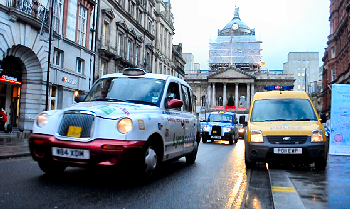 LIVERPOOL'S first directly elected Mayor, Labour's 'Joe' Anderson was the focus of a major protest on 5 December 2014, in Liverpool City Centre. Liverpool's Hackney Cabs forced the City Centre into gridlock, as they slowly paraded around and around the City Centre. As the Black cabs and a truck, with a printed banner about the protest on it, drove round and round the City's Streets, passing both the Town Hall and the Municipal Buildings, they honked their horns and using a loudspeaker to shout:- "Joe must Go"... We were informed that the protest was over "out of town" firms, like Sefton's Delta Taxis, moving into the City. We asked a spokesman from the Liverpool Taxi Alliance, Karl Barry, about why they had taken this action. He told us that:- "The protests today are over the platitudes given to the trade over the past 2 years, while over time the City Council would appear to have been ushering Delta in by the back door. This firm has been allowed to operate within the City with impunity for such a long time and at the same time the trade has tried to work with the local authority, but unfortunately they believe they have been lied to." They told us that they felt they had been "strung along" over the last few years and wanted to know why? In the interview you can played below, you can hear Karl say that:- "The Mayor has made noise that effectively he supports Liverpool Cab Drivers, local jobs and local people, but there is no evidence to support that." It is billed as the first of many, but many motorists looked puzzled as to what was going on. So we asked why they didn't have any information in the Cab windows, informing the public what was going on. So Karl told us:- "One of the drivers recently did put up a notice on the back of his window and was pulled over by one of the Hackney Carriage Licensing Officers and was given a notice, to dissuade and desist. They said it was unlawful advertising." To hear the full interview, press play below and to see the protest video, click on here now. Please let us know your views and feelings about this issue by emailing us to:- news24@southportreporter.com.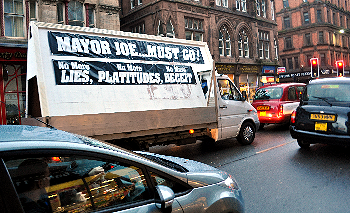 KEEP up-2-d

ate




with our free daily news emails.



Are you subscribed? Si

g

n

u

p

today

to

our daily email news service via... Formb

y

-

Re

p

orter

.com



If you subscribed you can keep in up-to-date with what's going on in and around Merseyside. It is free and we do not send out massive amounts of emails. Your email is kept under the UK's Data Protection Act, so you can be sure that you will not have problems.
B.O.A. 70th Anniversary DVD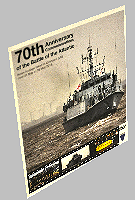 THE video footage we have taken at the 70th BOA events this year in Liverpool has now been fully edited is available to buy, on a DVD, from our Online Shop, on Mersey Reporter very soon. For each DVD sold, £3.00 will go to the Liverpool's Lord Mayor's Charity Appeal. (Registered Charity No. 229539) At this stage we can only do UK postage options, but if you are outside the UK, you can still order copies, but only via emailing our newsroom at:- news24@merseyreporter.com with your FULL address and we will get back to you with a postage cost and a payment link, should you wish to continue.