Southport Community Station hosts Christmas lunch for the elderly!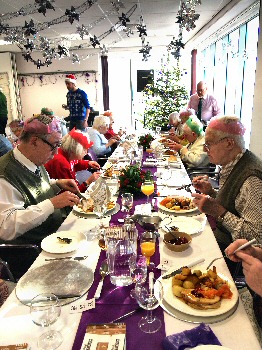 WHEN Southport based Paramedic Sara Lace attended to an elderly patient in 2013, she was saddened by the news he would be spending Christmas alone. With this, an idea was born to bring elderly people together for Christmas in 2014 and enrolled her North West Ambulance Service (NWAS) colleagues into creating a festive period to remember.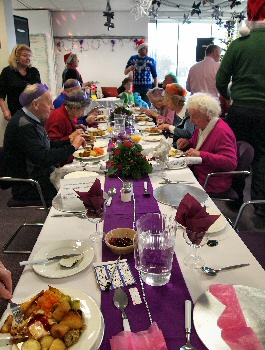 Sara said:- "Although his carers would bring him a Christmas Day lunch, I just thought it was quite sad he wouldn't have anyone to share it with. I got the idea to host a Christmas lunch after watching a show on the television and thought it would be great way to use our new community station and use it to do something for our community. With her plans approved, Sara secured funding by speaking with local supermarkets and businesses that were encouraged by the idea and donated around 75% of what was needed. Sara added: "We had a fantastic response and received several donations of money so we could have a 'contingency' fund. This money helped us buy those things that weren't donated."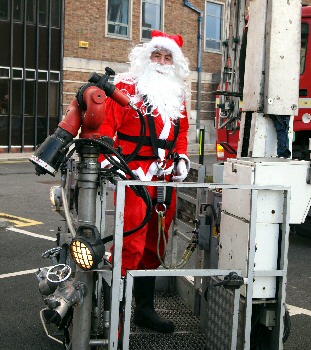 Working with Merseyside Fire and Rescue, vehicles were provided to transport the guests from their homes and were able to take them home again.

Staff from the Southport community station contacted local charities and centres to advertise their Christmas lunch. With 26 guests signed up, they were treated to a four-course Christmas meal. Sara said:- "They all got a welcome drink, either a Bucks Fizz or a Sherry whilst they enjoyed the range of entertainment including a brass quartet and bingo. We also had a raffle with over 50 prizes to ensure everyone went home with a prize."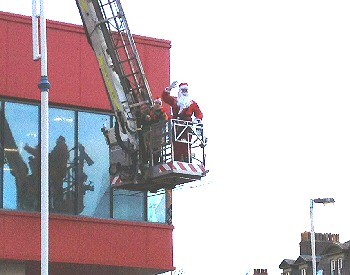 Operations Manager for Southport Station Ian Forster said:- "Sara, alongside her colleagues from both NWAS and Merseyside fire and rescue are a credit to their community for the time and effort they put into this event, making it an absolute success. Staff from across the Trust are involved in fundraising, volunteering and other charity work. The staff at Southport worked incredibly hard and it gave the guests a Christmas to remember."

Finally, Sara added:- "Santa was made aware and dropped in to give the guests some gifts. We've already had requests for next year so it must have been a success."

Merseyside, it's time to prepare for the world's biggest garden wildlife survey Big Garden Birdwatch
THE countdown has commenced for the world's biggest garden wildlife survey; and more people in Merseyside than ever before are being called upon to take part in the RSPB's Big Garden Birdwatch that runs from 24 January to 25 January 2015. Now in its 36th year, the popular event is fun for all ages and it's easy to join in. Simply count the birds in your garden or local park for one hour over Big Garden Birdwatch weekend and tell the RSPB what you see. And for the 2nd time in the event's history, participants are also being asked to log some of the other wildlife which snuffles and settles in their gardens and local parks, and this year there are 2 new additions to the survey list; slow worms and grass snakes. To help you prepare for the Big Garden Birdwatch, there are plenty of events taking place in Merseyside throughout January; from discovering how to attract more wildlife into your garden to gaining tips on how to identify the creatures which live on your doorstep. Go along to RSPB Burton Mere Wetlands, on Sunday, 11 January 2015, between 11am to 3pm, to make a tasty bird cake which you can take home and hang in the garden to attract our feathered friends. RSPB staff and volunteers will also be on hand to offer advice about what to feed garden birds during the winter months. The event is free, but donations are welcome to cover costs of materials. On Sunday, 18 January 2015, return to RSPB Burton Mere Wetlands to learn how to recognise a variety of different garden birds at the reserve's feeding station. Friendly staff will be able to help you brush up on identification skills in time for the Big Garden Birdwatch, as well as sharing tips on how to attract birds to your garden. The free drop in event runs from 11am to 3pm. For both events, normal reserve entry charges apply for non members. For more information call:- 0151 353 8478 or drop them an email:- deeestuary@rspb.org.uk. In the build up to Big Garden Birdwatch weekend, head to Sefton Park's Palm House, on Sunday, 18 January 2015, where members of RSPB Liverpool Local Group will be on hand to share plenty of tips and advice on how to make sure your Big Garden Birdwatch is a success. The free drop in will run from 12pm to 4pm. For more information, call:- 07831 352870 or send an email:- christtynan@aol.com. Or if you are feeling creative, join RSPB staff at the Art Box at the Atkinson Gallery in Southport to make a pine cone feeder to attract birds to your garden ready for the Big Garden Birdwatch. There will also be the chance to find out more about taking part in the survey, including tips on how to tell our feathered friends apart. The event will be held on Sunday, 18 January 2015, from 11am to 3pm, with a charge of £1 to cover costs of materials. For more information, call:- 07793 902622 or via email:- alex.pigott@rspb.org.uk. Jo Keene, RSPB Senior People Engagement Manager in Northern England, said:- "Whether it's the 1st time you are taking part in the Big Garden Birdwatch, or you're already an expert, there are plenty of ways to prepare and join in. To take part, all you need to do is spend an hour over the weekend of 24 January to 25 January 2015, and count the birds in your garden, it's that simple. It's a fantastic way to discover the wildlife on your doorstep and it really helps the RSPB to gain a vital snapshot of garden bird numbers in winter and highlight any dramatic declines, as bird populations are a great indicator of the health of the countryside. With the addition of other wildlife to the survey, such as hedgehogs, badgers and frogs, we are able to build up a better idea of how important our gardens are for providing homes for nature. Last year, around half a million people took part and seven million birds were counted, so we are hoping even more people join in this year, as the more people involved, the more we can learn. So join in and be part of the world's biggest garden wildlife survey; without having to leave your sofa." Participants can record the birds as they see them directly onto a laptop, tablet or smartphone with an online bird counting tool or send results in the post. To help attract wildlife into your garden, there are plenty of tips for helping to give nature a home where you live on the RSPB website. No matter how big or small your outside space, there's something you can do to make a difference. Visit:- rspb.org.uk/homes for more information. Register to take part in Big Garden Birdwatch 2015 at:- rspb.org.uk/birdwatch. Alternatively, call:- 0300 456 8330.
Taxman reveals top 10 terrible tax excuses
10 of the most terrible excuses for missing the 31 January Tax Return deadline have been revealed today by HM Revenue and Customs (HMRC). Many of the excuses claim it was someone else's fault – pets, girlfriends, work colleagues and even the President of the United States are named and blamed for taxpayers' tardiness. The excuses were all used in unsuccessful appeals against HMRC penalties for late filing and payment. Here's the full list:-

1. My pet dog ate my Tax Return…and all the reminders.

2. I was up a mountain in Wales, and couldn't find a postbox or get an internet signal.

3. I fell in with the wrong crowd.

4. I've been travelling the world, trying to escape from a foreign intelligence agency.

5. Barack Obama is in charge of my finances.

6. I've been busy looking after a flock of escaped parrots and some fox cubs.

7. A work colleague borrowed my Tax Return, to photocopy it, and didn't give it back.

8. I live in a camper van in a supermarket car park.

9. My girlfriend's pregnant.

10. I was in Australia.

HMRC Director General of Personal Tax, Ruth Owen, said:- "People can have a genuine excuse for missing a Tax deadline, but owning a pet with a taste for HMRC envelopes isn't one of them. You need to file your 2013/14 Tax Return online, and pay what you owe, by 31 January. But it's best to do it now, to allow plenty of time to sort out any issues with your return. That way, you'll avoid the busy period for our phone lines as the deadline approaches."
All outstanding 2013/14 tax returns must now be submitted online, as the 31 October 2014, paper filing deadline has passed. To send an online Tax Return, you must be registered for HMRC Online Services. This involves HMRC sending you an Activation Code in the post, and you need to allow 10 days for it to arrive.
Simple, straightforward advice on Self Assessment can be found at HMRC's new Facebook Page. Help and advice on filing your return; including how to register for online filing; is also available from the GOV.UK website or the Self Assessment helpline on 0300 200 3310 (open 8am to 8pm, Monday to Friday, and 8am to 4pm on Saturday).