Reach for the Stars at Eureka!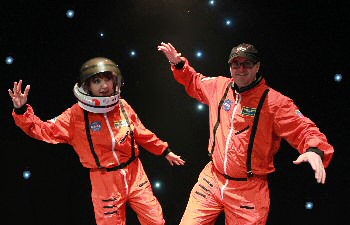 EVER wondered what it's like to live and work in outer space?
Blast off to Halifax this February ˝ term to join the crew of:- 'Space Station Eureka!' as the family attraction gets ready for a week of space exploration as part of their:- 'Reach for the Stars' event running from 14 February to 22 February 2015.

To make the event even more of a blast, visitors arriving after 2pm on weekdays, Monday, 16 February to Friday, 20 February 2015, will receive 15% off the price of admission, with opening hours extended 'til 6pm!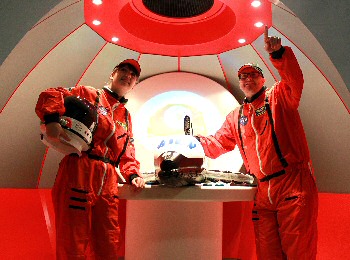 The Eureka! crew will be investigating the planets and inviting children to have a go at a bit of rocket science with fun demonstrations.
Older children can find out more about our nearest planetary neighbour, learning all about missions to the red planet as part of regular:- 'Mission to Mars' sessions. Come aboard:- 'Space Station Eureka!' to dress up as an astronaut and find out what life is like for real astronauts on board the International Space Station (ISS). Plus, visitors from Monday, 16 February to Friday, 20 February 2015, can get a taste of how NASA astronauts prepare for 0 Gravity on the fully working Gyroscope.
What better way to launch your ˝ term holiday?
Reach for the Stars! activities are free with standard admission or your Eureka! annual pass.
Stargazers to search the heavens above at Wirral Star Party
THE Liverpool Astronomical Society together with the Wirral Ranger Services, will be hosting The 2015 Wirral Star Party, on Saturday, 28 March 2015. The event will start at 7:00pm, at the Wirral Country Park, Thurstaston Visitor Centre Station Road, Thurstaston, Wirral, CH61 0HN. Event is Free, with Free Car Parking. Directions to Venue can be found online. Also more information can be gained by calling:- 0151 648 4371 or 0151 220 8718. Also for more information about the Liverpool Astronomical Society, who are celebrating 130 Years of Astronomy on Merseyside, go to:- LiverpoolAS.Org.

The Partial Solar Eclipse from Liverpool, in March
By Gerard Gilligan, Liverpool Astronomical Society
ON Friday, 20 March 2015, a Partial Solar Eclipse will take place. Sadly this eclipse is total over the sea, around the Faroe Islands and the islands themselves, and can also be seen from the island of Spitsbergen off the cost of Norway. Here it could be -15 °c, and that's without any wind chill. However from Liverpool it should be warmer and the eclipse is a very deep partial, with 90% of the Sun being obscured by the Moon!

The eclipse will be observable from United Kingdom. From Liverpool, the eclipse will proceed as follows:-

► 06:15 GMT Sun Rises
► 08:26 GMT - 1st Contact (Eclipse begins) (U1)
► 08:30 GMT – 2%
► 08:40 GMT – 13%
► 08:50 GMT – 28%
► 09:00 GMT – 45%
► 09:10 GMT – 64% 09:20 GMT – 82%
► 09:30 GMT – 90%
► 09:31.14 GMT - Maximum Eclipse (90% eclipse), altitude is 26̊.
► 09:40 GMT – 80%
► 09:50 GMT – 63%
► 10:00 GMT – 45% 10:10 GMT – 29%
► 10:20 GMT – 15%
► 10:30 GMT – 4%
► 10:40.18 GMT - Last Contact (Eclipse Ends) (U4).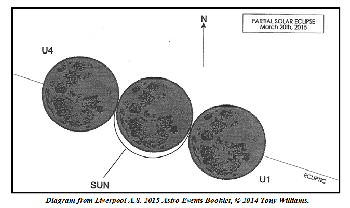 Diagram from Liverpool A.S. 2015 Astro Events Booklet, © 2014 Tony Williams.
A Warning – As always care should be taken when observing the sun even during this eclipse, and you should not attempt to observe the eclipse without using the correct solar filters or a specially constructed solar telescope, e.g. The Personal Solar Telescope or PST, or by projecting the solar image onto a white card or paper. If in any doubt please seek advice from experienced observers, like society members at the Liverpool Astronomical Society:- LiverpoolAS.Org.
Family statement, Capenhurst Station, Ellesmere Port, following death of a teenager
THE British Transport Police (BTP) have reported that tragically a 16 year old, 6th form student at Whitby High School in Ellesmere Port has been killed on Merseyrail's Wirral line. In a statement released through British Transport Police, Oscar Phillips' family said:- "Sadly on Monday, 26 January 2015, at around 5.30pm, our dearly loved son Oscar Phillips, aged 16, was struck by a train and tragically died at Capenhurst Railway Station. We know Oscar will be sadly missed by many people and would like to thank everyone for their kind wishes, support and floral tributes. We now ask that we are given the time and space to grieve privately."