Mark Watson is a:- "naturally funny man"
Written by James Rampton
MARK Watson is a naturally funny man. To prove the point, the stand up, who is the father of a newborn baby, begins our chat by telling me how shattered he is. "My phone is currently at three% power, which is a reasonable metaphor for the state of my life right now. The difference is that I'm not as easy to charge up as a phone. Coffee is my equivalent of aphone charger, but it's not as reliable. But both my phone and I are just about getting through most days!"

You'll be delighted to learn that Mark is bringing this trademark wry, self deprecating sense of humour to a theatre near you very soon. Following a sell out run at the Edinburgh Festival, this magnetic comedian is embarking on a most welcome 65 date national tour with his wonderfully entertaining new show, entitled "Flaws". In the show, which marks his 10th Anniversary in comedy, Mark explores why, despite our lack of perfection and poor decision making, humans are still pretty spectacular.

Even though he may not possess the answer to all of life's most serious questions, the comic reflects with his customary hilarity on the process of growing up, including the terrifying ageing process, parenthood and the fear of passing terrible traits onto your children.

In this thought provoking adventure, he examines human character defects and the effects his own flaws have had on his life. This is Mark's most personal and funniest show to date.

When we meet in a North London cafe in the run up to the tour, Mark shows himself to be a rare example of a comedian who is as engaging off stage as he is on it. He makes for brilliant company; our hour together is punctuated by the sound of laughter.

The stand up, who in 2006 won both the Panel Prize at:- 'The If.comedie Awards' and the:- 'Time Out Critics' Choice Award', can be summed up by all those adjectives beginning with:- 'C' like:- charming, comic, chaotic and completely compelling.

But I'm not the only fan of this marvellously self effacing stand up. The critics have also been queuing up to praise the comedian who is widely regarded as one of the finest acts on the circuit.

The Times called him:- "The highest achiever the Edinburgh Festival has seen this decade. A huge comic presence." Meanwhile, The Guardian described him as:- "A prodigy", and the Daily Telegraph said he was:- "Simply exhilarating".

Mark is a peerless live force, and he simply can't wait to be performing stand up once again. The comedian, who has also recently starred with Henning Wehn in Dave's new show, Road To Rio, explains just why he loves the live arena so much.

"The buzz you get from a live show is pretty unique. You walk out on stage and you get an immediate, huge sense of love and affection from the audience. It is only comedy where you get such an instant response and where the stakes are so high."

The comic, who on radio has presented the well regarded shows, Mark Watson Makes The World Substantially Better, 100 Million or Bust and Mark Watson's Live Address to the Nation, continues that:- "People instinctively feel that stand up must be terrifying because the performer is so exposed. There is no doubt that I find it nerve wracking. Comedians who feel no anxiety have simply become machines. But in a live show, at least you are in control. With TV, what you do might only be reflected in 5% of the final edit; you're just a cog in the wheel. Even if you do well, you're at the mercy of casual audiences who might decide they don't like you within 5 minutes and write nasty things about you on the Internet. But when it's your tour, matters are purely in your own hands. Yes, you're on your own and vulnerable, but the flipside is that you have autonomy. Even if they hate it, you can say that:- 'At least it had integrity. I've successfully performed a show which I wholeheartedly believe in, even if they didn't like it!'"

Mark, a fully fledged Edinburgh Fringe legend who has in the past manfully performed marathon 36 hour shows, carries on that he finds touring the most rewarding of all experiences. "It's so satisfying. Most comedians want to get to the point where rather than being just another act on the bill, they are touring under their own name. I don't aspire to much more than having a couple of hundred people who've bought a ticket with my name on it; even though some of them might not know who the hell I am! Then you're given artistic licence because people have actually paid to see you. That's a great feeling. On tour, you're delivering something that feels like it's entirely your own product, for want of a better word. That's pretty satisfying."

The stand up, whose debut DVD:- "Mark Watson Live", is available now, goes on to outline what subjects he will be covering in "Flaws". "It's not unusual that, like me, a comedian claims to be performing:- 'His darkest, most personal show'. Hardly anyone has written an entry to the Edinburgh programme saying:- 'I don't give a toss – I'm just going through the motions with a trawl through my old routines'. These days PR people stop us telling the truth like that in our blurbs! So a lot of observational comedy is performed by people like me talking about things that have gone wrong. I've now been a professional comedian for 10 years, and it seemed like the natural point to reflect on what I've done. I couldn't help observing that most of the time has been spent making money from telling people about my personal inadequacies. So 'Flaws' is about how my hapless stage persona has at some point become a hapless human being."

The comedian, who has also appeared on We Need Answers, Never Mind the Buzzcocks, Mock the Week, Would I Lie to You, Have I Got News for You, Live at the Apollo, Michael McIntyre's Comedy Roadshow and Channel 4's Comedy Gala, continues that:- "The stuff I talk about on stage is not that different from my real life. I have a definite shtick – a slightly manic nervous energy which makes something of my incompetence and general failings. But that's actually very similar to how I conduct my life. The effect of that on my mental well being is ambiguous. If you're performing a version of yourself, it's quite easy to lose track of where your real self begins and ends. In the show, I say that in my twenties I felt that it was fun to tell anecdotes about the different ways I'd screwed up. You're allowed to be a shambles in your twenties. But it is sobering to realise that you've got no better as a 35 year old and that if you don't shape up, you'll be a 50 year old who has still not got to grips with the basic pillars of life. I have 2 children and a mortgage and still walk this strange tightrope between a seemingly respectable life and complete chaos!"

Mark, a Cambridge graduate and former Footlights performer who is one of the most intelligent and articulate comedians around, proceeds to go into further detail about the show. "I'm interested in the whole idea of flaws and fallibility. Perfection is not possible or desirable for humans. The denial of human quirks and flaws is not healthy. But the fact that you know others have flaws doesn't necessarily comfort you. I support the perennially underachieving football team Bristol City, but their local rivals Bristol Rovers are even worse. They're in freefall. People saying to me:- 'It could be worse – you could support Rovers', doesn't really help. I'd like my team to do well rather than take comfort from the failures of others. There's only so much consolation you can get from the idea of someone else doing worse."

So, Mark adds:- "In 'Flaws,' I try to improve myself and find role models to aspire to. My lack of confidence and self esteem has powered my shows and my decisions in life. But if you look at the opposite, aggressively confident people, a lot of their qualities are loathsome. In correcting your flaws, you might actually move towards something even worse. Self improvement is very difficult!"

As you can see, it is a pleasure to spend time in the company of this immensely likable comedian. Never very far away from the next gag, Mark closes by joking how relieved he is, after the exhaustion of new fatherhood, to be indulging in a sneaky rest on tour.

"My life is out of control." smiles Mark, who is also a successful novelist and whose latest book, Hotel Alpha, has just been published. "So going on tour will be a great relief – I can't get out on the road quickly enough! Performing the show has become the least stressful part of my day. All I have to do is stand up and talk for an hour; that eclipses all my other problems. Yesterday I did a warm up gig in Eastbourne. It was three hours drive there, and I knew that when I got back to bed I'd have to get up almost immediately with the new baby. So that hour on stage was the lowest stress I felt all day!"

He concludes that:- "Yes, the rigours of touring are considerable. But when you're on the road, people are scrabbling round at home doing much less glamorous things. When comedians complain about touring, I assume they haven't got families. Certainly there have been times at home when I've been delighted to say:- 'You know I'd love to stay and deal with this plumbing crisis, but sadly Bromsgrove awaits!'"

And the cafe once more fills with the sound of laughter.
If all that gets you interested, well take note, as he will be performing at Liverpool's Unity Theatre, from 16 February to 17 February 2015, to book tickets call:- 0844 873 2888 or go online. Also for more about Mark and other tour dates and venues go to:- MarkWatsonTheComedian.com.

Heads up - 'Drifters' (1929) with live score from Jason Singh - Preston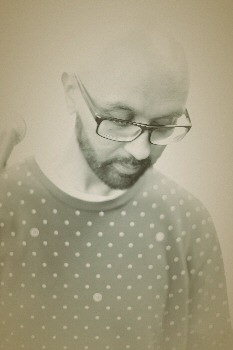 IF you like the films, take note as The Continental, Preston, will be hosting a fantastic night, on 5 February 2015, from 8pm. this event will see beatboxer, vocal sculptor and sound artist, Jason Singh performing a live vocal score to John Grierson's 1929 silent film:- 'Drifters'. Using techniques of pre-recorded vocal sequences, live vocal processing and sampling, Jason will be creating a sonic backdrop of ambient textures, experimental atmospheres and rhythms created solely by the use of the voice to accompany the film. Born in London and now based in Manchester, Jason's work is rooted in inspiring people to engage in exciting creative experiences, through performance and participation. He has worked with numerous organisations across the UK, developing beatboxing and vocal sculpting as an art form. This quest has taking him to events like:- Glastonbury Festival, the National Portrait Gallery, the VandA Museum, the BFI and the Whitworth Art Gallery. If you do not know who John Grierson was and you don't know his work, John was an influential Scottish documentary filmmaker, who is often considered the father of British documentary. Premiering in London alongside Battleship Potemkin in 1929, his film 'Drifters' follows North Sea herring fishermen through their dramatic daily routines.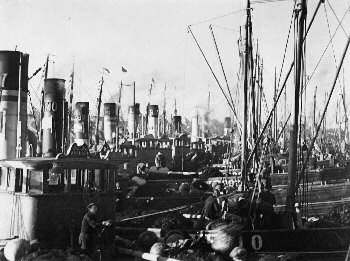 To book tickets for this show, please visit:- NewContinental.Net

Other UK venues and dates are as follows:-

8 February - Birmingham MAC

9 February - Scunthorpe - Café INDIEpendent

1 February - London - Canada Water Culture Space

This 2015 tour is supported by Arts Council England.

Did you know? This re-run of 'Drifters', was premiered at Manchester's Cornerhouse Cinema and has been seen in cinemas and venues from Orkney to Iceland already!

Venue note for Preston - Under 16's must be accompanied by an adult. Also the venue cannot issue refunds to under 16's who are not accompanied by an adult.
National Waterways Museum secures Heritage Lottery Fund Grant
THE Canal and River Trust staff and volunteers at the National Waterways Museum, Ellesmere Port, are celebrating after receiving confirmation of a grant of £790,300 from the Heritage Lottery Fund (HLF) as well as invaluable match funding of over £50,000 from the Wolfson Foundation.

The HLF support will fund 3 key initiatives getting underway early in 2015 as part of the museum's 'Window on the World' project. The 1st strand will see new exhibitions and interactive displays created, including hands on activities for visitors of all ages, on the currently derelict historic slipway which occupies a unique position overlooking the River Mersey Estuary and Manchester Ship Canal. The other elements of the project will see the restoration of 2 of the most nationally important boats in the museum's collection – Mossdale and George. Each will be used to inspire new audiences about the history of wide boats and their role in the industrial development of the North West region.

The preservation of Mossdale has been made possible by the grant from the Wolfson Foundation.

Mossdale, the last remaining all wooden 'Mersey flat', it to be preserved, displayed and interpreted at the museum. George, a rare surviving horse drawn 'short boat' will be fully restored back to working order and will return to her original role as a working wide boat. Rather than carrying cargoes, George will offer a varied programme of activities and unique learning opportunities as part of a community outreach and education project on the Leeds and Liverpool Canal and at the Museum during the winter months.

Through these working boats, the project will celebrate the lives of the many ordinary people upon whose efforts the Industrial Revolution was built and encourage people of all ages to engage with their waterways heritage and the rich industrial history of the North West.

The National Waterways Museum project's vision is to tell the story of Ellesmere Port as a 'Window on the World' – a once thriving port which was an important transhipment facility between canal craft and seagoing ships.
Ellesmere Port provided a link from the 2,000 miles of inland waterways to the River Mersey Estuary and the world markets beyond. The Town's prime location enabled its transformation into an industrial powerhouse, which played a pivotal role in the industrialization of the North West.

This great news follows the recent announcements of Heritage Lottery Fund support for the Gloucester Waterways Museum (£994,000) and towards restoration of locks on the Grantham Canal (£830,500).

Sara Hilton, Head of Heritage Lottery Fund North West, said:- "Thanks to money raised by National Lottery players we've been able to fund a number of projects exploring the North West's waterways. We're delighted to help secure the future of 2 of Ellesmere Port's nationally important historic vessels and provide a fascinating gateway into their heritage and importance to the region's rich industrial history."

Canal and River Trust, Chief Executive Richard Parry, said:- "I am delighted that our partners at the Heritage Lottery Fund continue to recognise the importance and historic significance of the UK's canal network. Today's announcement will see over £2.6m HLF committed investment into the 2,000 mile network; helping to bring it to life for more and more people. As a relatively new charity, we are particularly delighted with the support being given by the Wolfson Foundation; a significant funder of museums and galleries in the UK; and look forward to a successful partnership with them. The National Waterway Museum showcases the history of the canals and the lives and times of the people who worked on them to its visitors of all ages. The museum is also home to our national archive and collection. As well as re-vitalising the Museum, this grant will enhance our educational programme, and bring the history of the waterways alive."
TalkTalk customers warned of possible disruption
IF you are on TalkTalk, the firm has issued a warning that due to planned maintenance to the firm's email services; some customers may be unable to login and use the service for short periods of time. This email maintenance will taking place, according to TalkTalk, on the 27 January, 28 January and 29 January 2015, between:- 00:05 GMT and 06:00 GMT. "During the upgrades some customers may be unable to login and use the service for short periods of time." said TalkTalk.