1st look at new £20 million St Julie's Catholic High School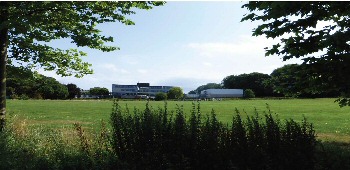 THE first images have been released of the new St Julie's Catholic High School; which will benefit around 1,000 young people and their families in Woolton. The £20 million development will create a new fit for purpose building for up to 1,100 pupils as well as opening up most of a privately owned woodland behind the school to more than compensate for the loss of less than five percent of a neighbouring field. The 3 and 4 storey building replaces a worn out and tired 1960's design which is no longer fit for modern teaching methods and needs significant repairs and maintenance.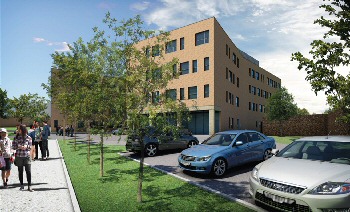 The new buildings are being sympathetically designed in line with the Woolton Village Conservation Area, and will be further away from the Grade 1 listed Woolton Hall than the existing school. The complex will also include multi use games area and sports hall which will be available for use by the local community, and will give the school more outside play space than it currently has.

Counci lor Jane Corbett, Cabinet member for children's services, said:- "This scheme will deliver a fantastic new school for the area, benefiting hundreds of families who live in and around Woolton, as well as the wider community. It is absolutely vital that the area gets a new school and we have been able to come up with a plan which delivers a new school largely on the existing site. There is also an exciting opportunity here to develop a new piece of public space which can be used by the whole community, and deliver an increase in the amount of land available for use by local people."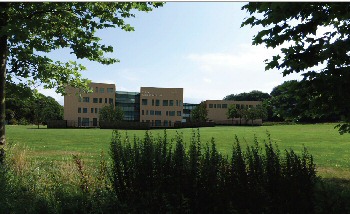 Head teacher of St Julie's, Tim Alderman, said:- "We are absolutely delighted with the plans for our new school, which will enable current and future generations of students in this community to benefit from fantastic educational facilities. I hope the community will continue to use our range of facilities out of school hours too, as well as enjoy the woodland areas that the Trustees have said could form part of this proposal."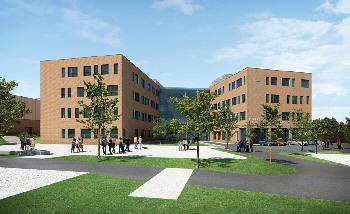 Ideas for the new public space include a children's play area, woodland trail, cycle routes, trim trail and woodland management if deemed appropriate. It would be funded as part of the school development as a community led project.

A complete rebuild on the existing footprint of the St Julie's site is not feasible due to tight site constraints, and a comprehensive survey of the local area has shown there are no other suitable sites nearby which would deliver a large enough building, or with safe access for pupils and staff.
The project is part of the Liverpool Schools Investment Programme, which will see at least 12 new schools built. It was devised as a rescue package following the scrapping of Wave 6 of Liverpool's Building Schools for the Future (BSF) project, and is 1 of the Mayor's key pledges. The planning application for the project is expected to be considered in April 2015 and if approved the school is expected to be completed in autumn 2016.

Capital of Culture 2014!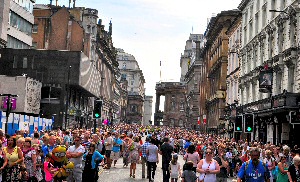 A new report reveals 2014 was a bumper year for Culture Liverpool; events brought in £55million to the local economy, funding secured nearly 1,500 jobs and a record number of wedding ceremonies took place at St George's Hall.

A review, to be presented to the Culture and Tourism Select Committee on Tuesday, 3 February 2015, looks at the achievements of the City Council's Culture Department which is responsible for events, attracting sponsors, Tourist Information Centres, the Cruise Liner Terminal, Liverpool Film Office and the running of St George's Hall and Liverpool Town Hall.

It found that 3 of 2014's major events; the Giant Spectacular Memories of August 1914, International Mersey River Festival including Music on the Waterfront and Liverpool International Music Festival (LIMF), brought 1.4 million people, with 173,000 coming from outside of the North West and 34,000 from overseas.

The report also reflects on other events delivered by Culture Liverpool – Chinese New Year celebrations, Rock 'n' Roll Marathon, Tour of Britan and Sky Ride, which were not independently evaluated, but would have further boosted the visitor and economic impact figures.

Other 2014 achievements include:-

► £3.2million invested in 41 of the City's cultural organisations, safeguarding 1,345 jobs and levering further investment, resulting in a turnover of £33 million.

► 272 film and TV productions filmed in the City, which added up to 795 film days, bringing in £10.7 million to the local economy.

► Liverpool Cruise Terminal welcomed 50 cruise liners, 50,000 passengers and 28,000 crew and was awarded best UK Port of Call by the Cruise Critic Awards.

► The commercial team who work with the public and private sector to secure funding for events brought in £264,000 and £1.8 million of value-in-kind support.

► More than 1,000 wedding ceremonies took place at St George's Hall and the Hall itself welcomed 250,000 visitors.

► Liverpool Town Hall hosted 327 events.

► The Tourist Information Centres welcomed nearly 250,000 visitors, with a new centre opening in Liverpool Lime Street Station.

► Nearly 200,000 people follow Culture Liverpool on Twitter and Facebook

Assistant Mayor and Cabinet Member for Culture, Events and Tourism, Counci lor Wendy Simon, said:- "This report highlights just how important culture is to Liverpool. From events that boost the local economy by millions and bring in record numbers of visitors, right through to supporting local arts organisations and facilitating a wide variety of filming in the City – Culture Liverpool's contribution has a vital impact on the City as a whole. We always knew that 2014 would be a big year in terms of events with the return of the giants, but it's reassuring to see other parts of the culture portfolio thrive. Cruise liner visits are on the increase, more people than ever are choosing to get married in the City gem that is St George's Hall and we're continuing to support our local and grassroots arts organisations which are an essential part of this City's cultural fabric."

As well as achievements, the report also identifies future plans which include:-

► To utilise the City's assets and continue to provide a wide and diverse programme of events.

► To increase the number of cruise liners coming to the City and maximise the length of their stay.

► Develop the TV and film infrastructure in the City to act as an incentive for more producers to choose Liverpool as a filming destination.

► Identify a temporary parking site to enhance the existing coach welcome scheme.

► Position St George's Hall as a venue for wedding breakfasts.

► Re-establish Liverpool Town Hall as one of the City's leading venues, following 18 months of essential stone work repairs.

Director of Culture, Claire McColgan said:- "Although it's often the events that get all the attention, they form only part of an incredible arts ecology in this City. The grassroots and major arts organisations provide a year long cultural offer that is world class. The visitor economy is thriving and we are leading the way in using culture as a driver for growth. Liverpool is an incredibly ambitious thought provoking international place and an inspirational canvass for all artists, creative and entrepreneurs. And 2015 promises to build on this, with ships… lots of them!"

To see a full copy of the report, click on here.