Vintage Fashion Market - New Year, New Venue!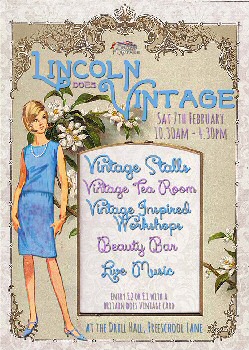 ON Sunday, 15 November Britain Does Vintage are bringing their fabulous Vintage Fashion Market is heading back to Liverpool, but this time all that nostalgia will fill The Empire Theatre! Between 10:30am and 4:30pm you'll be able to listen to live music from Bexi Owen whilst enjoying afternoon tea from our vintage tea party! Why not get creative at the vintage inspired workshop? And be sure to visit the beauty parlour run by local lovelies Russell and Brown, who will be ready to curl, quiff and roll your hair into a pinup worthy style. It's that time of year when we're thinking about grabbing a bargain! The January sales are still in full swing and we hope you've got Christmas cash to spare because our traders will be making room for new stock! Come down to grab a vintage bargain! Britain Does Vintage are winners of an:- 'Outstanding Customer Service' Award, organisers Alex and Sam aim to make everybody feel welcome from the moment they reach the entry desk. So you'll be met with a smile! "We're all a bit skint at this time of year. So buy vintage! Save money, look awesome, support local business." says Gina Walters from Britain Does Vintage. For more details visit:- BritainDoesVintage.Co.UK.
Police keen to speak to Adam Holden over incident in Southport
MERSEYSIDE Police Detectives are appealing for the public's help in tracing a man they want to speak to about an incident, in Southport, in which a resident was tricked out of thousands of pounds. Officers want to speak to Adam Holden, aged 21, as they believe he could have information about the incident in Kingston Crescent, Southport, on 10 January 2015. The 65 year old victim was doing some work on his computer when at around 9am a man knocked at his front door. The man was dressed like a workman in blue overalls and a yellow, fluorescent jacket and told the homeowner that some of the tiles on his roof needed repairing. The victim agreed to let the man take a closer work and, after being told that the work definitely needed doing, agreed to go with the man to his bank to withdraw money to pay for the work up front. The homeowner could only withdraw around half the money that he had agreed to pay so the man returned two days later and again, took the 65 year old to the bank where he withdraw a 2nd sum of money. The offender took the victim home and promised to return in a few hours however he never did. Detectives at Sefton CID are now treating the incident as a fraud by deception and are keen to hear from anyone who has any information about the incident.

Detective Constable Jamie Dean said:- "The victim has lost several thousands of pounds simply because he trusted the word of a man who appeared to be quite convincing as a workman, but turned out to be nothing of the sort. The offender persuaded the victim that repair work needed to be done to his roof tiles and quoted a figure of thousands of pounds. He then encouraged him to withdraw the money there and then to pay upfront but ultimately failed to carry out the agreed work. The victim is devastated, as anyone would be, and we are doing everything possible to bring the offender to justice. I am keen to hear from anyone who might have information about this type of offence happening in the Southport area recently. I am particularly keen to speak to Adam Holden or anyone who knows him as I believe that he could have information that could help my enquiries into this incident."

Mr Holden is believed to have links to Elton, near Chester, as well as Merseyside. Call Sefton CID on:- 0151 777 3835 or Crimestoppers on:- 0800 555 111.

Full extent of low pay crisis in North West revealed
"NO area is immune from low pay epidemic which is why all local authorities need to champion the Living Wage in their communities." says GMB at launch of new Town Hall pay campaign. The full extent of low wage employment in the North West is laid bare by GMB analysis of the latest official estimates for the percentage of jobs paying less than the Living Wage in every local authority area.

The areas in the North West with the largest proportion of jobs paying less than the Living Wage are:- West Lancashire (38.3%), Blackpool (33.9%), Rossendale (33.7%), Allerdale (33.2%) and Oldham (32.9%). The areas with the smallest proportion of jobs below the Living Wage are Copeland (11.3%), Manchester (15.8%), Salford (16.4%), Fylde (17.7%) and Halton (19%). The North West average is 23.6% and the UK average is 21.7%.

At regional level, the East Midlands has the largest proportion of jobs paying less than the Living Wage (24.7%, or 1 in 4 jobs) in England and Wales, followed by:- Yorkshire and the Humber (24.3%), the West Midlands (24.1%), Wales (23.9%), the North West (23.6%), North East (23.4%), South West (22.6%), East of England (22.3%), London (18.3%) and the South East (17.8% or about 1 in 6 jobs).

For the UK as a whole, 21.7% of jobs paid less than the Living Wage in 2014. Women and part-time workers are disproportionately affected: 26.6% of jobs held by women and 42.3% of part time jobs are below the Living Wage.

The figures are estimates produced by the Office for National Statistics based on its 2014 Annual Survey of Hours and Earnings. The figures have been analysed and ranked by GMB.

GMB is publishing this material to mark the launch of its 2015 campaign to get every local authority signed up to the Living Wage. 134 out of 375 local authorities in England and Wales have so far implemented the Living Wage for their lowest paid staff or committed to doing so, up from 103 a year ago.
In Scotland all 32 local authorities have signed up. GMB is calling on all local authorities in England and Wales to get on board and to put their weight behind local efforts to persuade more employers to adopt the Living Wage.

The Living Wage is a recommended rate of pay that takes into account the true cost of living in the UK. In November 2014 the national Living Wage increased to £7.85 per hour and the London Living Wage to £9.15 per hour.
These estimates relate to April 2014 and to the rates applying at that time (national Living Wage £7.65 per hour; London Living Wage £8.80).

Paul McCarthy, GMB Regional Secretary for the North West said:- "No area is immune from the low pay epidemic which is why all local authorities need to champion the Living Wage in their communities, beginning with their own staff and contractors. There are 446,300 Council employees paid less than the Living Wage, the majority of them women working part time. The Living Wage matters because it takes into account the income that people need for a minimum acceptable standard of living. It is a first step towards a rate of pay that people can live on without relying on benefits. Life below the Living Wage is a life of want and worry for millions of workers and their families. Town halls can't solve the low pay problem on their own and some in the worst hit areas are already signed up to the Living Wage. But Council s are a very important part of the picture locally, not least through their procurement of goods and services from other local employers. 134 out of 375 local authorities in England and Wales have so far agreed to pay the Living Wage which means we are more than a third of the way there. This year GMB aims to get the remainder on board. We call on the next government to earmark additional funding to local government to support this important initiative. One of the key recommendations of last year's All Party Parliamentary Inquiry into Hunger in the UK was for local authorities to pay the Living Wage and use their procurement strategies to encourage local businesses to do likewise. Public health experts are warning that people need a sufficient income in order to live a healthy life. There is also a strong business case for implementing the Living Wage because it raises morale and productivity, improves attendance and reduces staff turnover."