Kaiser Chiefs Live In Liverpool
Photographs by Jo Forrest.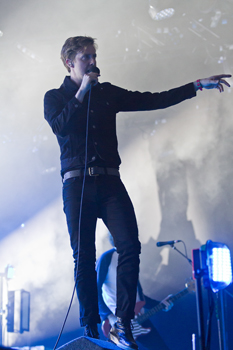 ON 31 January 2015, the Kaiser Chiefs started the latest Tour of the UK, in Liverpool, by tweeting "And we're off!!!" The band is a massive Alternative, Rock, Pop band from Yorkshire and that could be seen clearly at the ACC Liverpool located on the former King's Dock. After the show, a very pleased band posted on Facebook "Thanks for kicking things off last night Liverpool." Full review of this show will be posted in the next issue, but for now, please enjoy these 6 fantastic photos, taken by Jo Forrest. Also if you want to see the show and missed it in Liverpool, the band is still to play at the following venues:-
► On 9 February they will be at the Pavilions, Plymouth;

► On 10 February at the Bournemouth International Centre Bournemouth, Dorset.

► On 11 February at The Brighton Centre, Brighton, East Sussex.
The last 2 performances of this Tour will take place at:-
► 13 February, at The London O2 Arena.
► Valentines' Night, 14 February 2014, at the First Direct Arena in Leeds.
If you attended, please let us know your memories of the event by emailing us to:- news24@southportreporter.com.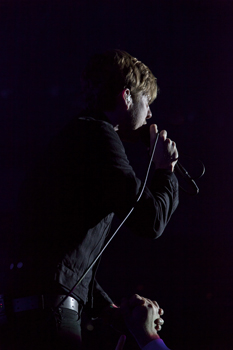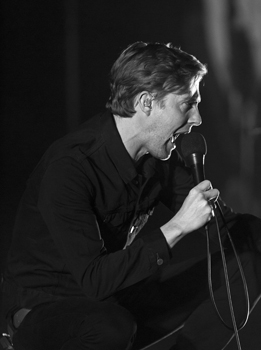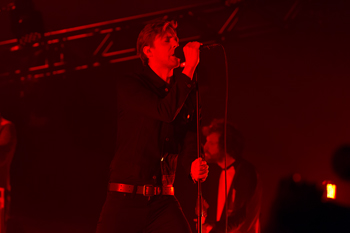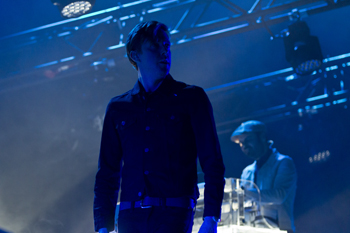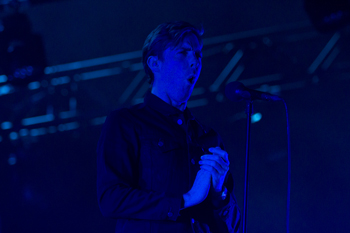 Get Ready for Bandroyale 2015!!!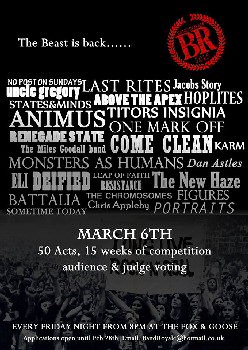 THIS year Southport's longest running and most loved live music band competition returns this spring to the 'Fox and Goose!', on Cable Street, in Southport. Prepare to feast your eyes, ears and dancing feet, with over 50 genre spanning musical acts, as the talented groups compete every Friday night until early summer for the right to call themselves this years champions... Plus we cant forget to mention the little matter of a £1000 Grand Prize!! The grand launch of this event will take place on 6 March 2015, then run every Friday night until early summer. £2 early doors entry every week... Plus if you win 'Rock, Paper Scissors' games, you might get in for FREE!!! If you have a band, and you want to enter, you must apply by Douglas Wood, via the bar. BUT they expect to have the full line-ups', by next week, so get in contact as soon as possible.

Dirty Dancing is heading to Liverpool Empire in 2015!
Photographs by Chris Nash.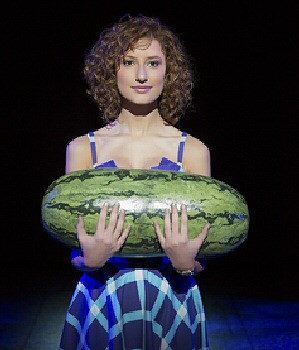 THE Producers of the UK and Ireland tour of 'Dirty Dancing – The Classic Story On Stage' are delighted to announce that 8 new venues have been added to its run. Now the record breaking, phenomenal show 'Dirty Dancing' will play the Liverpool Empire from Tuesday, 7 April to Saturday, 25 April 2015. The additional dates for the smash hit show include:-

► Birmingham Hippodrome, over Thursday, 30 April to Saturday, 23 May 2015.

► Theatre Royal, Nottingham over Tuesday, 26 May to Saturday, 13 June 2015.
► Theatre Royal Plymouth, over Tuesday, 16 June to Saturday, 4 July 2015.
► Alhambra Theatre, Bradford, over Tuesday, 7 July to Saturday, 25 July 2015.
► Marlowe Theatre, Canterbury, over Tuesday, 4 August to Saturday 22 August 2015.
► Theatre Royal Norwich, over Tuesday, 25 August to Saturday, 5 September 2015.
► His Majesty's Theatre, Aberdeen, over Tuesday, 8 September to Saturday, 3 October 2015.
► Venue Cymru, Llandudno, over Tuesday, 6 October to Saturday, 17 October 2015.
Casting is to be announced. Demand is expected to be high, so early booking is advisable!

As previously announced, the second UK tour of'Dirty Dancing – The Classic Story On Stage' launched at the Bristol Hippodrome on 15 March 2014 and has, to date, visited Sheffield, Newcastle, Southampton, Dublin, Belfast, Glasgow, Wolverhampton, Milton Keynes, Leeds and Oxford. In the 1st few months of 2015, it will also visit Eastbourne, Sunderland, Edinburgh, Cardiff and Liverpool.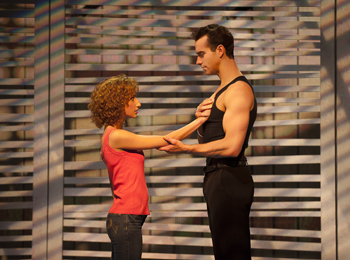 Concurrently the show is also enjoying huge success in Europe: after a recent sell out season in Vienna, Austria, the show continues to Tour in German speaking territories, is currently wowing audiences in Italy, and will open in Paris in January 2015, prior to embarking on an Arena Tour of major French cities, with each individual production using local German, French and Italian speaking companies. The show has also just re-opened in Sydney, prior to a new Australian Tour marking the 10th Anniversary of the original stage show.

The 1st ever UK Tour of 'Dirty Dancing – The Classic Story On Stage', which launched in 2011, took an unprecedented £42,000,000 at theatres across the country, received standing ovations and 5 star reviews, and smashed box office records in Glasgow, Aberdeen, Dublin, Leeds and Stoke-On-Trent. In 2013, 'Dirty Dancing – The Classic Story On Stage' returned to the West End and played at the Piccadilly Theatre in London until 23 February 2014, prior to launching the current UK and Ireland tour.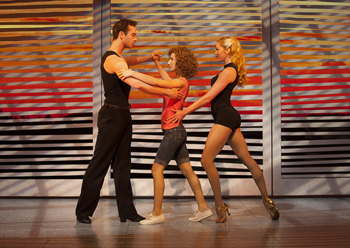 The current cast includes:- Gareth Bailey as Johnny Castle, Roseanna Frascona as Frances 'Baby' Houseman, Claire Rogers as Penny Johnson, James Coombes as Dr. Jake Houseman, Julia J. Nagle as Marjorie Houseman, Jessie-Lou Yates as Lisa Houseman, Colin Charles as Tito Suarez, Alexander Wolfe as Neil Kellerman, Michael Remick as Max Kellerman, Wayne Smith as Billy Kostecki and Mark Faith as Mr Schumacher and also features James Bennett, Sarah Cortez, Lizzi Franklin, Francis Haugen, Antony Hewitt, Verity Jones, Lewis Kirk, Robin Lake, Garry Lee, Carly Miles, Carlie Milner, Simone Mistry-Palmer, Marlon Moore, Brandon Lee Sears and Natalie Winsor.

Produced by Karl Sydow and Joye Entertainment, in association with Lionsgate and Magic Hour Productions, and written by Eleanor Bergstein, script writer of the phenomenally successful 1987 film, the production features the much loved characters and original dialogue from the iconic film, with exciting extra scenes added in.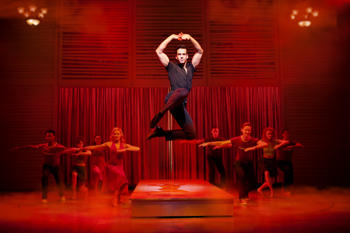 The tantalising dance sequences and brand new choreography come alive on stage, set to the hits from the unforgettable soundtrack, including:- 'Do You Love Me?', 'Hungry Eyes' and the Academy Award winning '(I've Had) The Time Of My Life', plus many additional songs, making the show a truly extraordinary live experience.

'Dirty Dancing – The Classic Story On Stage' originally opened at London's Aldwych Theatre in 2006 with a record-breaking advance of £15 million, making it the fastest ever selling show in West End theatre history. The production became the longest running show in the history of the Aldwych Theatre and played to over 2 million people during its triumphant 5 year run. A hit show all around the world:- 'Dirty Dancing – The Classic Story On Stage' has previously played in Australia, New Zealand, Germany, the Netherlands, Sweden and South Africa, consistently breaking box office records.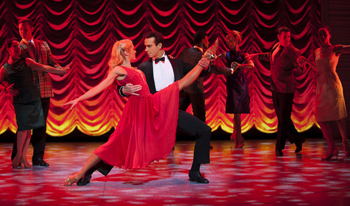 To book visit the Liverpool Empire Box Office, call:- 0844 871 3017 or buy online. Please note that fees apply to telephone and online bookings, avoid fees by buying tickets at the box office.