West Lancashire Classic Bus Day Returns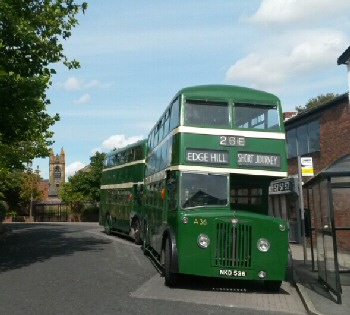 ON the 14 March 2015, the West Lancashire Classic Bus Day, now in its 3rd year will take place with 8 classic buses from the Merseyside Transport Trust collection operating frequent trips over 2 routes that both originate from Burscough Bridge.

Classic AEC Regents double deckers from the 1950's, along with some Leyland Atlanteans from the 60's and early 70's supplemented by a pair of single deck buses, will run over the 2 routes along some of the quieter lanes of West Lancashire.

Route 'B' links Burscough Bridge with Ormskirk whilst for the 1st time the other route will follow a circular route from Burscough Bridge via Bispham Green, Parbold and Newburgh. Both routes operate on a 1/2hour frequency between 12.00 midday and 6pm and are free to travel on.

As the routes meander through the beautiful countryside surrounding the Burscough area they pass a number of country pubs, at which the buses stop to drop off and pick up passengers who may wish to visit the establishments or for those who wish to take a walk through the countryside. Both routes cross over the Leeds Liverpool Canal numerous times giving visitors the unique opportunity to travel by classic bus before alighting to enjoy a walk along the scenic canal footpath before re-joining 1 of the buses at a stop further along the canal.

The Merseyside Transport Trust, a local registered charity has a collection of over forty classic buses, the oldest dating back to the 1940's all of which are kept in Burscough. The vehicles represent the progress of public road transport over the last 70 years and whilst the collection is not normally open to the public the voluntary group makes the vehicles available for people to see and travel aboard at numerous events throughout the year.

For more information on the Merseyside Transport Trust please visit our website or contact the group by email.