Mamma Mia, live in Liverpool
Photographs by Jo Forrest.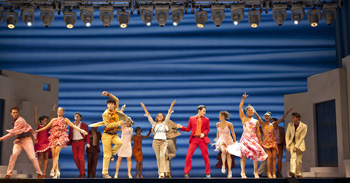 ON Tuesday, 24 February 2015, our freelance photographer, Jo Forrest, popped over to the Liverpool Empire Theatre for us, to a see the cast perform 'Mamma Mia and Dancing Queen'. This show started in the West End and has since been a global phenomenon which has now been seen by more than 10% of the entire UK population. It is 1 of only 5 musicals to have run for more than 10 years both on Broadway and in the West End. And in 2011, it became the 1st Western musical ever to be staged in Mandarin in the People's Republic of China. Now, for a very a short time, it is now in Liverpool and since it hit the stage on Friday, 20 February 2015, it has had a fantastic response. If you are one of the few who have not yet see it, you only have a few days left to do so, as it only runs until Saturday, 14 March 2015, at the Liverpool Empire.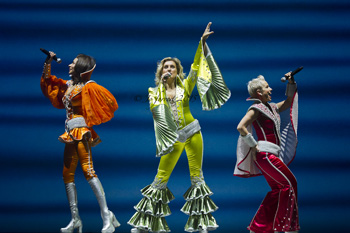 This international show, for its Liverpool leg has some fantastic performers in it. The cast includes:- Simon Wilmont (ensemble) who trained at LIPA and Michael Anthony (swing) who is from the North West and attended Calderstones Secondary School. Also appearing are Sara Poyzer (Donna), Sue Devaney (Rosie), Shobna Gulati (Tanya), Richard Standing (Sam), Michael Beckley (Bill), Mark Jardine (Harry), Niamh Perry (Sophie) and Justin Thomas (Sky).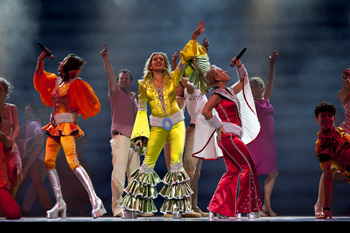 All of the above, and many others deliver a fantastic show which is guaranteed to get you singing along, in what is an incredibly uplifting atmosphere.

It is likely that many of the names listed will stand out to you, but if not, take for example Shobna Gulati, who has had many television roles include Sunita Alahan in:- 'Coronation Street'; Anita in Victoria Wood's award winning BBC series 'Dinnerladies'; Nisha Clayton in the last ever series of:- 'Where the Heart' is for ITV and, most recently, Fiona in Kay Mellor's new BBC series:- 'In the Club'. Another name is Sue Devaney, whose television roles include Jane in:- 'Dinnerladies'; Liz Harker, for 4 years in the BBC series:- 'Casualty'; Rita for 3 years in 'Jonny Briggs' and, of course, Debbie Webster for 2 years in 'Coronation Street'.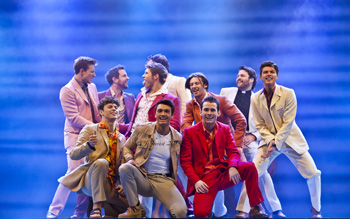 A stellar cast is combined with great music and lyrics by Benny Andersson and Björn Ulvaeus, in MAMMA MIA! , written by Catherine Johnson, directed by Phyllida Lloyd and choreographed by Anthony Van Laast...Add the amazing lighting design by Howard Harrison, plus the awesome sound design by Andrew Bruce and Bobby Aitken and mix this with the acute attention to detail in the production designed by Mark Thompson and in the musical supervision and additional material, along with arrangements by Martin Koch, and this block buster show becomes a must see!

For your last chance to get tickets go to:- ATGTickets.Com or visit:- LiverpoolTheatres.Com.