People's choir sings for Pyramids shoppers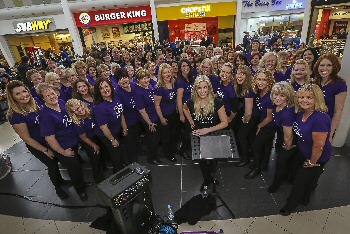 WIRRAL shoppers enjoyed the golden sound of a people's choir which is led by a children's TV presenter and singer who once sang backing vocals for Westlife. Visitors to Pyramids Shopping Centre on Saturday were stopped in their tracks when members of the PopVox Choir, led by Heswall actress, presenter and performer Emma Nowell, struck up into song in a flash-mob style opening to their 2 hour long performance at the busy Wirral retail hub.

The musical group was put together 4 years ago by Emma, who supported Westlife during her time as a professional backing singer which saw her also rub shoulders with stars such as Kylie Minogue, Jennifer Lopez and Robbie Williams, with the aim of putting a smile on people's faces.

Since then, the fun and friendly choir, has thrilled audiences at a host of venues across the Wirral, Liverpool and North Wales.

Speaking after the performance, Emma, 31, said:- "The choir thoroughly enjoyed the performance at Pyramids Shopping Centre on Saturday. The flash mob was lots of fun and members of the public were dancing and singing along with us. There was a fantastic atmosphere there."

Derek Millar, Commercial Director for Pyramids Shopping Centre, said:- "The PopVox choir brought a great vibe to a Saturday shopping day over the weekend and people could not help, but stop and join in. As the main shopping centre at the heart of the Wirral we are always keen to reach out and support talented groups like PopVox which are unique to our area and we can be the perfect venue for them to showcase what they do."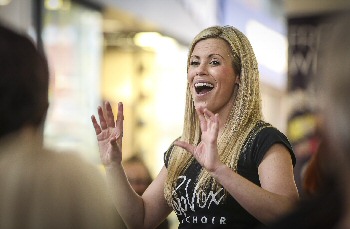 Emma is best known for being one of the regular presenters on the pre-school television programme Hi-5, which is screened every day on the Cartoonito channel and has been seen on ITV 1 and ITV 4. She also has theatre and film appearances on her long lift of professional credits including the smash hit musical Blood Brothers.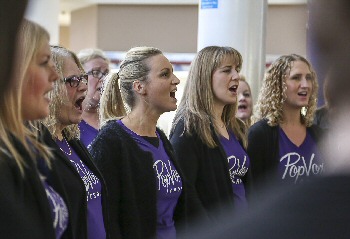 Explaining why she decided to strike a new chord by starting the PopVox Choir she said:- "The idea for it came to me when I decided to use my professional experience and love of music to create a contemporary fun and friendly choir for adults. Singing is fantastic in so many ways. It boosts health, self confidence and makes you feel great. Through the power of song everyone leaves PopVox with a smile on their face. We have about 60 members in the choir whose ages range from mid twenties to their sixties and although most of them are ladies at the moment I am anxious to recruit more men. Our members come from a variety of backgrounds but lots of them are teachers or nurses. We meet every Monday evening from 7.30pm, at Heswall British Legion Club in Pensby Road and work towards various live appearances."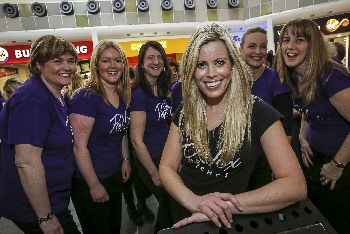 As a singer, Emma has been a backing vocalist for various music industry artists, performing on Top of the Pops and The Eurovision Song Contest. She recalled:- "During my career I've been lucky enough to work with or meet some really big show business names such as Kylie Minogue, Jennifer Lopez and Robbie Williams. I met most of them during my time as a backing singer at various awards nights like the 2004 Top of the Pops at the MEN Arena in Manchester where I backed Westlife as they performed their hit song Queen of My Heart. In 2003 I was a backing singer for the Liverpool group Jemini at the Eurovision song contest in Latvia. Each Christmas I like to appear in local pantomimes. Over the past few years I've worked alongside stars such as Sean Williamson, who played Barry in EastEnders, Colin Baker of Dr Who fame and Ruth Madoc from comedy show Hi De Hi."

For more details about the choir go to:- PopVoxChoir.Co.UK.

Noise Pollution and Our Health!
STUDIES suggest noise pollution can be detrimental to health and linked to conditions such as stress, insomnia and even heart attacks. The World Health Organisation have even suggested that around 3,300 deaths from strokes and heart attacks each year in the UK could be attributed to noise pollution. With the UK becoming an increasingly populated nation, particularly in urban and suburban areas, the level of noise pollution may be likely to rise in the future with more construction, transport and people adding to the issue.
BuildingMaterials.Co.UK ran a poll of 1000 Britons to find out which noises affect them the most.

► The noise from building work; for example drilling or hammering; was named by the highest number of respondents (27%) as the sound that annoys them the most. These types of construction noises are more annoying to women than men, with 32% of females who participated in our poll naming this as their top choice for the most irritating sound, compared to 26% for males.

► A close 2nd on the list was the noise from alarms. Overall, 23% of participants in our poll said they found the sound of car or house alarms to be the most annoying. However looking at just the female vote, noise from neighbours (such as shouting or playing music too loudly) was considered to be the second most annoying behind building work.

► Other noises people find annoying include sounds from animals, like dogs barking (15% named this as their top answer) and children playing outside (9% citing this as the sound that most irritates them). Based on their findings, the team at BuildingMaterials.co.uk have provided suggestions on how to prevent noise pollution entering your home!

► WINDOWS - A first step is to look at any gaps around windows and make sure they are properly sealed. Triple glazed windows add an extra layer of air and glass to what you would get with double glazing, bringing added sound

► DOORS - A door with a solid core made from a material such as wood will offer improved insulation over hollow doors or those filled with a lightweight material. It's also worth paying attention to the small gaps around your doors and installing door seals.

► INSULATED PLASTERBOARD - Sound insulating or acoustic plasterboard has a high density core and is great both for stopping noise from entering your home from the outside and for sound proofing rooms in your house (like home cinemas or music rooms) to reduce internal noise distribution. The boards are applied directly to the walls and become invisible once finished and decorated.

► CURTAINS - Drapes or curtains in heavy fabrics such as wool can help to absorb more sound from entering a room via windows and doors. There are also special sound absorbing materials from which curtains can be made.
World Social Work Day marked in Liverpool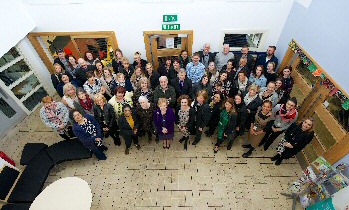 SENIOR managers met with social workers in Liverpool to mark World Social Work day to celebrate the invaluable contribution they make to local communities. Liverpool City Council has social workers in both adults'and children's services and also in its contact centre, Careline.

Bernie Brown, Assistant Director in Children's Services, said:- "We welcome the opportunity to publicly say thank you to our social workers, residential social workers, family support workers and support staff who deliver social work to families in Liverpool. Their dedication to delivering better outcomes for young people and families is second to none. Every day they are making a positive different to people's lives in the face of extremely challenging circumstances. This is a day to recognise their invaluable work and it was great to thank them in person."

Director of Adult Services and Health, Samih Kalakeche, added:- "We're always grateful for the work that our social workers do in working with the City's most vulnerable adults to ensure that they have the right support to live as independently as they can. World Social Work Day lets us shine a well deserved spotlight on this group of colleagues and to remind everyone of their skills and how vital they are to our communities and say thank you for their expertise and commitment."
Thousands join race to find lifesaver for 7 year old Finn
THOUSANDS of people have joined a race against time to find someone who can save the life of a 7 year old boy. Delete Blood Cancer UK has had several thousand people register with it as potential blood stem cell donors in the last week in response to an appeal for Finn McEwen. Finn, who is from Liverpool, has just been diagnosed with Myelodysplastic Syndromes (MDS), a bone marrow disorder that in children can rapidly develop into acute myeloid leukaemia. He needs a blood stem cell donation from someone with the same tissue-type as him as that is the only potential cure for the condition, and so a matching donor is urgently sought for him. Finn is funny, polite and bright, and a huge fan of Minecraft and football. He has a younger brother and sister, Lucas and Seren, His mum Carole says:- "Finn is the most mature, sensitive and caring 7-year-old you could ever meet, and his first thought is always for other people's feelings. He is the best big brother and is always looking out for his little brother, sister and cousins, who adore him. All I want for him now is to get well so that he can continue doing the things he loves. I would urge anyone who hasn't yet registered as a potential blood stem cell donor to take a few minutes to register. It is so easy to do, but so incredibly important."

Emphasising how crucial it is that people register, Joe Hallett, Donor Recruitment Manager at Delete Blood Cancer UK, said:- "We have seen a massive rise in people registering as a result of Finn's appeal but we need many, many more to register. Finding a tissue match is a bit like winning the lottery and the more people registered the better the chances of a patient finding their lifesaving match."

You can register in 5 minutes online and request a cheek swab kit that will enable you to do your own tissue test to become a potential blood stem cell donor through the Delete Blood Cancer UK website.