68th Southport National Open Exhibition - 2015
Photographs below are by Tony Thompson, SPS Hon. Historian.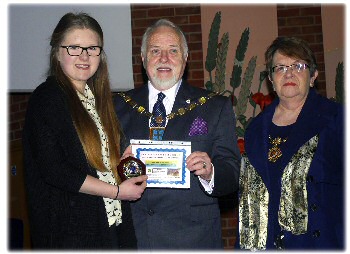 THE Southport Photographic Society held its Exhibition Awards Ceremony, on 29 March 2015, in Christ Church, on Lord Street. The event is now in its 68th year, and it is going from strength to strength awarding photographers, young and old alike. The entry stats for prints and dpi (digital projected images) are the National Open 3616 images, Members 151 and Young Photographers 164 prints. On display in Wayfarers there are a total 451 prints. The opening ceremony, of the exhibition, was conducted by The Worshipful the Mayor of Sefton, Cllr Kevin E Cluskey, BA Hons, who also took a look at the Southport National Open Exhibition, which followed on from the opening proceedings. The 3 sections on public display are the National Open Exhibition, in the main Arcade area and in the shop display; also in the arcade, one will find the SPS Members Annual Exhibition and the Young Photographers'Competition. This year's exhibition is supported by the Southport South Links Rotary and it is open for viewing until 29 March 2015. We would strongly recommended one to go and look at what is an exceptional display of photographic skills. It is also worth noting that The Southport Photographic Society was founded in 1890 and it is celebrating its 125th Anniversary, this year. The photographs on this page are with the permission from to SPS Hon. Historian, Tony Thompson, to whom we extend our thanks. A few extra pictures are also added on the following page which our editor took. We will also be putting some video clips of the Awards Ceremony, on our Facebook Page. Well done to all who took part and congratulations to all the winners!