People's choir sings for Pyramids shoppers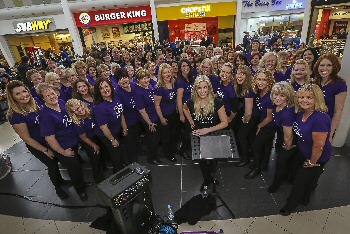 WIRRAL shoppers enjoyed the golden sound of a people's choir which is led by a children's TV presenter and singer who once sang backing vocals for Westlife. Visitors to Pyramids Shopping Centre on Saturday were stopped in their tracks when members of the PopVox Choir, led by Heswall actress, presenter and performer Emma Nowell, struck up into song in a flash-mob style opening to their two-hour long performance at the busy Wirral retail hub.

The musical group was put together 4 years ago by Emma, who supported Westlife during her time as a professional backing singer which saw her also rub shoulders with stars such as Kylie Minogue, Jennifer Lopez and Robbie Williams, with the aim of putting a smile on people's faces.

Since then, the fun and friendly choir, has thrilled audiences at a host of venues across the Wirral, Liverpool and North Wales.

Speaking after the performance, Emma, 31, said:- "The choir thoroughly enjoyed the performance at Pyramids Shopping Centre on Saturday. The flash mob was lots of fun and members of the public were dancing and singing along with us. There was a fantastic atmosphere there."

Derek Millar, Commercial Director for Pyramids Shopping Centre, said:- "The PopVox choir brought a great vibe to a Saturday shopping day over the weekend and people could not help, but stop and join in. As the main shopping centre at the heart of the Wirral we are always keen to reach out and support talented groups like PopVox which are unique to our area and we can be the perfect venue for them to showcase what they do."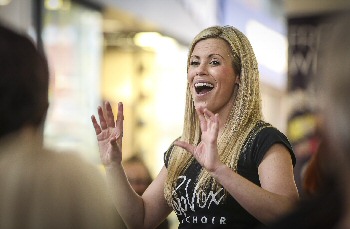 Emma is best known for being one of the regular presenters on the pre-school television programme Hi-5, which is screened every day on the Cartoonito channel and has been seen on ITV 1 and ITV 4. She also has theatre and film appearances on her long lift of professional credits including the smash hit musical Blood Brothers.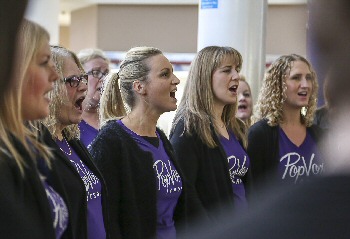 Explaining why she decided to strike a new chord by starting the PopVox Choir she said:- "The idea for it came to me when I decided to use my professional experience and love of music to create a contemporary fun and friendly choir for adults. Singing is fantastic in so many ways. It boosts health, self confidence and makes you feel great. Through the power of song everyone leaves PopVox with a smile on their face. We have about 60 members in the choir whose ages range from mid twenties to their sixties and although most of them are ladies at the moment I am anxious to recruit more men. Our members come from a variety of backgrounds but lots of them are teachers or nurses. We meet every Monday evening from 7.30pm, at Heswall British Legion Club in Pensby Road and work towards various live appearances."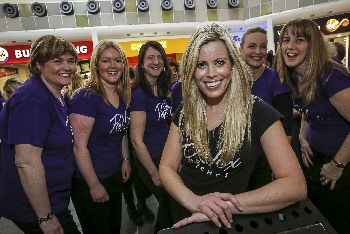 As a singer, Emma has been a backing vocalist for various music industry artists, performing on Top of the Pops and The Eurovision Song Contest. She recalled:- "During my career I've been lucky enough to work with or meet some really big show business names such as Kylie Minogue, Jennifer Lopez and Robbie Williams. I met most of them during my time as a backing singer at various awards nights like the 2004 Top of the Pops at the MEN Arena in Manchester where I backed Westlife as they performed their hit song Queen of My Heart. In 2003 I was a backing singer for the Liverpool group Jemini at the Eurovision song contest in Latvia. Each Christmas I like to appear in local pantomimes. Over the past few years I've worked alongside stars such as Sean Williamson, who played Barry in EastEnders, Colin Baker of Dr Who fame and Ruth Madoc from comedy show Hi De Hi."

For more details about the choir go to:- PopVoxChoir.Co.UK.