Report into low income families shows how many are struggling 'Getting By'
MAYOR of Liverpool, Joe Anderson, is set to launch a major new report into poverty next week, exploring the plight of working families in the City. The report:- "Getting By? A Year in the Life of 30 Working Families in Liverpool"takes the form of 1st person testimonies from families with at least 1 parent in low-paid employment. Despite being in work, they still struggle to get by on the Minimum Income Standard (MIS). This is the level deemed necessary to achieve an acceptable basic standard of living, once wages, Tax Credits and in work benefits are factored in. The report explores how poverty, job insecurity, debt and low wages combine to impact on their personal relationships and family life, as they struggle to navigate the cost of living crisis. Researchers followed the families' progress over a 12 month period, through weekly spending diaries tracking their income and expenditure, followed up by detailed face to face interviews. 'Getting By?' is modelled on Edwardian social reformer Beatrice Webb's landmark Minority Report as part of the Royal Commission on the Poor Laws and Relief of Distress in 1909, which argued that the poor were not the architects of their plight.

The 164 page report will be officially launched at a meeting of the All Party Parliamentary Group on Poverty on Tuesday, 24 March 2014. Welcoming the publication of 'Getting By?' the Mayor of Liverpool, Joe Anderson, said:- "The report is all the more eloquent and compelling becomes it comes out of the mouths of those directly affected. It is simply heart-breaking and maddening that so many people are struggling to get by like this. It isn't their fault. These are proud working people, not 'scroungers'. They are getting up for work every day so they can set an example to their kids. 'Getting By?' is a call to action and requires all politicians to focus on alleviating the pressures on working families. We hear talk about 'making work pay, but here we have tale after tale about how that just isn't happening. Liverpool is grappling with a 58% cut to our government grant between 2010 and 2017 so we're left dealing with a yawning gap and we simply don't have the tools to deal with such deep seated problems. While we are offering practical support to food banks and charities through initiatives like the Mayoral Hope Fund, what the working poor in my City need is real hope. Hope that there's an alternative to endless, grinding austerity."

Councillor Frank Hont, Liverpool City Council's Cabinet Member for Social Inclusion, Fairness & Equalities, echoed the call:- "Liverpool is the second worst hit City in terms of the Bedroom Tax. People here are telling us in their own words how hard their lives have become struggling with austerity cuts, low wages and workplace insecurity. It's a toxic mix and it puts unbelievable; and unfair; stresses and strains on family life. Back in 1975, 15% of workers were in low paid employment, now it's 22%. If we're serious about supporting families who are struggling to balance work and family life, then the politicians need to read; and heed; this report."
Edge Hill housing scheme gets underway
WORK gets underway this week on the latest phase of the regeneration of the Edge Hill area of Liverpool. It will see 32, 2, 3 and 4 bedroom homes for sale built on land bounded by Royston Street and Peet Street by Bellway Homes, in partnership with the City Council. All will have off street car parking, gardens to the front and rear, and include innovative 'heat recovery' ventilation systems which reduce energy use. They are also built to 'lifetime home standards' which means they are fully accessible for people who may have a physical disability or a wheelchair.

Assistant Mayor and Cabinet member for housing, Councillor Ann O'Byrne, said:- "This part of Edge Hill is being transformed through the delivery of a varied mix of good quality new housing. We know there is going to be a lot of demand for these homes as they are close to areas of major employment such as the Innovation Park, the new Royal Liverpool Hospital and associated Knowledge Quarter. Together with other positive developments such as the refurbished homes on Arnside Road and the new Archbishop Blanch High School which opens in September, this part of the City is fast being transformed and becoming a thriving area again. It is part of our commitment to deliver 5,000 much needed, good quality homes for residents to increase the choice, range and quality of properties that are available across the City, transforming our neighbourhoods."

Nicola Mountain, Sales Manager at Bellway Homes said:- "We are delighted to start work on a new phase of 32 properties at Williamson Place. Given the popularity of this development and the interest that we've received in previous phases, we anticipate a good response to the new scheme from local homebuyers and hope to help more young professionals and families to take their first steps on the property ladder."

The development follows on from the delivery of the £19 million first phase of 169 new homes by Bellway at Williamson Place, which have proved hugely popular. Plans for a 3rd phase of approximately 150 homes off Wavertree Road are currently being worked up.
Liverpool's Bombed Out Church announces plans to install transparent walls and ceiling!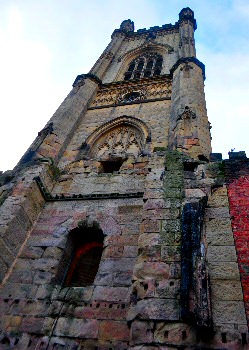 THE widely recognised Community and Arts Centre; Liverpool's Bombed Out Church; has announced plans to erect a large Marquee inside the church next month, with uniquely transparent walls and ceiling.

Between the 17 April and the 26 April 2015, a special series of events, called:- 'Raise The Roof Festival', will take place within the marquee, arranged to be of great artistic and cultural diversity.

The project is designed to demonstrate the Church's versatility. Fundamentally the building has not had "a roof"since it was bombed in the May Blitz of 1941.

"The beauty of the space is that it can transform into anything, and play host to any kind of event" said Ambrose Reynolds, Curator.

The church is appreciated for being an open air venue, but can be vulnerable to bad weather. The resident team at the "Bombed Out"want to exhibit that the space is also fully capable of hosting events that are rainproof, and can be adaptable to meet anyone's needs.
The 1st event has been announced:- "Bombed Out Does Broadway" involving the performance of well known musical theatre numbers, by groups of aspiring singers from various universities around the City. Within the 10 day series, the 'Bombed Out Church' will be hosting a public forum, inviting members of the public to make suggestions and express their opinions for the future of the Grade 2 Listed church. The full lineup is still to be announced, but a range of fairs and music events are to be expected. The best place to find the latest updates go to:- BombedOutChurch.Com.

Karen Potter Craven Minor JFL
Results Week Ending 22 March 2015
Under 9 Jim Rourke Cup Final
Altown United 1-5 Southport Trinity Blue
Under 10 Charity Shield Final
Maghull Youth 1-3 Redgate Rovers Yellow
Under 10 Wilf Jenkinson Cup Final
Southport & Ainsdale Amateurs 6-1 Formby JSC Black
Under 11 Premiership
Trinity White 2-1 S&A Red
Under 11 Championship
Hesketh Colts 2-6 Crosby Stuart
Phoenix 1-0 Trinity Blue
Formby JSC Black 1-4 Redgate Yellow
Under 12 Joseph Jackson Cup
Phoenix 0-9 Formby JSC Rangers
Under 12 Premiership
Trinity White 0-9 Hesketh Colts
Trinity Blue 1-2 Altown United
Under 12 Championship
S&B Red 3-2 Formby JSC Black
Southport FC Juniors 1-3 S&A Amateurs
Mitch Green 3-2 Redgate Rovers
Under 13
Southport FC Juniors 7-5 Birkdale R
Birkdale Black 8-1 Hesketh Colts
Birkdale S 0-5 Southport Trinity
Formby Athletic 1-3 Redgate Rovers
Formby JSC 9-0 S&A Amateurs
Under 14
Southport Trinity 3-1 Formby JSC
Birkdale Black 2-2 S&A Amateurs
Under 15
The Hares 4-0 Formby JSC
Southport Trinity 5-1 Southport FC Juniors
Birkdale United 3-0 Redgate Rovers
Under 16 Adam Bell Cup
Hesketh Colts 4-2 Redgate Yellow
Under 16
Jaguars White 9-0 Redgate Green
Formby JSC 2-1 Jaguars Red
Under 18 Premiership
S&A Red 5-3 Myers
Lydiate 1-3 Redgate Rovers
Under 18 Premiership
Dynamo Rangers 1-4 Birkdale Black
Hudson Celtic 1-1 Burscough Green
Southport Trinity 2-1 S&A Blue
Redgate Yellow 1-3 Formby JSC Black

Fixtures Week Ending 29 March 2015
Under 11 Premier
Southport FC Juniors v S&A Red
Maghull Youth v Trinity White
Formby JSC White v Redgate White
Under 11 Championship
Redgate Yellow v Crosby Stuart
Formby Athletic v Hesketh Colts
Phoenix v S&A Blue
Under 12 Premiershuip
Formby JSC White v Birkdale United
Hesketh Colts v Altown United
Trinity White v Trinity Blue
Under 12 Championship
Formby JSC Black v Redgate Rovers
Mitch Red Warriors v Ormskirk
S&B Yellow v Southport FC Juniors
Under 13 Catherine Oldfield Cup
Birkdale Black v Birkdale R
Under 13
S&A Amateurs v Southport FC Juniors
Birkdale S v Redgate Rovers
Formby Athletic v Formby JSC
Under 14
Southport Trinity v North Sefton
S&A Amateurs v Formby JSC
Birkdale Black v Redgate Rovers
Birkdal;e United v Hesketh Colts
Under 15
Southport Trinity v Redgate Rovers
Churchtown Athletic v Southport FC Juniors
The Hares v Birkdale United
Under 16
Formby JSC v Jaguars White
Redgate Green v Hesketh Colts
Southport FC Juniors v Jaguars Red
Under 18 Premiership
Lydiate v Redgate Rovers
Myers v AFC Liverpool
Birkdale United v Town Green
S&A Red v Hudson Rangers
Under 18 Championship
Hudson Celtic v S&A Blue
Burscough Green v Formby JSC Black
Birkdale Black v Southport Trinity
Redgate Yellow v Dynamo Rangers