Can you help find rare jewellery stolen in Ainsdale?
MERSEYSIDE Police are appealing for the public's help after dozens of rare items of jewellery were stolen from a house in Ainsdale. At around 9.30am on Tuesday, 10 March 2015, a retired couple returned to their home in Liverpool Avenue, Ainsdale to discover an untidy search had been made in rooms upstairs. They later discovered dozens of unique items of jewellery had been taken. Officers attended the scene and forensic examinations were carried out. An investigation into the circumstances surrounding the incident is continuing. The collection of 55 items of jewellery included engagement rings given to the victim's great-grandmother and grandmother, a locket given to her grandmother by her husband on their wedding day and a brooch received by the victim from her parents on her 21st birthday. There was also a brooch given to the victim by her grandfather in the last year of his life. A 1960's solid silver Georg Jensen brooch featuring 2 birds within a 3.5cm square was also taken. Detective Inspector Mike Dalton, from Sefton CID, said:- "This collection of jewellery is of huge sentimental value to the victims. It includes extremely rare and distinctive items that would be almost impossible to replace. I'd like to appeal to the consciences of the offenders and ask them to put themselves in the victims' position and think how they'd feel if this happened to them. I would ask them to do the right thing and find a way to get the stolen items back to their rightful owner. We would appeal to anyone who might have witnessed anyone acting suspiciously on or around Liverpool Avenue in Ainsdale between 8.40am to 9.30am on Tuesday, 10 March 2015, to contact us. I'd also ask members of the public to be on the lookout in case they are or have been offered any of these items as a gift or for sale either on the street, in pawnbrokers or in pubs or have seen the items for sale on the internet."

The victim said:- "My feelings have evolved from initial numbness and shock to a sense of loss and almost bereavement. Obviously there is a monetary value to the items stolen, but for me it is the loss of family history that was represented by those items that most grieves me. I had so much wanted to pass them on to younger generations and for that reason had photographed and catalogued each item with notes on everything I knew about its origins. That loss cannot be quantified and will remain with me for the rest of my life."

Anyone who has any information is asked to call Sefton CID on:- 0151 777 3833 or Crimestoppers, anonymously, on:- 0800 555 111.

A slide show of the stolen jewellery can be viewed here below:-
CCTV Appeal - Is this man in Liverpool?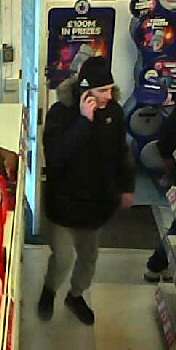 POLICE in Scotland are asking for help following housebreaking on:- Byron Square, Aberdeen, that occurred between 9.30pm on Saturday, 17 January 2015 and 6.40am, on Sunday, 18 January 2015. The Police have released a CCTV image of a man they wish to trace in connection with their enquiries in relation to this matter. The man is believed to have connections to the Liverpool area. He is pictured wearing a beanie hat, jacket with a fur collar, tracksuit bottoms and dark coloured trainers. Any person who recognises this man or who has information regarding his identity is asked to report this to Police Scotland on the non emergency:- 101 number or anonymously to Crimestoppers on:- 0800 555 111.

75 year old McCullough sentenced after pleading guilty to Child Sex offences
MERSEYSIDE Police have confirmed that a 75 year old man has been sentenced to 10 years in prison plus a further extended licence period of 4 years at Liverpool Crown Court, on Monday, 23 March 2015, after pleading guilty to grooming and abusing a young girl in the St Helens area.

Maurice McCullough, from Wythenshawe in Greater Manchester, pleaded guilty at an earlier hearing to 1 count of causing or inciting a child under the age of 13 to engage in sexual activity:- 8 counts of sexual activity with a child; 1 count of attempting to engage in sexual activity with a child and 1 count of meeting a child following sexual grooming.

All the offences occurred between October 2013 and the end of November 2014.

He has also been ordered to sign the Sex Offenders Register for life and has been made the subject of a lifetime Sexual Harm Prevention Order.

McCullough posed as a 16 year old boy and befriended his victim on a social media site when she was just 12 years old. He spent months grooming her and then went on to meet her at various hotels and secluded locations across St Helens where he took advantage of her trusting nature and sexually abused her.

Area Commander for St Helens, Chief Superintendent Julie Cooke, said:- "This was an horrendous case which has left an entire family traumatised and in shock. Maurice McCullough is a sexual predator who went to extraordinary lengths to groom his victim, posing as a teenage boy online and communicating with her for weeks in order to gain her trust. He then went on to abuse her over a period of months. It is truly every parent's worst nightmare."

In her witness statement, the victim's Mum has spoken candidly of the lasting impact that McCullough's actions have had. She said:- "The visit from the Police to tell us our daughter had been groomed and abused was like a bullet, it shattered our lives. This kind of things happens to other families, not ours. My daughter had not shown any outward signs of being upset or distressed, so the news was completely unexpected. That evening our emotions went from shock to anger and then to absolute devastation. Why did this happen? What did we miss? Are we to blame? I had to accompany my daughter to hospital for examination, not an experience that anyone should ever have to go through, never mind a 13 year old. I heard things that will never be erased from my memory. 'He' had taken away her innocence, her childhood, gone forever. I wake up with a pain in my heart and it stays there until I go to sleep. To the outside world everything is normal, but beneath the facade, we're a family in pieces, trying to keep it together."

Chief Superintendent Cooke added:- "This case highlights how children can be exploited on social media sites without realising anything is wrong until it is too late. It also shows how important it is to know what your children are doing online and to encourage them to speak to you about the friendships they are making. Child Sexual Exploitation ('CSE') is a terrible crime which can affect any family, anywhere. We are, however, determined to play our part in tackling the problem. Only last week, as part of National CSE Awareness Day, we helped to launch, Listen To My Story, a campaign and website which is there to raise awareness of CSE among young people, parents, grandparents, in fact every single 1 of us. It will help victims to find the right kind of support and advice if they have suffered abuse in the past. It also has loads of information for young people to help them if they think they are being exploited, or if they are worried one of their friends may be. Everyone of us has to play our part in putting a stop to the sexual exploitation of children and we all need to know the signs to look for, including if they are regularly missing school, appearing with unexplained gifts, having mood swings or becoming secretive about their use of social media. If you are a child, you may think it's cool to get involved with older people but they may ask you to perform sexual acts or take photos of yourself in return and you may be pressured to keep these things secret. If we all look out for these signs and report any suspicions, we can break the cycle."

Merseyside's Deputy Police and Crime Commissioner Cllr Ann O'Byrne said:- "This was a deeply disturbing case which demonstrates the depths some perpetrators will go to in order to trick and coerce vulnerable young people for their own perverse sexual gratification. It also demonstrates the extent to which predatory offenders are able to groom their victims into believing they are not actually being abused. Cases like these are the very reason we have launched our Merseyside wide Child Sexual Exploitation campaign Listen to my Story. CSE can no longer remain a hidden and unreported crime. We all need to play our part in raising awareness, recognising the danger signs and keeping our young people safe. Parents and carers need to be alert to the potential risks their children face over the internet and through social media, as well as on the streets, and we all need to be talking to our young people in a language they understand about what CSE really means. Listen to my Story is designed to put CSE at the forefront of all our minds. It is about sending out a message that we all have a responsibility to speak out if a child is in potential danger. It is also about telling our young people you are not to blame and you can come forward in confidence knowing you will be listened to, believed and understood."