Britain's ultimate cycling challenge launched, 64 day circumnavigation of coastline
THIS Summer will see a group of cyclists circumnavigating Great Britain by bicycle, starting and finishing from Holyhead on Anglesey in a 64 day, 6,800 kilometre challenge.

Starting on Saturday, 4 July 2015, the day the world's greatest bike race the, Tour de France starts, and finishing on Saturday, 5 September 2015, the eve of the Friends Life Tour of Britain's Grand Depart from Anglesey, the Countrywide Great Tour is supported by Countrywide, the UK's largest and most successful estate agency and property services group.

Commenting on Countrywide's involvement in The Great Tour, Alison Platt, Chief Executive Officer of Countrywide PLC said:- "We are thrilled to support The Great Tour as lead sponsor and are very pleased to strengthen our involvement in supporting the local communities all along the route. We were particularly struck by the opportunity to develop extensive charitable support and as a national organisation thought that we could support the Great Tour around the entire country"

The Countrywide Great Tour is being put on in tandem with CTC, the national cycling charity, who are the experts in helping and supporting thousands of everyday cyclists to realise the joys and benefits of cycling. CTC are supporting the riders with trained ride leaders, insurance and membership package.

"CTC has been helping cyclists ride for leisure and pleasure for over 137 years and is proud to be part of such a stunning cycling event. We want as many people as possible to join us and have a fun and enjoyable time exploring the fantastic riding the coastline of Britain has to offer..." said CTC Chief Executive Officer Paul Tuohy.

Each day of the Countrywide Great Tour will have capacity for up to 250 riders, with a core group of riders completing the entire challenge. Along the way they will be joined by members of the public wishing to ride a day or week of the route, plus riders from corporate and charity partners, using the event to raise funds for good causes.

Among the charities to have already signed up to the Countrywide Great Tour as a fundraising and awareness platform are Leukaemia & Lymphoma Research; Anthony Nolan; Macmillan; and Alzheimer's Society.

Commenting on the launch, Hugh Roberts, Chief Executive of organisers SweetSpot Group, who personally completed the Great Tour route in 2010 said:- "The Countrywide Great Tour is a fantastic challenge. We want to stimulate cycle tourism by creating and formalising a route that circumnavigates Britain's fantastic coastline, drawing attention to all of the attractions it has to offer. We hope to firmly establish the Countrywide Great Tour as an annual event, providing a platform for charitable fundraising and promoting cycling in each of the communities it touches around the coast."

Working with partners Ordnance Survey, each day of the Countrywide Great Tour will be mapped and shared using Ordnance Survey products, with an official route app also being published. A 'club' will also be created for riders who have completed the entire circumnavigation, whether in one go, or over a prolonged period.

For more information about the Countrywide Great Tour, please visit:- TheGreatTour.Co.UK to find out about all 64 legs of this epic challenge.
Tractor Ted hits the BIG SCREEN in Liverpool!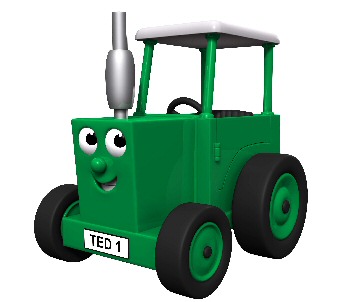 ON Tuesday, 7 April 2015, from 11am, as part of the FACT Liverpool's Picturehouse Toddler Time programme will see Tractor, the favourite green tractor for young children, on the big screen, with:- "Tractor Ted Meets Baby Animals." The screening follows the enormous success of a series of 2 private screenings of Tractor Ted Diggers and Dumpers in Bath's Little Theatre Cinema last year.

Alexandra Heard, the creator of Tractor Ted said that:- "We were completely bowled over by the success of the 1st screenings. Some parents travelled more than 200 miles to see Tractor Ted on the big screen in Bath and we really wanted to open this opportunity up to his fans in Liverpool. Young children love watching real life farm action; it really has to be seen to be believed. These screenings are a fantastic outing for young children and their parents, that are educational and entertaining, and they're a great introduction to the cinema."

In the film Tractor Ted will take young viewers on a tour of a real life farm with Fudge the dog who is full of excitement. She is desperate to show Tractor Ted the piglets all snuggled in their bed, the calves being fed and the newborn lambs in the barn. There are some exciting machines hard at work in the fields too including the JCB and other tractors and a brand new telehandler is delivered to the farm.

Like all of the Tractor Ted DVD's in the series, this 40 minute film is packed full of real life footage of farm animals and machines in action as well as facts about life on the farm.

Tickets can be booked online, by telephone or at the cinema on the day subject to availability. Toddler Time membership is free and tickets for members are £3.00 each and free for accompanying adults. You can sign up to become a member in person at the cinema on Wood Street (L1 4DQ), or by calling:- 0871 902 5737. If you are not a member, the standard ticket price will apply. All visitors to the Tractor Ted Big Screening will be given a discount flyer with a 10% discount to purchase Tractor Ted goodies at:- TractorTed.Co.UK. For further information please visit:- PictureHouse.Co.UK.

Create homes for birds and bugs this Easter with the RSPB
Photographs by Nick Upton (RSPB-Images.Com).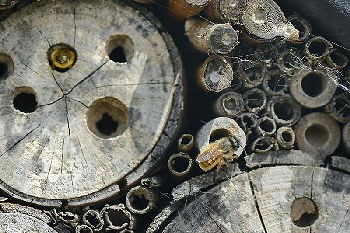 FAMILIES visiting RSPB Burton Mere Wetlands this Easter break are being encouraged to get creative and help build homes for nature, both on the reserve and where they live.

As the days get longer and warmer, birds are seeking places to build a nest and raise a family. One way to give our feathered friends a helping hand is to put up a wooden nest box, and families are invited to create their own nest box at a special event on Tuesday, 7 April 2015, at Burton Mere Wetlands.

Running from 10am TO 4pm, families can build a nest box from a ready made kit, paint it and take it home to put up in the garden or yard and encourage birds to nest there.

Dan Trotman, Visitor Experience Manager for the RSPB Dee Estuary reserve, said:- "Birds naturally build a suitable nest in a tree or bush, but unfortunately there are a lot fewer trees and bushes than there used to be. Even at Burton Mere Wetlands, where there is plenty of woodland, we have put dozens of nest boxes up to help make birds' lives easier and families can do that too. The nest box building events at the reserve are always hugely popular and a lot of fun, so we expect this Easter's event to be no exception; and who knows, we may even spot the Easter bunnies around the reserve."

Spring sees the return of many creepy crawlies that have been lying dormant for the cold winter months, just in time to provide a vital food source for birds to feed their young. To help provide a home for these bugs, the team at Burton Mere Wetlands is calling for all ages to come along and help make a wildlife hotel on the reserve during the Easter holidays.

Dan added:- "There is plenty of insect life around the reserve, but we want to help provide a home for even more creepy crawlies. By building a bug hotel from stacks of wood, stone, plastic pipes and plant pots, it is not only brilliant for bugs, but creatures such as frogs and toads can also seek shelter. Another great thing about these artificial wildlife homes is they are a fantastic way to make use of old waste materials from around the garden, something that we hope families will choose to replicate at home. Through these 2 exciting events, we want to show people how they can make a huge difference to the amount of wildlife they see in their garden or yard, by simply making a home for nature. It's a fun learning experience for children to be able to use tools to assemble the nest box, paint their unique design and take it home for the garden, while building a wildlife hotel provides the ideal opportunity for kids to have fun and hopefully be inspired to make something similar at school or home."

The:- "Build yourself a bird box"event costs:- £8 per nestbox (£7 for RSPB/Wildlife Explorer members). Places are limited therefore advanced booking is necessary. To book please call the reserve on:- 0151 353 8478.

" Build a wildlife hotel"runs from Tuesday, 14 April 2015 to Thursday, 16 April 2015, between 10am to 4pm. It is free of charge, but normal entry fees apply to non-members.

Other fun, free seasonal activities will be available throughout the school holidays.

For more information on the reserve and its activities, please call the reserve on:- 0151 353 8478, or check out the website.
Jan proves that every penny counts to help Heart Research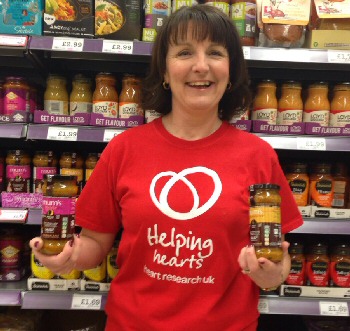 A Wallasey woman, Jan Keatley, has dropped by at the Morrison's store in New Brighton to make sure their penny really counted and be 1 of the 1st to buy a new healthier curry base, supporting national charity, Heart Research UK. Mum's Masala is donating 1p for every jar of its curry base sold, with the money going to helping hearts in Merseyside. The product is low in saturated fat and sugar and has no artificial colours, preservatives or flavours. Jan has been a volunteer for Heart Research UK for a few years; helping out at many events across the UK, and she is passionate about spreading the healthy heart message when and where she can. Jan, from Wallasey, has helped the national charity in fundraising including last year's Sing for Your Heart event in Liverpool, and will also be helping out at this year's London Marathon in April, with her daughter Faye.

Jan said that:- "Heart Research UK is such a wonderful charity and it's great that Mum's Masala is supporting it! It's so important that we all look after our hearts by living a healthy lifestyle, exercising and eating healthily; it's great that Mum's Masala is helping me to make healthier choices for my heart as well as my family's hearts."

Barbara Harpham, National Director of Heart Research UK, said:- "Jan is a great example of the volunteers we have within the charity, who are keen to make members of the public aware of their heart health. We are always looking for new volunteers across the UK, who are just as passionate as Jan is."

For further information please contact Chris Child on:- 0113 297 6207..