£2.2m Home Office Innovation Bid Success
THE UK's Home Office has announced £2.2m of extra funding for Lancashire Police and Crime Commissioner to deliver an innovative Early Action programme aimed at fighting crime and tackling re-offending across the county.

Crime Commissioner Clive Grunshaw and Lancashire Constabulary submitted a bid for funding from the Home Office earlier this year. The successful bid will see a range of initiatives aimed at preventing vulnerable people falling into a life of crime or joining gangs and ensuring Lancashire Police have the have additional resources to pursue criminals likely to cause serious harm.

The money will also be used to protect people who are vulnerable and help those living in fear due to their involvement with organised crime groups or gangs.

The bid will be supported by other agencies such as Councils, health partners, North West Ambulance Services and charities across Lancashire and aims to mobilise communities into helping prevent crime and support initiatives to stop re-offending.

Clive Grunshaw said:- "I am delighted that the Home Office has awarded this funding so we can further develop our approach to Early Action to tackle major issues right across Lancashire. My Police and Crime plan priorities included tackling crime and re-offending and protecting vulnerable people and this bid will form a key part of that delivery. The benefits of this programme centre on reducing vulnerability and crime, improving the wellbeing of our communities and improving the life chances of those involved in or at risk of engaging in organised crime."

Assistant Chief Constable Mark Bates, lead for Early Action in Lancashire Constabulary said:- "Securing this vital funding from the Home Office means that we can push forward with delivering early intervention to children, families and adults across the whole county together with our partner agencies. Early action is all about preventing problems, rather than responding to them and ensuring that individuals and families receive the most appropriate, quality support at the earliest point possible to ultimately build social resilience and create thriving communities. The funding will assist us to work as an integrated team with our partners, to provide a mental health triage and responding service and will fund various other projects such as peer mentoring to prevent and reduce involvement in gangs, youth offending prevention activity and continuing education around Child Sexual Exploitation. As a result of early action individuals are less likely to enter the criminal justice system and are less likely to need the services of police and other agencies, helping to reduce demand on all frontline services."

The funding will go towards providing a strategic lead will with overall responsibility for the 2 year programme along with key workers to support vulnerable groups, work with gangs, and engage with local communities.

Additional actions include:-

► Mental health staff will be deployed within the Constabulary's contact centre providing vital support at key times.

► Exploring the use of GPS technology to help keep track of vulnerable people suffering from dementia who may be reported missing regularly.

► Key workers to reduce re-offending.

► Extra ambulance workers in each Early Action team to work with high intensive users.

► Investment in case management technology to improve communications across agencies.

The full project will be subject to an academic evaluation to ensure the full benefit of Early Action projects is evaluated and embedded into future working.

Studley's success acknowledged by local VIPs!
Photography below taken by Christian Smith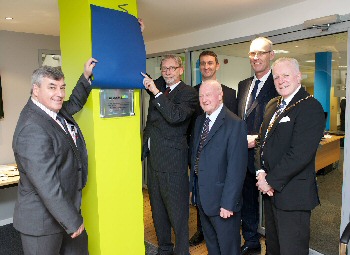 KNOWSLEY dignitaries officially open new facility for Studley Engineering and Electrical... Local dignitaries have paid homage to a Merseyside engineering company have now formally opened its new factory on Friday, 20 March 2014.

The event at Studley Engineering on Knowsley Industrial Park was attended by the Rt Hon George Howarth MP, the Mayor of Knowsley Cllr Frank Walsh and the leader of Knowsley Council Cllr Ron Round.

In unveiling a plaque to commemorate the event, Mr Howarth recognised the company's commitment to apprenticeships since its formation 32 years ago, the current technical director Neil Brierton being a former apprentice himself.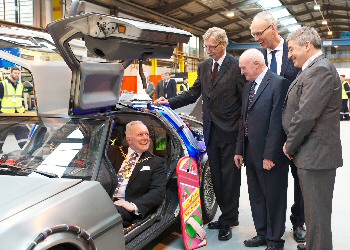 As well as visiting exhibition stands from more than a dozen of Studley's suppliers, the dignitaries also took time out to admire a "Back to the future" DeLorean car before a buffet lunch with more than 100 customers, suppliers, staff and apprentices.

During the lunch Neil Brierton explained to the guests that the reason for the company's success was its philosophy in training and developing young talent, with more than 60 apprentices being recruited in recent years. Managing director John Hyland also thanked all who had supported the business over the past 3 decades.

Studley Engineering is 1 of the region's leading mechanical and electrical engineering companies, specialising in M&E projects, maintenance and shutdown services in the petro chemical, chemical, pharmaceutical, energy, nuclear, food and drink, paper and utilities sectors.

At 60,000ft2, the new factory is 3 times the size of the company's former premises on Liverpool's Vulcan Street and a far cry from the barn in which the company was founded by its current management.
The original engineering business was complemented by an electrical company more than 3 years ago, which provides electrical, control, instrumentation and maintenance services to the industrial, utilities, infrastructure, environmental, commercial and health sectors.