Karen Potter Craven Minor JFL
Results Week Ending 29 March 2015

Under 11 Premier
Formby JSC White 3-2 Redgate White

Under 11 Championship
Redgate Yellow 1-1 Crosby Stuart

Under 12 Premiershuip
Formby JSC White 1-1 Birkdale United
Trinity White 0-7 Trinity Blue

Under 12 Championship
Formby JSC Black 9-2 Redgate Rovers
Under 13 Catherine Oldfield Cup
Birkdale Black 7-0 Birkdale R

Under 13
S&A Amateurs 3-8 Southport FC Juniors
Birkdale S 5-3 Redgate Rovers
Formby Athletic 1-4 Formby JSC

Under 14
Southport Trinity 0-4 North Sefton
Birkdale Black 3-0 Redgate Rovers

Under 15
Southport Trinity 2-0 Redgate Rovers
The Hares 2-0 Birkdale United

Under 16
Redgate Green 0-6 Hesketh Colts
Southport FC Juniors 4-2 Jaguars Red

Under 18 Premiership
Lydiate 0-5 Redgate Rovers
Myers 3-0 AFC Liverpool
S&A Red 4-2 Hudson Rangers

Under 18 Championship
Hudson Celtic 6-1 S&A Blue
Burscough Green 3-0 Formby JSC Black
Redgate Yellow 2-4 Dynamo Rangers
Annual Easter running day for Merseyside heritage transport charity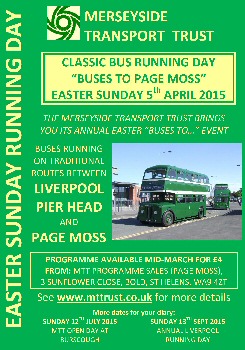 THE Merseyside Transport Trust (MTT) will be holding its' Easter running day event on Sunday, 5 April 2015, to raise funds for the upkeep of its' fleet of over 50 vintage vehicles. This is a rare and unique opportunity to enjoy a ride on some of buses in our collection. The event is also aimed to attract new members, volunteers, sponsorship and generate interest within the community. This year's event will feature services between Liverpool, Pier Head; Mann Island, Page Moss and around the surrounding areas. Buses will run on original routes serving Prescot Road, West Derby Road and Edge Lane corridors with a 1960's theme. A souvenir programme and guide to the day will be available for just £4 and any donations you would like to make to the group would be most welcome. Steve Kelly, Chairman of The MTT is leading the event & has been involved with the group for over 30 years. Steve said:- "This event is becoming more popular as we only ever used to bring one vehicle out on Easter Day. We take advantage of quieter roads and a day generally where people tend not to get up to much, so they come and see us instead! We have been consistently attracting large numbers which is encouraging for a small charity and always looking at ways to make this event a bigger success. All funds raised at the event will go a long way in helping to keep our collection safe for the future. We rely totally on donations & the good nature of people." Buses run generally every 45 minutes starting around 10:00am from Mann Island and Page Moss and will observe all normal bus stops along the routes. For more information see their website, also please 'like' them on their Facebook (Merseyside Transport Trust).
Liberal Democrat have started the Southport campaign off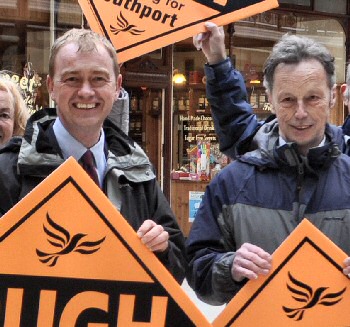 ON 30 March 2015, Southport's Liberal Democrats John Pugh started his campaign for re-election to Parliament with his team in the Town Centre. He was joined by Timothy James Farron, who is standing again in the Westmorland and Lonsdale constituency. To follow then both on Twitter go to:- Tim Pugh. We will be hoping to interview all parties in the area who are standing over the run up to the elections, so please keep logging on to Southport Reporter for the latest updates.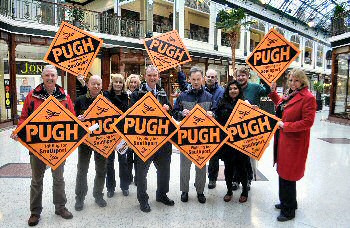 West Lancashire Light Railway Events have started for 2015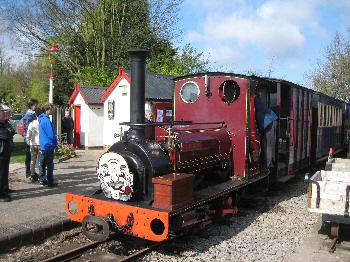 OVER Easter 2015 the West Lancashire Light Railway will be running services from Good Friday to Easter Bank Holiday Monday, 6 April 2015! "Our new season gets under way with a steam train in action on Good Friday, Easter Sunday and Easter Monday from 11.30am to 4.30pm." West Lancs Light Railway told us. They also told us that tickets will be valid all day and visitors with tickets can have as many rides as you like! Tickets for adult cost just:- £2.50 and children are just £1.50 (under 3 free). Senior tickets are:- £2.00 and a family ticket is just:- £6.00. But the fun really starts on Sunday, 12 April 2015 when they hold "Friendly Engines Day." This is an annual treat for families with young children. Steam trains will be running from:- 11.30am to 4.30pm. Everyone knows Thomas. This is a chance to meet some other engines with friendly faces. At least 2 locomotives in steam... Other attractions are also on offer... Tickets will also be valid all day, and as with Easter, you can have as many rides as you like! Tickets for this event will be as follows:- adult £4.00, children £3.00 (under 3 free), senior £3.50.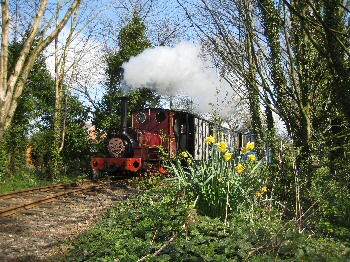 The West Lancashire Light Railway is a short 2' gauge line situated at Hesketh Bank, approximately midway between Preston and Southport. We are open every Sunday and Bank Holiday from April to the end of October. Motive power includes several historic steam locomotives, some in working order and others undergoing restoration, and a large number of internal combustion industrial locomotives. The line runs beside a former clay pit which served a brickworks adjacent to the old West Lancashire Railway. Free car parking. The no. 2 Preston to Southport and the national Express 2 service from Southport to Preston bus stops are very close by. Hot and cold drinks available on site. Refreshments are also available at Booths.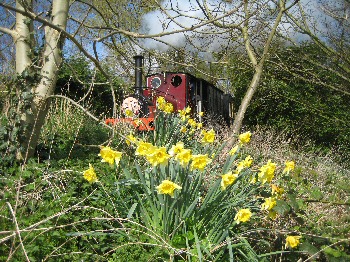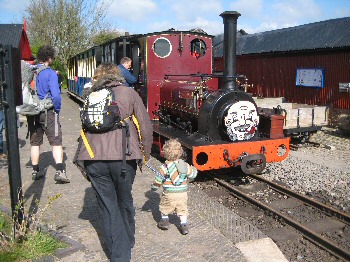 Lost medication warning in the Southport Area
MERSEYSIDE Police in Southport are urging anyone who finds powerful prescription medicine lost in the Town Centre at the on Saturday, 29 March 2015, to hand it in. The packet of 'Amitriptyline' depression tablets went missing from the handbag of a woman who was shopping in Southport. She reported the medication missing on Thursday, 2 April 2015, after also noticing that cash was also gone. The tablets are believed to be dangerous if taken in large quantities. Anyone who finds the medication, or any prescription drugs like it, should hand them in to their nearest Police Station, Pharmacy, GP, Hospital or Health Centre.