Shocking figures show 1 in 10 - 12 to 13 year olds are worried they are addicted to porn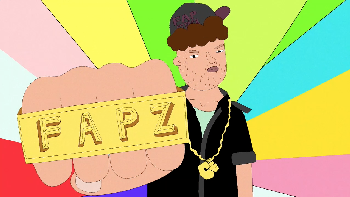 THE NSPCC's ChildLine service has launched a campaign to raise awareness and provide advice to young people about the harmful implications of an over exposure to porn. The move follows the discovery that nearly 1 in 10, 12 to 13 year olds are worried they are addicted to porn.

A poll of nearly 700, 12 to 13 year olds in the UK also reveals that that 1 in 5 of those surveyed said they'd seen pornographic images that had shocked or upset them and 12% admitted to making or having been part of a sexually explicit video.

The figures form part of a UK wide survey of 2,000 children and young people aged 11 to 17 which was conducted by One Poll in February 2015. The survey included 233 young people from across the North West. 36% of respondents from the North West said they'd seen pornographic images that had shocked or upset them and 6% had made or been part of a sexually explicit video. 35% of young people in the North West said watching porn made them feel insecure about their own body but 33% thought that watching porn was a normal part of young people's lives.

The ChildLine FAPZ campaign (the Fight Against Porn Zombies) will use a series of animations looking at the implications of over exposure to porn on both boys and girls. The animations then link to a range of information and advice, to help young people understand the implications associated with replicating pornographic content in real life situations and to protect them from putting themselves in potentially risky situations. The campaign is designed for young people, by young people, who have been at the heart of the creative development throughout.

One young boy aged between 12 to 15 years old, who contacted the ChildLine base in Liverpool said:- "My mum caught me masturbating to porn. It was so embarrassing and things have become really awkward since. I don't think there's anything wrong with what I was doing because it's a normal part of puberty, but my mum disagrees. She's been treating me like I'm a terrible person when I'm not. I don't know what to do. I feel uncomfortable talking to her about the situation."

Peter Liver, Director of ChildLine said:- "Children of all ages today have easy access to a wide range of pornography and if we as a society shy away from talking about this issue, then we are failing the thousands of young people it is affecting. We know from the young people who contact ChildLine, that viewing porn is a part of every day life, and our poll shows that 1 in 5, 12 to 13 year olds think that watching porn is normal behaviour. However, even more worryingly, they also tell ChildLine that watching porn is making them feel depressed, giving them body image issues, making them feel pressured to engage in sexual acts they're not ready for and some even feel they are addicted to porn. Recently, the government announced plans for children aged 11 upwards to be taught about rape and sexual consent as part of PSHE in schools. This would include discussion around what they have learnt from watching pornography. Our campaign clearly compliments this proposal. Across society, we need to remove the embarrassment and shame that exists around talking about porn; which is why we are launching this activity and helping young people to make more informed choices."

Dame Esther Rantzen, the Founder of ChildLine said:- "It is shocking that children as young as 11 are contacting ChildLine with concerns about porn. Young people are turning to the internet to learn about sex and relationships. We know they are frequently stumbling across porn, often unintentionally, and they are telling us very clearly that this is having a damaging and upsetting effect on them. Girls in particular have said they feel like they have to look and behave like porn stars to be liked by boys. We absolutely have to talk to young people about sex, love, respect and consent as soon as we feel they are ready, to ensure that they gain a proper perspective between real life relationships and the fantasy world of porn. At ChildLine, we always strive to understand the emerging issues children are facing which is why we have launched this new campaign. We consulted with young people throughout the creative development, enabling us to identify language that will engage them and create real impact. I would encourage any young person who has a question or concern to visit our new campaign webpage or to contact ChildLine on:- 0800 1111. If you do not already know, our counsellors are here 24/7 to offer free, confidential support and advice."

In 2013/14 a report by the charity ChildWISE revealed the website Pornhub was named in the top 5 favourite sites by boys aged 11 to 16. Young people post approximately 18,000 messages regarding exposure to porn on the ChildLine discussion forums every month. But as some have pointed out, not all children look at it, but some say they do so they don't stand out as odd! So how correct the finding are in reality its questionable, but it is a good indication of problems!
Response to Marston's Brewery Purchasing Thwaites
CAMRA, the Campaign for Real Ale, has issued the following statement about the announcement that Marston's Brewery Plc, are to purchase Daniel Thwaites PLC. "The Campaign for Real Ale believes that consumer choice is always reduced when breweries are acquired by larger operators and we're very concerned about the takeover of Thwaites, a long-established and respected regional family brewer, by Marston's. While Marston's has a relatively good history of respecting brewing heritage when it has previously taken over other breweries, such as Wychwood and Jennings, CAMRA will be paying close attention to its plans for the Thwaites brands it has just acquired. We'd urge Marston's to retain a brewing operation in, or near Blackburn, to preserve the regional brewing history and Thwaites name and just as importantly, the jobs which the brewery currently provides in this area. We'd also urge Marston's to ensure that the individual nature and taste of Thwaites' brands are not diluted and lost as a result of this acquisition." Tom Stainer, CAMRA Head of Communications. Please email your views and thoughts about this to our news room at:- news24@southportreporter.com.

Nominations sought for exceptional individuals from Merseyside
COMMUNITIES across Britain are being urged to honour 'ordinary' people doing extraordinary things by nominating them for a new national award. The British Citizen Awards (BCA) recognises exceptional individuals who work tirelessly and selflessly to make a positive impact upon society. Successfully launched in January this year, the inaugural BCA ceremony saw 28 people honoured at a prestigious ceremony hosted by Baroness Cox at the Palace of Westminster.

Nominations are currently being accepted for the next round of medal presentations, which will take place on 9 July 2015, again at the Palace of Westminster. All BCA recipients receive a Medal of Honour, inscribed with the words:- 'For the Good of the Country'. Medalists are also invited to use the initials BCA after their name.

Medalists in January included, inspirational duo, Charles Callaghan and Donald Franks, from Merseyside, who were both awarded a Volunteering & Charitable Giving BCA, presented by actress and presenter, Linda Robson, for together raising over £300,000 by collecting at football grounds and shopping centre in all weathers over 15 years, for Liverpool hospice, Jospice.

The British Citizen Awards were launched to honour the incredible accomplishments of individuals in society who positively impact their communities. BCAs are awarded twice annually, as are the Queen's Honours, but these awards only recognise 'everyday' people whose achievements may otherwise be overlooked. Mike Faulkner, co-founder of the awards, said:- "There are literally thousands of people across the UK making life better for others, and until now with no formal recognition open to them. This programme, which many see as an alternative Honours system, has been created to enable every individual across the country to nominate someone who they feel deserves to be recognised. We have nothing, but respect for the Honours system, but believe that a more accessible recognition programme is long overdue."

Nominations from all corners of the UK, all cultural backgrounds and from all sectors of the community are being welcomed until the closing deadline on:- 30 April 2015. "Our first award ceremony in January was a phenomenal success, and it was fantastic to honour individuals who were simply remarkable human beings. We look forward to honouring more exceptional individuals within our communities during this next round of awards." Basil Preuveneers, co-found of the awards, said:- "It is remarkable how many people are positively impacting the lives of those around them without reward or recognition, and it's fantastic that we can now celebrate them."

The awards have attracted support from several high-profile ambassadors, including actress and former EastEnders star Brooke Kinsella, and former high court judge, Dame Linda Dobbs DBE. Brooke said:- "The British Citizen Awards are a way to honour ordinary people who do extraordinary things and I am proud to offer my support. There are so many wonderful people doing life changing things in our communities and it is time they were recognised. If you know a person deserving of this award please nominate them now!" Dame Linda Dobbs DBE said:- "There are many people in the community who do significant voluntary and unpaid work without official recognition. It is important that their efforts are recognised, not only in order that the volunteers themselves know that their valuable contributions are noted, but also, in order that others can appreciate their work and, hopefully, feel encouraged to volunteer themselves. The British Citizen Awards are an excellent way to shine the spotlight on such kind, caring and selfless people in our community."

Nominations are free and people can be entered into 1 of 8 different categories. All nominations will be scrutinised by an independent committee, with their choices passed on to an assessment panel for final ratification. Thirty nominees will then be shortlisted to receive an award. To nominate, email to request a nomination form, or visit:- BritishCitizenAwards.Co.UK to find out more. Nominations close on 30 April 2015.
Royal awards clean up!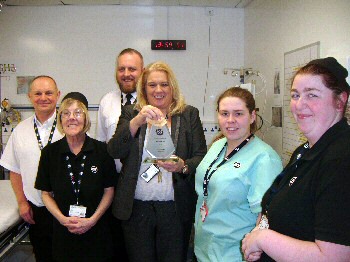 STAFF working in the Emergency Department at the Royal have notched-up a top award for their cleaning, catering and portering services. Staff in hospital were judged to have produced:- 'consistently high standards of work' throughout the year and, as a result, were rewarded the:- 'ISS Facility Services Divisional Team Award: for 2014'. In total, 10 hospital Trusts were shortlisted for the prize; but it was the staff at the Royal who managed to scoop the honours. They showed exceptional performance during recent months even though the level of patient attendance was at its highest for more than half a decade. Audrey Reeves, general manager, added:- "This is a real honour to have won this prestigious award; making us the best hospital for cleaning, portering and hostess services. We always want the best standards for our patients so winning this means a great deal. The ISS Emergency Floor team is extremely hard working under extreme pressure to deliver outstanding service to the patients." Donna Brown, ISS divisional director, praised the team for their outstanding patient service delivery, commitment and caring approach. Especially with the immense pressures they have worked under during an extremely busy year. Donna Brown added:- "Their dedication to working in partnership with the Trust is second to none - the teams are great ambassadors for both ISS and the Royal." ISS is 1 of the world's largest facility services providers. They provide organisations of all types, shapes and sizes many facility solutions they might require. They are proud to be working in partnership with the Royal Liverpool and Broadgreen University NHS Trust, supplying all of the healthcare cleaning, catering and portering services across both of the hospital sites. Award Success - Members of the ISS emergency floor team of healthcare cleaners, catering staff and porters. Audrey Reeves holding the 'ISS Facility Services Divisional Team Award.'