Her Majesty's Lord Lieutenant of Merseyside opens charity's sensory trail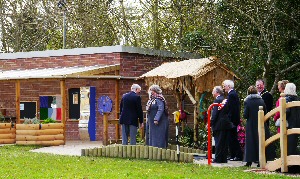 BARNSTONDALE'S 1st ever sensory trail was officially opened by its Patron; Her Majesty's Lord Lieutenant of Merseyside, Dame Lorna Muirhead (DBE) on Wednesday 1 April. Around 70 invited guests, who included Lord Mayor of Wirral, Cllr. Steve Foulkes, and those who helped fund and develop the space, were the 1st to explore the completed garden, which has been designed specifically for children of all abilities to enjoy.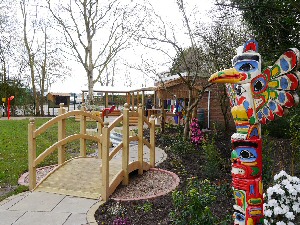 Barnstondale is located within a rural setting and is surrounded by over 12 acres of woodland. The trail provides a relaxing and stimulating outdoor space, aimed at engaging visitors with the environment around them. The first phase of the project began in April last year and was completed that Autumn. A garden was created that features a sheltered decking, stone path, water features and huge planters filled with perennial foliage plants, chosen specifically for the smells and textures. Local tradesmen then began work installing the trail, which includes textures, surfaces, musical instruments and balance ramps. Large animal statues and hand crafted seats complete the experiential element.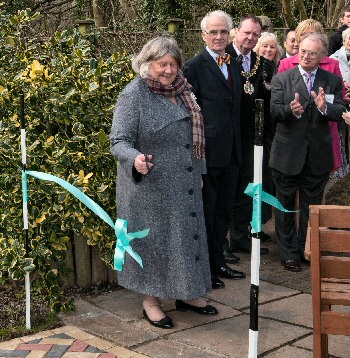 Barnstondale is a family friendly activity facility and overnight getaway destination. The charity hosts many families, groups, schools and charity organisations for away days and activity breaks. Whilst fortunate that visitor fees cover overhead costs, the charity relies heavily on donations and fundraising to pay for new projects and improvement work. Barnstondale received funding from various donors for this specific project. They include Wirral Lions, Santander, Camelia Trust and Wirral Fund for Children with Special Needs.

Commented George Jones, centre manager at Barnstondale:- "Barnstondale's aim is to be accessible to everyone. We've created a space that is designed for all our visitors to enjoy and it is a great way for them to experience the local rural environment. The garden and sensory trail is an exciting development for Barnstondale, and it's one that all the team is very proud of. We are always looking to develop and improve our facilities, enabling us to offer services that modern customers want and enhancing the visitor's experience. We hope to include elements of the trail to other parts of the site in the future."

Commented Dame Lorna Muirhead (DBE), Her Majesty's Lord-Lieutenant of Merseyside and Barnstondale Patron:- "It is an honour to be Patron of Barnstondale, which has stood as a charity in one form or another for over 100 years. What I find most charming about this inspirational place is that the sun never sets at Barnstondale and the team is always busy working on the next development. The children who come here are always active, always playing and always smiling. I am an advocate for social inclusion and child development, which Barnstondale excels at. It gives me great pleasure to have opened this sensory trail on behalf of the charity, which marks another significant moment in its history."

For more information about Barnstondale visit:- Barnstondale.Org.

Charity wastes no opportunity to make savings
A leading bowel cancer charity is looking for volunteers to help at a local collection. Beating Bowel Cancer has booked a collection in Southport Town Centre on:- 13 June 2014 and is looking for volunteers to help raise vital funds by shaking a bucket for bowel cancer. Beating Bowel Cancer works to save lives from the UK's 2nd biggest cancer killer and all money raised from these fundraising events will be used to help raise awareness of bowel cancer and support patients and their families coping with the disease. Regional Community Fundraiser for the North West, Rachel Thomas, said:- "We are looking for people to give up just a few hours of their day to help Beating Bowel Cancer make a real difference to bowel cancer patients and their families." Anyone interested in helping at these fundraising events should call Rachel on:- 07825 910943 or send email to them. Bowel cancer is the UK's 2nd biggest cancer killer because many patients are diagnosed too late. Each year more than 41,000 people across the UK are diagnosed with bowel cancer. However, if diagnosed early over 90% of cases could be cured. For more information about Beating Bowel Cancer, including ways you can get involved in fundraising for the charity, visit:- BeatingBowelCancer.Org or call:- 08450 719 300.
CCTV images released after Woman touched inappropriately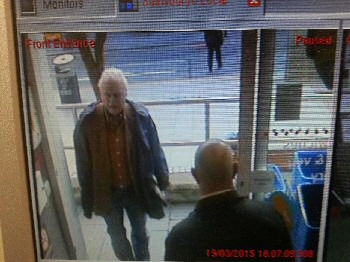 MERSEYSIDE Police have released a CCTV image of a man officers would like to speak to in connection to 2 incidents during which a woman was touched inappropriately. The 1st incident occurred on Thursday, 12 March. At about 1pm a woman who had been travelling on the Southport to Liverpool train reported that she had been touched inappropriately by a man. The 2nd incident occurred on Thursday, 19 March 2015. The same woman reported that at about 4.10pm the same man approached her in a supermarket on Old Hall Street, grabbed her and attempted to kiss her. A member of staff at the store intervened and the man ran away. Although uninjured the woman has been left distressed following the incident. Officers believe the man pictured may be able to assist them with their enquiries and they would urge him or anyone who recognises him to get in touch. Anyone who recognises the man or anyone who witnessed either of the incidents is asked to call Merseyside Police on:- 0151 777 4068 or Crimestoppers on:- 0800 555 111.
Lord Mayor to remember victims of Rwandan Genocide
THE Lord Mayor of Liverpool Councillor Erica Kemp CBE will join Assistant Mayor Ann O'Byrne and Philomene Uwamaliya from the Liverpool Rwandan Community to remember victims of the Rwanda genocide. On Tuesday, 7 April 2015, at 11.30am, at St John's Gardens (at the back of St George's Hall) a wreath will be laid at the Memorial Stone to pay tribute to those who lost their lives in the Genocide 21 years ago. Councillor Kemp CBE said:- "It is vitally important that we remember the victims of such atrocities and honour their memory. We should take this opportunity to remember all victims of persecution and raise awareness to encourage us all to be more tolerant of others."
Police ask residents to get in touch ahead of Grand National
MERSEYSIDE Police are yet again encouraging residents in Aintree and Maghull to share any issues or concerns they have ahead of the Aintree Festival which gets underway next week. With more than 150,000 race-goers set to attend the event from Thursday, April 9 to Saturday, April 11, the community's dedicated Neighbourhood Officers want to make sure that there is minimal disruption for residents during the event. Despite the large crowds attending the festival, the vast majority of race goers have a safe and enjoyable day and a multi agency operation involving Police Officers from across the Force will once again aim to ensure this is the case for this year's event. Neighbourhood Officers will be speaking to residents living in some of the busiest streets around the racecourse to let them know who they can contact if they experience any problems with issues such as car parking, litter and anti social behaviour during the event. Inspector Phil Hatton said:- "The Aintree Festival puts Merseyside on the sporting map and the world stage. Thousands of visitors have a great time and we are grateful to local residents for their patience and co-operation in helping us to successfully Police the event every year. We recognise that large numbers of people can impact the local community and I want to reassure people that, as well as the Policing operation for the event itself, my neighbourhood team will be there to address any concerns that residents may have. Not only will these officers be dedicated to responding to any calls about issues such as anti social behaviour and disorder outside the racecourse, they will also be looking to speak to anyone living locally who may have experienced problems in previous years. We want to hear from these people so we can talk to them and make sure those problems don't crop up again so the event is a winner for all." Aintree and Maghull residents can contact their neighbourhood team by sending them an email or call the non-emergency number:- 101.