Make note to go to the Birkdale Traders Association St George's Day Fair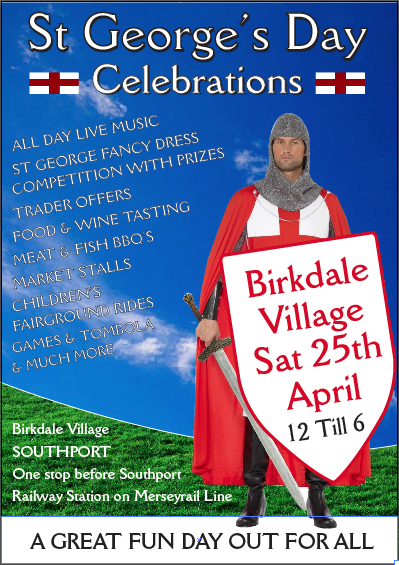 ON 25 April 2015, The Birkdale Traders Association will be running it's 1st St George's Day Fair, from 12:00 until 18:00. The event will see the Open from 12noon to 6pm with live music all day staged in the center of the village. The village will be decked out in St. George's Bunting and will host in excess of 20 market stalls including Meat BBQ, Fish BBQ and Oriental Charcoal Grill amongst other food being offered by the local bars and restaurants and various food tasting events. There will be 4 Junior Fairground attractions by:- 'Ponts Fairgrounds' for the children and besides the local shops selling their wares there will be stalls selling paintings, books, rugs, cookery items, Beatles and Liverpool memorabilia, wine and spirits, tombola, hair and beauty products. Plus lots, lots more! Queenscourt Hospice will be having a raffle stall for their own charity. There will also be a prize for the best Fancy Dressed St George. The whole atmosphere created by the outside dining and music creates a great day out for all. Please show your support and head on down to this event.
Love and Money Star James Grant at The Atkinson
THE Scottish musician, singer and songwriter James Grant makes his 1st appearance at The Atkinson on Saturday, 11 April 2015. James Grant always wanted to be Jimmy Page. But as the young wannabe guitar hero grew up, he was also blessed with velvet vocal chords. And so was shaped the destiny of 1 the great songwriters of recent decades. He 1st came to international attention with his band Love and Money where he wrote four classic albums, including the astonishingly mature Strange Kind of Love. Recording in New York, he worked with producers such as Gary Katz of Steely Dan and Tom Dowd (who produced Rod Stewart, Eric Clapton and Aretha Franklin). The albums produced several hit singles, racked up silver disc sales and created a devoted world wide fanbase. Since originally parting the ways with his band Love and Money in the early 1990s, singer, songwriter and guitarist James Grant has released 5 acclaimed solo albums, most recently 2010's Strange Flowers, with his 1st best of collection released in spring 2012. He draws from a broad palette of pop, folk, soul, country and blues influences and interweaving his solo compositions with Love and Money favourites. James twins darkly literate, melodically lush song craft with his richly potent vocals and virtuoso guitar work, leavening his performances with dashes of wickedly acerbic humour. With Love and Money also back on the road and in the studio, Grant sounds like an artist now in his prime and this is a great time to catch him live! Opening up for James Grant on the night is Stevie Nimmo, one half of Scotland's highly respected Nimmo Brothers. Stevie Nimmo has been a well known and respected figure throughout the blues and roots world for over 15 years. Now, having toured extensively with the critically acclaimed blues rock outfit over the last 12 months, he is taking to the road in a stripped back, acoustic format to continue promotion of his debut solo project The Wynds of Life. Although touched upon in previous Nimmo Brothers recordings, this new adventure brings to the fore a more personal and intimate side to Stevie's personality; focusing more on his considerable song writing talents as he brings together a wonderful blend of country, gospel and, of course, blues influences to present a fine selection of self penned songs as well as a few carefully chosen covers played in his own passionate, inimitable style. Catch the Nimmo Brothers at The Atkinson's Big Blues Festival on Friday, 9 October to Saturday, 10 October 2015. Early bird festival tickets are on sale now for £32. Full line up is available online. James Grant with support from Stevie Nimmo is at The Atkinson on Saturday, 11 April 2015, at 7.30pm. Tickets are £16 and are available online at:- Theatkinson.Co.UK or by calling the Box Office on:- 01704 533333. They are also available over the counter during The Atkinson opening hours. Please be advised that there is a £2.50 booking fee for telephone and online sales as of 1 April 2015.

Vote For Talented Young Artists!
VOTING for the 3rd annual 'dot-art Schools competition' opened on 1 April 2015. dot-art Schools is the annual, online, inter-school art competition which culminates in an exhibition of the winning artworks at St. Georges Hall in June 2015. The competition is open to both primary (year 6) and secondary (year 9) schools in the 6 boroughs of the Liverpool City Region (Merseyside). It is designed to nurture talent and raise ambition by taking art out of the classroom and into the real world.

The art competition has attracted around 50 primary and secondary schools from the Liverpool City region. Over 20 schools are getting involved for the very 1st time, alongside 30 schools returning to the dot-art Schools programme for the second or third successive year. The diverse range of schools includes local authority maintained, independent, and church schools, as well as residential and special schools from across Liverpool, Halton, Wirral, Sefton, Knowsley and St Helens.

dot-art Schools Project manager, Carolyn Murray revealed:- "This year's online competition showcases over 800 artworks by talented young people, from around 50 Liverpool City Region schools making this the largest competition dot-art have staged to date!"

The artwork has been shortlisted by a panel of judges featuring representatives from Tate Liverpool, the Walker Art Gallery and Metal Culture; who selected their top three entries from each school ready for the public vote.

During the exhibition at St Georges Hall guest judge Susan M Coles will choose the overall winners. Susan is known to many art teachers as the President of the National Society for Education in Art and Design in 2014 and Secretary of the All Party Parliamentary Group on Art Craft and Design Education.

dot-art Schools are delighted to announce David M Robinson as their principal sponsor for the 3rd annual inter-school art competition. Lucy Byrne, dot-art Director explains:- "David 1st became aware of our work during a visit to the Walker Art Gallery for the John Moores prize judging (the company sponsored the First Prize in 2014) when he saw the dot-art Schools exhibition in the neighbouring gallery and was impressed by the high standard of the work. He is an art lover who really appreciates what we're trying to do with the programme so its a privilege to now have his support. David Robinson himself started out as talented young goldsmith in the late 60's winning several coveted awards which helped establish his reputation and develop a successful business. We're really pleased to be associated with a company, which values quality and creativity."

David M Robinson comments:- "As a boy, other than playing football for the school, there was only one other place I wanted to spend my time – in the art room….. great memories of my art teacher, John Hughes. This passion for art has followed me through life and supporting the arts in the North West has become an integral part of our business. It is my absolute pleasure to be helping Dot-Art Schools inspire the imaginations of the school children of Merseyside."

Alongside David M Robinson we have also attracted the support of Rathbones as a sponsor.

Carolyn Project, Manager at dot-art said:- "We're really pleased to be associated with such a high profile and well respected national wealth management company, which also retains their strong Liverpool roots and has been closely linked with the community since its foundation 250 years ago. dot-art Schools are proud to have a company of this stature helping us support young people's creativity across Merseyside."

Schools Andrew Butcher, Rathbones Chief Operating Officer states "Rathbones has a proud history of assisting local organisations like the dot-art Schools competition. We are committed to investing in the next generation, and supporting the arts has become a core element of our engagement, not only with our clients but the broader community. This initiative complements our work in both these areas."
An exciting new partnership with Merseyrail means the public will view shortlisted images from local schools at Merseyrail stations. This will give the young artists a higher profile and boost their confidence while encouraging the wider school community to get involved and vote. Sally Ralston, Corporate Social Responsibility Manager at Merseyrail said:- "We are delighted to be involved and support this years Dot-Art Schools competition. It is a great opportunity to help showcase the work of these talented young artists and also to add some colour to several of our stations across our network."

We're also grateful for the ongoing support of Rennies and Tate Liverpool who kindly agreed to donate prizes again this year.

Don't forget to VOTE for the work you would like to see on show at St Georges Hall! The voting is open from Wednesday, 1 April until Thursday, 30 April 2015. To vote for your favourite school entry clicking on here.