The end of the Yellow and Red and Gray Halos, as Air Sea Search and Rescue becomes a civilian operation
Photographs by Patrick Trollope.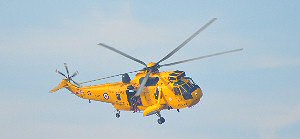 DESPITE powerful objection from high profile people to the privatisation, on 1 April 2015,of the UK's Air Sea Search and Rescue helicopter service, which has been run by the Royal Air Force since it was founded in 1941. The service was originally instigated to recover ditched military air crews (still its primary purpose) and is known internationally for its RAF Sea Kings that we all have seen numerous times on videos and photographs over the years.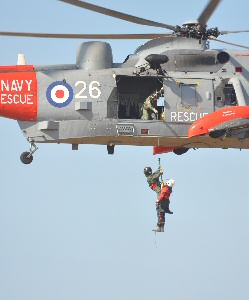 The service has now been fully privatised and handed over to a US company Bristow Group. The 10 year UK SAR contract was awarded by the Department for Transport in March 2013 and will see the new Bristow crews deliver the UK SAR helicopter service on behalf of HM Coastguard, with state of the art helicopters, equipped with the latest search and rescue technology including night vision, mission management and increased onboard medical capabilities. For the North West this has resulted in the loss of service provided by No. 22 Squadron, also known as Flight 22, which had His Royal Highness Prince William, Duke of Cambridge served in from 2010 to 2013. The service will now be delivered on behalf of the Maritime and Coastguard Agency (MCA) from 10 bases strategically located close to areas of high SAR incident rates. The launch of the civilian UK search and rescue (SAR) helicopter service, run by Bristow Helicopters Ltd, a UK limited company will now see them introducing the service in what they say will be a "phased approach" with the 1st bases at Inverness and Humberside, now receiving tasking from the Aeronautical Rescue Coordination Centre (ARCC) as of the 1 April 2015. The idea is that the new service can manage with fewer bases thanks to the higher speed of new helicopters that Bristow will supply, 10 Sikorsky S-92s and 10 Agusta Westland AW189s, that replace the Air Force and Royal Navy Sea King helicopters from 17 coastal stations around the country So by the summer of 2017, Bristow will operate from 10 coastguard helicopter bases around the UK, on behalf of Her Majesty's Coastguard. Bristow have told us that:- "We are putting our bases close to the SAR hotspots so that our resources can be brought to bear as quickly and efficiently as possible. Our bases have also been selected to reduce transit time, fuel requirements and disturbance, helping us to exceed environmental requirements. We are having new state of the art SAR bases built at:- Inverness; Manston; Prestwick; Caernarfon; Humberside; Newquay and St Athan. We will also be operating out of existing, purpose built MCA facilities at:- Lee-on-Solent; Sumburgh and we have refurbished Stornoway. As we say on the website, we have marked and are making significant pre-operational and operational investments; in the region of £7 million per base. Our infrastructure, ongoing maintenance and supplies will be sourced locally, providing additional opportunities for local businesses and SME's. In addition, all of our infrastructure developments for the UK SAR contract will be fully compliant with strict environmental criteria." So what are your views on this? As history closes on a major chapter of aviation history in the UK, will safety be improved or compromised, only time will tell. Please send us your feeling and also any memories you might have of our RAF and Navy Services over the years.

Rob Heron and The Tea Pad Orchestra Bring the Best of UK Roots to Southport
ROB Heron and The Tea Pad Orchestra is 1 of the hardest working bands in the UK roots circuit… With thousands of touring miles under their belts, they have earned themselves a sizeable fan base in the UK, Europe and beyond. Based in Newcastle Upon Tyne, they play their own brand of Western Swing, Blues, Gypsy Jazz and Country, or "North Eastern Swing" as they've coined it. Their style is more eclectic than most, influenced by early 20th century American music, with the addition of:- "razor-sharp" solos, great arrangements and original songs; their music harks back to a golden age whilst staying perfectly modern. The songs are penned by Rob Heron, a crazy fool for country music and a full time dandy cowboy. His songs are full of character, satire, and good old fashion hollerin'. The band, a hot 6 piece, features Ben Fitzgerald (guitar), Tom Cronin (mandolin), Colin Nicholson (accordion), Rob Blazey (double bass) and Paul Archibald (drums). Their debut album:- 'Money Isn't Everything', caused a sensation when it was released in 2012, winning a host of rave reviews; many of them 5 star. Their 2nd album:- 'Talk About The Weather' is gathering some notable radio play and reviews. Rob Heron and The Tea Pad Orchestra takes to the stage on Friday, 10 April 2015, at 7.30pm. Tickets are:- £10 advance / £12 doors and are available online at:- Theatkinson.Co.UK or by calling the Box Office on:- 01704 533333. They are also available over the counter during The Atkinson opening hours. Please be advised that there is a £2.50 booking fee for telephone and online sales.
The Drifter's "Rebranded Tour 2015" heading to Southport this year!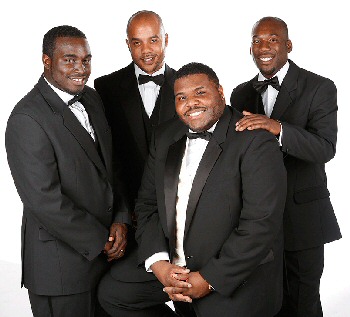 FOLLOWING on from the success of their recent tours, the current line up brings you the Rebranded Tour 2015 defining the evolution of the phenomenal story of the Drifters through its music from the past to the present. One of the stops of this high energy show will be Southport, in September. The show will feature many of the greatest hits:- 'Under The Boardwalk', 'Saturday Night At The Movies', 'Up On The Roof', 'Kissin In The Back Row', 'Down on the Beach', 'More Than A Number In My Little Red Book' along with newer songs that have evolved through the first new recordings in over 30 years. With over 65 members in over 60 years the brand continues today with the only official line up in the world. Promising to bring the best performance standards with the groups four part harmonies through some of their vast back catalogue of songs along with the continued musical evolution of the band through their new recordings. This concert is guaranteed to bring a musical extravaganza along with a world class band, production and some very smooth moves. As 1 of the biggest selling and longest serving bands in history, The Drifters have collated a huge catalogue of over 50 hits, selling in excess of 214 million singles and 114 million albums across the world. Since their creation, the line up of The Drifters have undergone many changes with more than 60 different singers, including icons such as Clyde McPhatter, Ben E King, Johnny Moore and Rudy Lewis. Events for The Drifters still to be held:-

► 11 April 2015 - Princess Theatre (Torquay).
► 20 May 2015 - Milton Keynes Theatre (Milton Keynes).
► 3 Jun 2015 - William Aston Hall - Glyndwr University (Wrexham).
► 4 June 2015 - New Theatre (Oxford).
► 7 June 2015 - Playhouse (Edinburgh).
► 11 June 2015 - Richmond Theatre (Richmond upon Thames).
► 18 June 2015 - Leas Cliff Hall (Folkestone).
► 23 July 2015 - The Empire Theatre (Sunderland).
► 24 July 2015 - Wulfrun Hall (Wolverhampton) .
► 18 September 2015 - Auditorium (Grimsby).
► 24 September 2015 - The Southport Theatre and Convention Centre (Southport).
► 19 November 2015 - Regent Theatre/ Britannia Suite (Stoke-on-Trent).

For ticket information and updates visit:- TheOfficialDrifters.com.