LJLA partner with Marketing Liverpool to showcase Merseyside to senior airline officials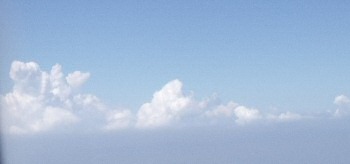 SENIOR Management from Liverpool John Lennon Airport (LJLA) are heading to Aberdeen with colleagues from Marketing Liverpool to promote the Airport and the Liverpool City Region to over 1,000 delegates at the 2015 Routes Europe aviation conference.

The event takes place from 12 April to 14 April 2015 and is an annual gathering of Europe's top airlines and airports and is seen as the meeting place for Europe's airport/airline route development industry.

LJLA already has meetings with senior officials from 16 airlines confirmed. Often described as:- 'speed dating' for airports and airlines, airports have the opportunity to meet with airlines for 20 minutes before moving on to their next meeting.

Marketing Liverpool will have a stand at the conference to showcase all the attributes of the Liverpool City Region to delegates, whilst Liverpool FC have kindly provided their Champions League trophy to be put on display for delegates to view too.

The event is viewed as one of the most cost effective ways to build relationships with airlines from all over Europe and to promote the Airport and the City region to the aviation industry.

It was at last year's event in Marseille that the Airport took the opportunity to meet with Romanian airline Blue Air for the 1st time.
Further discussions and agreement followed, with the airline commencing a 3 times weekly service from Liverpool to Bucharest in December 2014 and a twice weekly service to Bacau which started last week.

Mark Povall, Director of Air Service Development, who will be attending the event commented:- "It is important that we showcase not just the capabilities of the airport to airlines but what the Liverpool City Region has to offer too. By working closely with our partners at Marketing Liverpool we can demonstrate the demand for new airline services linked to both business and leisure travel for both outbound and inbound markets."

Chris Brown, director of Marketing Liverpool, said:- "Liverpool John Lennon Airport is an extremely important asset to the City region's aspirations to grow its economy. It has been striving to attract more routes and recent successes such as the new Flybe route to Amsterdam provide a massive boost to our visitor economy and inward investment prospects. However there is a lot more potential here and, together, we will use these wins as a springboard to create further opportunities, which is why our joint attendance at the forthcoming European Routes conference is so important."
Silver Toyota Yaris stolen in suspected house burglary!
IT has not been a very happy Easter for one family in North Sefton. As the family where in the house, it is believed keys were taken from the property to a Silver Toyota Yaris, registration. MD04 JXA. It is reported that the car was then taken from the road when it was parked, outside the property. The vehicle contained a student's portfolio and its loss has now left a student worried and distressed as the student is applying for university.
Merseyside Police have confirmed the information that a:- "Silver Toyota Yaris, reg. MD04 JXA was reported stolen from a property on Blundell Drive in Birkdale in the morning of Easter Sunday, 5 April 2015. We are treating the incident as both burglary and car theft. We think the keys have been taken from inside the house, between the hours of 8pm and 2am on Sunday."
Our newsroom has also been given unconfirmed reports that the vehicle had been spotted on the ANPR cameras, on the Formby Bypass, heading in the direction of Liverpool. If you spotted the car or noticed anything strange taking place within and around Blundell Drive area of Birkdale, please contact the Police on:- 101 or report it completely anonymously through the charity Crimestoppers on:- 0800 555 111.
Our Paper believes that this has been 1 of a few similar incidents that have happened as of late, within the area. We would recommend to all our reads, both resident and business to take note and report any unusual activity to the Police. Also if your road is not already a member, that you should look at setting up a Home Watch scheme:- OurWatch.Org.UK.

Did you go to the Easter Morning Gloryville?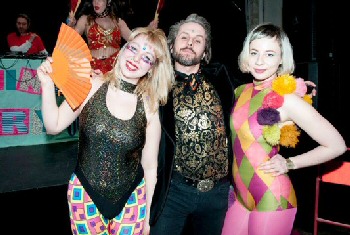 ON 8 April 2015, the Morning Gloryville, an early morning dry rave held in Liverpool City Centre, coincided with the school holidays, so it was even more popular than ever! The event had a wide range of activities for those attending to take part in; including many one off special Easter Bunny delights! The event's Easter theme meant it's activities were as the organisers put it:- "Fun for all the family, no matter if they where babies, toddlers, teenagers, early 20's, middle aged 'kids' from the original rave scene, parents, grandparents, rabbits and unicorns..." Activities included:- table climbing, massage, yoga and it would not be a rave with out dance! "We had an amazing line up with tunes from DJ Namina, Mark Armstrong and a very special guest to catapult you into the day, Easter Bunny!" said the event organisers… These events we are told let you to take off for the mask off and let those attending unleash the inner you! The only rules are sobriety and authenticity. Gloryville DJ Stef Maggio said:- "The beauty of the event is that old time ravers who haven't been able to go out clubbing due to the constraints of having young families, now get to go out clubbing again... and you don't even need a babysitter!" If you do not know what Morning Gloryville is, it seeks to improve people's feeling of well being and aims at tackling many issues of mental health, striving to lift people's energy and grow a strong and supportive community.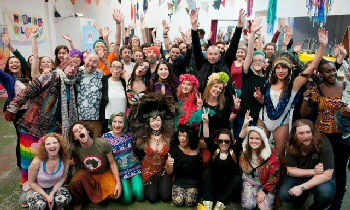 This event was in partnership with the Foundation of Art and Creative Technology, who used it as part of their latest exhibition Group Therapy: Mental Distress in a Digital Age, which explores the complex relationship between technology, society, and mental health. The Climbing Hangar also joined up with Morning Gloryville for the Easter Special, bringing their bouldering facility where you could have experienced a short climb without ropes, thankfully over crash pads! The Climbing Hangar Managing Director, Gearoid MacDomhnaill said:- "If you can rave in the morning, it's a small leap to consider a regular table as a fun to climb on and it really is, as one of our most popular challenges in Liverpool's biggest climbing facility. Like our Centre and the MGV events, we have great fun subverting expectations and making everyone welcome with challenges suitable for people who see things from a different angle, like a table from underneath or yoga on the dancefloor."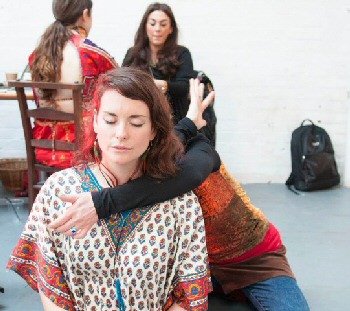 Organisers of the Morning Gloryville said that:- "We wish to thank all who took part, especially our sponsors, along with the Climbing Hangar, Lush Spa Liverpool, Samantha Langton, June O'Rourke Lowe and Elizabeth Anne from Karma Therapies who provided massage all morning, alongside the Yoga classes, thanks to Jess Sawyer, Yoga Bears and Carlianne Perry. Resident Goodness Suppliers Oh My Goodness raw juice bar was also so relaxing..." So did you attended this eggtremely unusual event? Also we want to know how many Easter Bunnies did they manage to get on the dance floor in the end? For more information go to:- MorningGloryville.com or visit them on Facebook to find out about the next event...