Cook with us! - Gotuj z nami!
COOK with us! Cooking sessions are designed for anyone interested in starting their 1st steps to healthy eating on a budget, whilst discovering cuisine from all over the world. The cooking classes will be delivered by a professional Liverpool chef, who will show you how cook delicious, and reasonably priced meals.
Merseyside Polonia, have said that they are:- "delighted to introduce:- 'Cook With Us'', our 1st cooking project. These 9 healthy cooking sessions are designed for anyone interested in starting their first steps towards healthy eating on  a budget, whilst discovering cuisine from different parts of the  world along the way. Beginning in April,  every second Monday evening, 'Cook With Us' participants will  explore healthy cooking to help you manage your home  budget and find out more about the benefits of a nutritious diet."

Join Merseyside Polonia for a cooking class delivered by  professional Liverpool chef Dariusz Dadynski (Darek). Darek will show participants how to cook delicious  and healthy meals from scratch and for a reasonable  price. Learn how to invent a dish, choose the right spices and  master professional chopping, slicing and dicing skills.


Darek has been working as a chef for many years and has spent a lot of time experimenting to find the perfect tastes. By  working in different countries and restaurants, looking for new challenges, learning and gaining experience.  He worked in exclusive restaurants in Warsaw as well as  having had the honour of cooking during the UEFA Euro 2012. He is very excited to be running Merseyside Polonia's 'Cook With Us' sessions. He admitted:- "I hope to discover some hidden talents among the participants and ignite their passion for cooking."

'Cook With Us' sessions are FREE with all ingredients supplied  by Merseyside Polonia. Plus, you will receive sample  ingredients to take home to practice the recipes.

The sessions will run on Monday nights at 6pm starting from 13 April 2015, where the 1st session is paella. Then there will be a session every 2nd Monday, with 9 sessions in  total and you don't have to attend all of them to participate.  The sessions will take place at 30 Sedgemoor Road, Liverpool L11 3BR, Norris Green.

Spaces are strictly limited. You can Book your place via clicking on here to receive your entry ticket  if still available at time of access to the website.

The project is funded by Hope Mayor Fund and supported by Liverpool City Council and Clinical Commissioning Group.

Cook with us! - Gotuj z nami!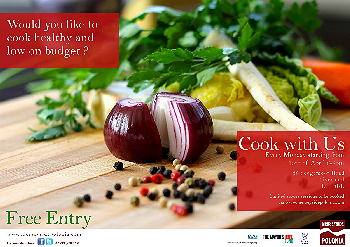 GOTUJ z nami! Lekcje gotowania są przeznaczone dla wszystkich zainteresowanych rozpoczęciem ich 1-gi kroków do zdrowego odżywiania w sprawie budżetu, podczas odkrywania kuchni z całego świata. Lekcje gotowania będą dostarczane przez profesjonalnego szefa kuchni w Liverpoolu, który pokaże, jak gotować pyszne i niedrogie posiłki.
Merseyside Polonia, powiedział, że są one:- "zaszczyt przedstawić: -." Gotuj z nami '', nasz projekt 1-ta gotowania te 9 zdrowych sesje gotowania przeznaczone są dla osób zainteresowanych rozpoczęciem swoje pierwsze kroki w kierunku zdrowego odżywiania w sprawie budżetu, podczas odkrywania kuchni z różnych stron świata na drodze. Od kwietnia, co drugi poniedziałek wieczorem, "Gotuj z nami" uczestników będzie badać zdrowe gotowanie, aby pomóc w zarządzaniu budżetem domowym i dowiedzieć się więcej o korzyściach płynących z pożywne diety ".

Dołącz Merseyside Polonia na gotowania dostarczonej przez profesjonalny szef kuchni Dariusz Dadynski Liverpoolu (Darek). Darek pokaże uczestnikom jak gotować smaczne i zdrowe posiłki od podstaw i za rozsądną cenę. Dowiedz się, jak wymyślić danie, wybrać odpowiednie przyprawy i opanować profesjonalną cięcie, krojenia i umiejętności w kostki.

Darek pracuje jako szef kuchni przez wiele lat i spędził dużo czasu eksperymentować, aby znaleźć idealne gusta. Pracując w różnych krajach i restauracji, szuka nowych wyzwań, uczenia się i zdobywania doświadczenia. Pracował w ekskluzywnych restauracji w Warszawie, jak i po miał zaszczyt gotować podczas UEFA Euro 2012. On jest bardzo podekscytowany, aby być uruchomiony Merseyside Polonii "Gotuj z nami" sesji. Przyznał:- "Mam nadzieję odkryć ukryte talenty wśród uczestników i zapalić swoją pasję do gotowania."

Sesje "Gotuj z nami" są za darmo z wszystkich składników dostarczonych przez Merseyside Polonia. Plus, otrzymasz przykładowe składniki do domu ćwiczyć receptur.

Sesje będą działać na poniedziałkowe wieczory na 6pm począwszy od 13 kwietnia, gdzie pierwsza sesja jest paella. Wtedy nie będzie sesji co drugi poniedziałek, 9 sesji w sumie i nie muszą uczęszczać na wszystkie z nich uczestniczyć. Sesja odbędzie się 30 Sedgemoor Road, Liverpool L11 3Br, Norris Green.

Przeznaczone są ściśle ograniczone. Możesz Zarezerwuj miejsce poprzez kliknięcie tutaj, aby otrzymać bilet wstępu, jeśli jeszcze dostępne w czasie dostępu do strony internetowej.

Projekt finansowany przez Hope Mayor Fund, wspierany przez Liverpool City Council i Clinical Commissioning Group