2015 Election Candidate Video Interviews:- "UKIP - Southport"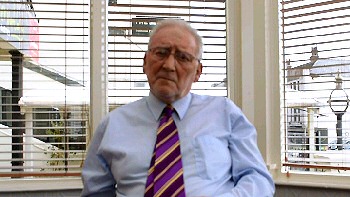 THIS is your chance to hear and see UKIP's parliamentary candidate for Southport, Terry Durrance in our latest video interview. 1st off is an introduction about what he stands for then a few quick questions that we asked him after his introduction.
We are inviting all parties to take part in these interviews and let our readers hear the views of all candidates standing in the 2015 General Elections thought-out Merseyside.
If you are a candidate or the official representative, please contact us to arrange your interview time and use this opportunity to get your voice out to our readers. Please email us your views and thoughts about this Election to:- news24@southportreporter.com.
Are consumers being hit by cavity wall insulation mis-selling and is it turning into a scandal?
Photo with thanks to Cavity Claims North West.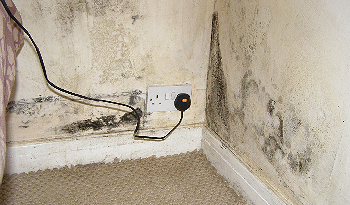 IN an email sent to our news room from Ubiquity PR said that a local Skelmersdale firm "has uncovered what it believes is a mis-selling scandal on a mass scale after vulnerable consumers in Southport and surrounding areas." in the email they also reported that:- "homes had become damp and mouldy following the injection of insulation material into their cavity walls."

The firm, Cavity Claims North West, says it is run by Blue Sky Claims Limited, on its website. It also says that is is a:- "Company that specialises in seeking compensation on behalf of our clients to seek redress for damage occurring to their property following wrongful or badly installed cavity wall insulation or cavity wall insulation problems."

Cavity Claims North West maintain that they have already unveiled hundreds of cases of people whose homes have been blighted by this ill advised practice.

"There seems to be a pattern in the vast majority of these cases in the way that cavity wall insulation has been presented to people with doorstepping and cold calling salesman describing this as being government backed or funded. This is not the case. The process is almost always funded by one of the major energy suppliers who have been given targets by the Government to insulate homes, and if they miss those targets, they can be fined by the energy regulator Ofgem so there is pressure to install as much cavity wall insulation as possible. Even though this has arisen via government policy, it is neither controlled nor overseen by the Government so now that things have gone horribly wrong with potentially thousands of homes in Southport affected, the Government can deny responsibility. Another pattern that all cases appear to have in common is the role of the Cavity Insulation Guarantee Agency (CIGA), which issues 25 year guarantees. We have been told that salesman have been describing these as:- 'Government guarantees', which they are not. 7 of CIGA's 11 current directors are also directors of firms that either make or install insulation, or of trade associations that represent the interests of installers. We are not surprised that CIGA has done its best to deny the installer's or its own responsibility when approached. We have also been helping many householders like for example, Mrs. Navin from Crossens who complained of dampness following a cavity wall insulation saying:- 'I'm really upset about the whole episode.' My main concern is how other families also on a low income like us will become victims given that most of the general public won't have any expertise in what is being sold to them. Ultimately, I now have extreme damp and wet walls in my house following the completely inappropriate works undertaken. It has also exacerbated my disability. I'm determined to tell as many others to be very mindful of any firms offering this service." said Cavity Claims' operational support specialist Mark Harrison, in the email.

Cavity Claims North West have told us in the press release that:- "Many others have been told that chronic damp issues could not possibly be a result of the insulation. Instead, they were fed stories such as pre-existing building defects must be to blame."

In the release Mr Harrison commented that:- "We believe cavity wall insulation problems are vastly under reported, and that many more will come to light in the coming months. Most dampness issues won't show up in the 1st few weeks following installation and it can 2 or 3 winters before they emerge. What will also be of major concern to people is that we know of two houses recently valued, one of which was reduced by £15,000 because of damp and other issues directly related to the cavity wall insulation. The other was a property reduced by £23,000 because the insulation was installed 6 years ago, the house has mould, requires decorating throughout as it is damp and the entire floor needs plastering with all wooden floorboards having rotted on the ground floor...sadly, we expect to see more and more incidences of this."

So we would like our readers to let us know if they have had any problems with cavity wall insulation. If you do or if you have had issues, please email us at:- news24@southportreporter.com and let us know.
Appeal for witnesses to serious assault at Formby Station
THE British Transport Police is appealing for witnesses after a man was knocked unconscious and suffered a fractured skull after he was hit over the head with a bicycle seat. The incident took place on Saturday, 4 April 2015, at around 6.50pm, at Formby Station.

Investigating officer Detective sergeant Nigel Goodband said:- "The victim was with friends when he intervened in an altercation between a group of young men. As he did so he was hit in the head with a bicycle seat by one of the men, sustaining a serious head injury as a result. The victim had to be taken to hospital for treatment to his injuries. It is vital we find who is responsible for this violent attack."

Anyone with information is asked to contact British Transport Police on:- 0800 40 50 40, or text:- 61016, quoting reference PSUB/B9 of 07/04/2015. Information can also be passed anonymously to the independent charity Crimestoppers on:- 0800 555 111.
Brake hails better justice for victims of disqualified drivers as tougher sentences come into effect
THE UK road safety charity, Brake has congratulated the government on delivering desperately needed improvements to justice for bereaved and injured victims of disqualified drivers, as part of the Criminal Justice and Courts Act coming into force on Monday, on 13 April 2015. The new rules mean anyone convicted of causing death by driving while disqualified will face a maximum of 10 years in prison, up from only 2 years previously. Drivers convicted of the new offence of causing serious injury by driving while disqualified will face up to 4 years in prison. A wider review of all driving offences and charges by the Ministry of Justice is ongoing. Ed Morrow, campaigns officer for Brake, the road safety charity, said:- "This is an important day for everybody involved in campaigning for better justice for victims of criminal driving. Getting behind the wheel when a court has already found you to be a danger on the road, and has disqualified you from doing so, is one of the most selfish decision you can make as a driver. It is entirely right that maximum sentences are being increased, and we hope that judges will make use of them where appropriate. This is a good first step to securing better justice for victims and families, many of whom have been left feeling betrayed by inappropriate charges and paltry sentences. There are a number of other urgent issues with how the justice system handles cases of criminal driving, and Brake will be pressuring whoever forms the next government to follow the current Ministry of Justice review through to a satisfactory conclusion."

Channel 5 television cameras film Southport election fever
Photographs by Patrick Trollope.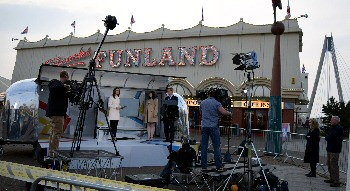 TV host, newsreader and journalist, Emma Crosby visited Southport on Friday, 10 April 2015, along with the Channel 5's 2015 Election Mobile Studio. In total 2 programmes had been broadcast live for Channel 5, that night, from outside Silcocks Funland, as part of the lead up to the election on 7 May 2015 Elections. Camera crews from Channel 5 News had picked the resort as 1 of it's 1st stops of the programme's tour though out the UK over the next 4 weeks. Presenter Emma Crosby told us:- "This 2015 General Election will be 1 of the tightest election races in memory, affecting people at a local levels. We are looking at regional factors as well as the national picture throughout our series of programs, picking places like Southport, as well as Cities to get a clear picture of what is going on." Being interviews where Director of Postgraduate Research, Politics, Prof Jonathan Tonge BA MA PhD, from Liverpool University and Dr Victoria Claire Honeyman, from University of Leeds. The show is said to have picked Southport, due to "UKIP's sharp rise in popularity" with in the Town in what has traditionally been safe Liberal Democrat seat. This rise in interest could now see, on the election day, Southport becoming a marginal seats. Please email us your views and thoughts about this Election to:- news24@southportreporter.com. We are keen to hear from anyone from any political party who are standing within Merseyside as well as our readers!