The Craft Mine event at St. George's Hall, Liverpool
Photographs by Samantha Brown Photography.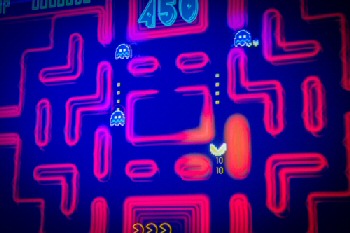 THE Craft Mine, an incredible maze of creative workshops and interactive games is now open in the catacombs and galleries in one of Liverpool's most iconic buildings. Be sure not to miss the amazing mine of innovative craft activities that the Craft Mine has to offer, it is already entertaining kids of all ages with 2hrs of mind blowing activities are open now at St Georges Hall from:- Tuesday, 14 April to Friday, 17 April.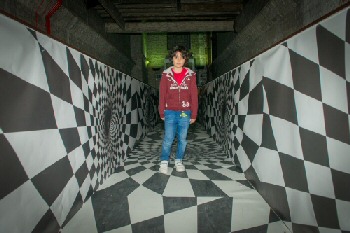 Explore the maze packed with activities to take part in; discover the amethyst mine with the Explode a Volcano! cave, try to make it across the optical illusion bridge and make a kinetic optical illusion cube in the Optical Illusion Cave, create crazy caricatures and 2D cartoon designs and put dancing skills to the test with dance off's in the Boogie Boots Room. Disney Frozen fans will love the Frozen cave, where they can design beautiful crafts with Elsa and Anna, take the Fast Paced ACE Race challenge to race Sponge Bob against R2D2, and in the incredible Catacomb caves Minecraft and Pacman game offs and competitions will be held on huge arcade screens.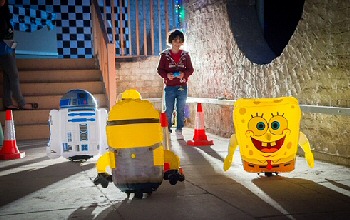 An action packed, fun filled experience with prizes and treats throughout. One lucky Craftminer per session will also win the Craft Mine Creative Genius Award! Awarded at the end of each event session. Each child will receive a free Craft Mine bag to fill with the arts, crafts and treats they create and collect on their adventure. The event also features a gem stone treasure hunt for all the family, linking to Liverpool museums, and ticket holders will receive a money off voucher for cafes and restaurants around the City. Activities cater to different age levels from 5 to 14, with chill out zones and healthy refreshment kiosks mapped within the "mine".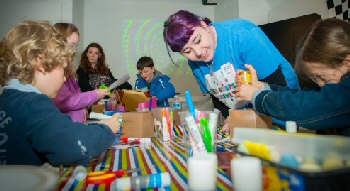 W.I.L.D In and Out Camp Creative Director Lynne Winstanley said:- "The launch of the new Craft mine at St Georges Hall has been a great success so far, so much so that one family have visited us twice! The main attractions of the event so far have been Mine Craft Steeplechase and Giant Archery. We personally adore the huge mural wall that the children of Liverpool have created themselves and everyone also loves Disney's Elsa and Anna attraction, even the parents. Our tickets are selling quicker than our children's picnic baskets in our café so get yourself down here and enjoy the fun."

A fun and educational experience which encourages communication and team skills, The Craft Mine is a brilliant day out for the whole family.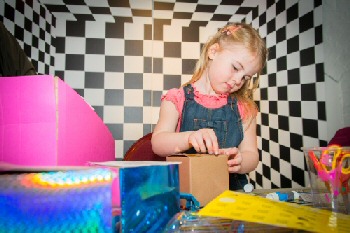 Tickets are available to purchase in advance from TicketQuarter or on the day at St Georges Hall. A child's ticket is priced at £10, with one free adult accompanying up to 3 children, and extra adult tickets at £3. Tickets are limited for each session, so book early to avoid disappointment.

Event Details:- The event runs on Tuesday, 14 April, as well as Friday, 17 April 2015.

Times:- 9.30am to 11.30am, 12 noon to 2pm, 2.30pm to 4.30pm

Admission:- Child (with One Accompanying Adult) - £10.00 (plus £1 booking fee) (includes:- FREE 'Craft Mine' rucksack). Additional Adult - £4.00 (includes booking fee). Family Group Ticket (5 Children with up to 2 accompanying Adults) - £44.00 (inc booking fee). * 1 adult may accompany up to a maximum of 3 children.

Purchase in person at:- TicketQuarter, Queen Square, Liverpool. Online at:- TicketQuarter.Co.UK or call:- 0844 800 0410.

Enter and you might be 1 of 10 comedy writers to have sketches professionally performed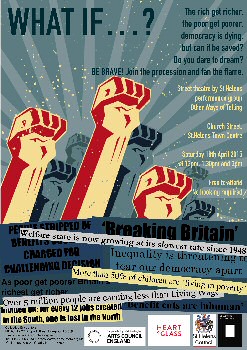 THE Sunday for Sammy Trust are offering up to 10 comedy writers the chance to have their sketches professionally performed in an exciting joint venture with the popular Laffalang team.

The iconic North East charity, whose bi-annual shows at:- 'Newcastle City Hall' have reached legendary status since their inception in 2000, exists to help people to get established in the performing arts. Some recipients of grants from Sunday for Sammy have already made remarkable progress in the performing arts. Actor Lee Armstrong has the lead role in the touring production of Warhorse, musician Emily Hoile is second harpist in the Berlin Philharmonic Orchestra and actress Alice Stokoe has the lead role in the West End Production of Mama Mia.

Working with Ed Waugh and the Laffalang sketch troupe, whose regular shows attract up to 400 people at the Westovian Theatre in South Shields, Sunday For Sammy producer Ray Laidlaw is inviting anyone from the region who can pen a funny sketch to try their hand.
Ray, who was the original drummer of Tyneside-based legends Lindisfarne, explained:- "The Laffalang is a fantastic way to introduce new writers to the professional world. To have your work performed live by actors is a huge thrill."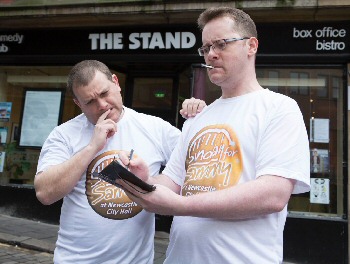 Any North East based aspiring writer is invited to submit a sketch and the theme for the competition is "spring". "It can be any aspect of the season. We're looking for concise material, written by individuals or pairs, that hits the funny bone. Entrants can be aged from 16 to 116. By the same token, we wouldn't discriminate against anyone over 116 from entering." said Ray.

Jason Cook and Gavin Webster, both leading lights of the North East comedy scene who are now making waves nationally, will judge the initial entries. (Jason himself was 1 of the 1st recipients of a grant from Sunday for Sammy.)
The judges will select up to 10 people to go forward to a day school at The Stand Comedy Club in Newcastle in July that will be run by Ed Waugh and Laffalang producer Gareth Hunter and attended by members of the regular Sunday for Sammy cast.

That will be followed by a 2nd day school at:- 'The Stand', in August during which sketches, written at the 1st school, will be rehearsed and then performed by professional actors to an invited audience that will include industry professionals.
Ray added:- "Who knows, some sketches might end up being performed at the next Laffalang and if someone exceptional emerges, he or she will be invited to write a 5 minute sketch for inclusion in the 2016 Sunday For Sammy show."

Sketches should be between 500 words and 1,000 words maximum and submitted to Ray Laidlaw at:- info@sundayforsammy.org.

Please check:- SundayForSammy.Org for the competition details and rules.
Witness appeal to bike theft from Wigan North Western station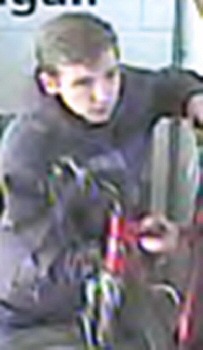 DO you recognise this man? British Transport Police officers believe he could have vital information about the theft of a bike from Wigan North Western Station. The incident occurred at around 3.30pm on Thursday, 19 March 2014. Investigating officer PC Gary Beardall said:- "The victim left his red Claude Butler mountain bike secured in the cycle shelter using a cable lock. When he returned to collect it the bike had gone. We believe the man in the CCTV image could help us with our enquiries. We would urge him or anyone who recognises him to contact us immediately." Anyone with information is asked to contact British Transport Police on:- 0800 40 50 40, or text 61016, quoting reference PSUB/B7 of 10/04/2015. Information can also be passed anonymously to the independent charity Crimestoppers on 0800 555 111.