Witness appeal issued by Merseyside Police following the arrest of 4 over shooting in Whiston, Knowsley, Merseyside
4 men have been arrested by Merseyside Police Detectives investigating a shooting that took place in the Whiston area of Knowsley, on Friday, 10 April 2015.
The arrests follow an incident that had the occupants of 2 cars being reported to have been seen shooting at each other while driving erratically and at high speed around the residential area, in and around Copperwood Drive, shortly after 6pm on Friday. Police patrols were deployed to the area and they are reported to have found a VW Passat, that Merseyside Police believed to have been 1 of the cars involved, parked at Whiston Hospital.
Enquiries have now led Officers to arrest 3 men, who they believed, have been on board the Passat and a 4th man nearby, a short time later.
A 24 year old passenger in the Passat suffered serious injuries to his back, shoulder and elbow and remains in a critical, but stable condition at another Hospital in the region.
The 20 year old driver of the car suffered superficial injuries and was arrested after being treated. His 2 other passengers; a 20 year old man and a 21 year old man; were uninjured and have also been arrested. All 3 men are reported to be from the Whiston area and Merseyside Police confirmed that they where arrested on suspicion of firearms offences.
A 4th man aged 17 from Huyton was also arrested a short time later, also at the Hospital, as a result of further Police enquiries.

An extensive Police investigation led by the force's Matrix Serious Organised Crime Unit and supported by Knowsley Neighbourhood Officers and other specialist teams is now underway.

Detectives from the force are treating the shooting as a targeted incident between 2 criminal factions and are hunting for the other car involved and its occupants.
Assistant Chief Constable Ian Pilling said:- "local residents could expect a reassuring Police presence in their community this weekend." He has also told the media that:- "What these 2 groups of criminals did was reckless in the extreme and it is only by luck that no innocent bystanders were hurt. The local community has my absolute assurances that significant resources are being used to identify all the individuals involved and bring them to justice. My officers were quickly on the scene following reports of gunfire between 2 cars and I'm pleased to say that 4 men have been arrested and will be interviewed in due course. 1 of the cars involved in this extremely serious incident has been seized and we are examining every inch of it for evidence that will help this investigation. People who witnessed this incident or have heard about it since will understandable be shocked, appalled and worried that it could happen in their own community. I want to reassure them that they will see a large and highly visible Police presence this weekend and those officers will be there to address any concerns they might have. We are treating this as a targeted attack involving 2 factions who are clearly in dispute and they have brought violence to the streets of a peaceful community. We will relentlessly pursue criminals who use guns and violence to settle criminal disputes and intimidate or harm other people, but we need the public's help. If you have any information at all that can help the Police investigation, please call our gun crime hotline on:- 0800 230 0600 or Crimestoppers anonymously on:- 0800 555 111."

Parts of Copperwood Drive and Cumber Lane where cordoned off to allow a full forensic search to take place during daylight on Saturday, 11 April 2015.

Detectives told the press overnight that they are keeping an open mind regarding a BMW car found on fire in Domville shortly before the firearms incident; however it is not believed to be the other car involved.
The Police have also added this comment:- "Patrols have been stepped up and a highly visible police presence will remain in the area this weekend following the incident in Copperwood Drive."

Do you know Molly Warburton and her band?
Photographs by Graham Binns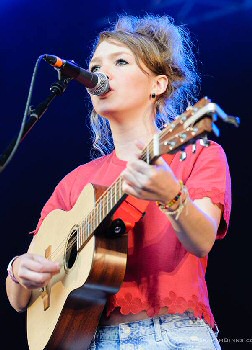 IF you do not know who she is, Molly Warburton has been playing 150 gigs per year in her native Lancashire, when she was spotted by a talent scout. Since then she has been tipped by many as a rising star, following on from a successful tour of the UK and California USA. She is now confirmed to appear on Bestival. The BBC's platform festival for new music. She has already a big hit with promoters and fans alike at festivals all over the UK appearing with The Stereophonics and tipped to be at Glastonbury very soon. She has also as taken London by storm, dominating the London live music scene with sell out shows at The Borderline, The Troubadour, and prestigious venues all over London. If you want to hear her and find out more, Molly, and her band, will be making a special guest appearance at the World famous, The Cavern, on Mathew Street, in Liverpool. This event will be held on Friday, 30 May 2015, when her band will be joining her onstage from 7.45pm. Also on the night will see performing Letz Zep. You can also find her debut album, simply entitled:- 'Molly Warburton' on iTunes, Spotify and all leading download and streaming sites.
Manannan has resumed service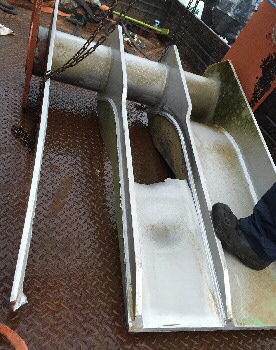 THE Steam Packet Company has confirmed that Manannan has now resume scheduled services, sailing from Douglas to Liverpool. Following extensive repairs, sea trials that where completed this on 10 April 2015. Chief Executive Mark Woodward said:- "Following repairs to the 2 starboard water jets and the starboard trim tab Manannan has just completed berthing trials and a short sea trial off Douglas. I am pleased to advise that everything went well and the vessel is ready to return to operational service with tomorrow morning's 07.30 crossing to Liverpool. I would like to thank our passengers for their patience and understanding while Manannan was being repaired. This has obviously been a difficult period and I want to again apologise for the inconvenience caused to passengers. The nature of the damage suffered was the worst we have seen to 1 of our fast craft vessels. Our team of engineers and divers has worked tirelessly to ensure Manannan was returned to normal service as quickly as possible."