Olympian Sharron Davies champions Step out for Stroke in Southport
FOLLOWING 2 smash hit UK tours in 2012 and 2013, 'The West End Men' are returning with their 3rd tour, due to phenomenal popular demand. Some of the finest performers of this generation have joined together to dazzle the stage with timeless songs and fantastic performances, bringing the music, spotlights and show-biz from the heart of the West End to the rest of the UK. The show will be at the Liverpool Empire, on Friday, 29 May 2015.

In addition to the announcement that the X-Factor's Marcus Collins has joined this year's this hotly anticipated tour, we can now confirm that the line up will also include the fabulous Glenn Carter, James Bisp and Alexis Gerred. Together, they have starred in West End hits such as Jesus Christ Superstar, Hairspray, The Phantom of the Opera and Joseph and the Amazing Technicolor Dreamcoat. These handsome gents will showcase some of the nation's most loved musical theatre songs, from classic shows such as West Side Story, Les Miserables and South Pacific as well as a collection of rock and pop hits from artists and bands as diverse as Queen and Stevie Wonder. The gorgeous Nadia Forde will be appearing as a special guest at Dublin, Watford, Guildford and Liverpool.

Previous stars of The West End Men include Lee Mead, Matt Rawle, Stephen Rahman Hughes, Glenn Carter, Ramin Karimloo, David Thaxton and the lovely Matt Willis. In December 2013 the Men were invited to Singapore to present the 1st ever symphonic version of the show before taking up a short residency at the Vaudeville Theatre in London's West End. Their popularity has proven that there's no business like show business and this year's superb performers are sure to match the success.
Competition launched to find best game chef
THE search is on to find Merseyside's best amateur game chef. The CLA Game Fair and The Field magazine have launched a Game Chef of the Year competition, to find 2 'undiscovered' chefs who enjoy cooking with game meats and reflect the great British countryside through their food.

4 finalists will be chosen to cook in front of a live audience at the CLA Game Fair, which takes place at Harewood House near Leeds from Friday, 31 July 2015, until Sunday, 2 August 2015.

CLA North Regional Director Dorothy Fairburn said:- "This is a great opportunity for us to shine a spotlight on the region's culinary expertise when the CLA Game Fair returns to the North of England this summer. Whether it's a sumptuous slow cooked venison stew or a glorious grouse salad we want to see all of the best recipes from Merseyside's up and coming chefs."

The competition will be judged by the editor of The Field Jonathan Young and Mike Robinson, the UK's leading game chef and owner of the Pot Kiln in Berkshire and the Michelin starred Harwood Arms in London.

It is open to chefs aged 18 years or over who are 'unrecognised' by the judging panel. Entrants must send in a photo, a credentials summary and a unique recipe.

Editor of The Field, Jonathan Young, added:- "Game has never been so popular. It's easy to cook well, extremely good value and low in cholesterol. And since we're lucky enough in Britain to have an abundance we want as many people as possible to make it part of their normal diet."

Entries should be emailed to:- lucy.jenkins@cla.org.uk, by Tuesday 30 June. For more details, please visit:- GameFair.Co.UK

Liverpool's Annual Comedy Festival Returns!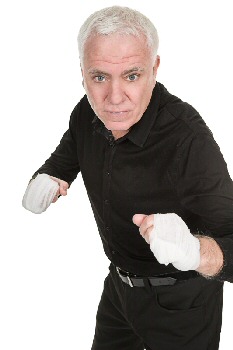 THE Comedy Trust has announced the return of the annual Liverpool Comedy Festival for a 14th consecutive year, running from Friday, 18 September 2015 to Sunday, 4 October 2015, in venues across the City.

They have also confirmed some stellar stand up comedy names to start the ball rolling with 2 of the main attractions, the comedy giants and stand up heavyweights Alan Carr and Dave Spikey, with tonnes more names to follow.

Comedian, author and chat show supremo Alan Carr brings his show 'Yap Yap' to the Philharmonic Hall on 18 September and 19 September 2015. Since winning the BBC New Comedy Award for Stand up as well as CityLife Best Newcomer of the Year in 2001, Alan Carr has become 1 of the hottest comedy stars in Britain. The success of the 1st series of his own chat show, Alan Carr: Chatty Man, in the summer of 2009, led to Channel 4 commissioning umpteen further series as well as Christmas Specials and his summer, New Year and Grand National Specstaculars.

Joining Alan, also at the Philharmonic Hall is the star of Phoenix Nights and That Peter Kay Thing Dave Spikey who arrives in the City, on 2 October 2015, with his latest tour 'Punchlines.' The Multi Award Winner is 1 of the most sought-after comedy talents in the UK today. With a career spanning 2 decades, he has numerous TV appearances to his name as a stand-up comedian, presenter and actor; and behind the screens, as an acclaimed comedy writer.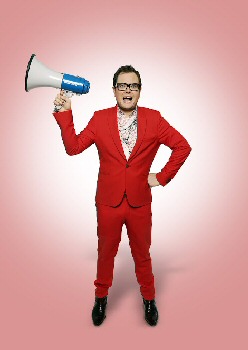 As ever the Liverpool Comedy Festival isn't purely about the household names, they will showcase some of the most exciting up and coming comedy acts and programme comedy into the better known venues across the City as well as some pretty unusual (and secret) spaces.

There will be acts lined-up to perform in bars, shops, schools and even people's houses. There is also comedy coach tours, kids shows, pub crawls, poets, podcasts, open mic nights, quizzes, magicians, networking events, rap battles, plays and sketch groups.

And for 2015 they will be increasing the offer for kids and young people with lots of fun shows for all the family so nobody need miss out on a giggle.

Sam Avery, Festival Manager and Comedian said:- "We've been working hard to ensure that we have a more diverse line up this year than ever before. After the success of last year we've been inundated with acts wanted to be involved so we're picking the best of the bunch to showcase in the City."

Visit:- LiverpoolComedyFestival.com for full line up and information.

Follow us on Facebook/The Liverpool Comedy Festival and on Twitter @LpoolComedyFest