Brothers in arms as Formby siblings make university life a real family affair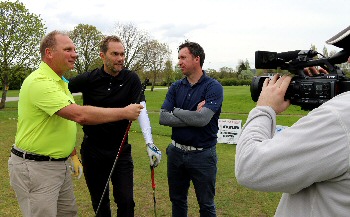 FOLLOWING in the footsteps of your sibling can be a daunting prospect. But that's the situation Sam and Ben Roby have faced head on as both enrolled at BPP University for qualifications in Law and Accountancy respectively.

It's a real family affair with the brothers who hail from Formby, however, when it comes to sibling rivalry, the Merseysiders have in fact spurred each other on in their studies rather than locked horns.

If anything, Law student Sam urged older brother Ben to join BPP University's Liverpool base to study the AAT in accountancy; the same centre Sam studied for his Legal Practice Course.
"I got on well with a few of the accountancy lecturers, particularly when we'd shoot the breeze about Liverpool FC. I knew Ben was interested in accountancy and so I enquired about the course on his be½ and told him all about BPP University's Liverpool base, its great location and the excellent social side that the City offers." said Sam, 24.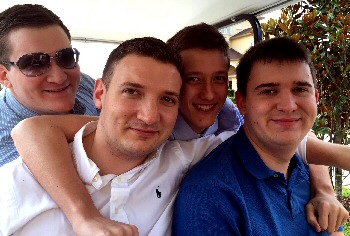 Ben, aged 27, added:- "I had great feedback from both Sam and my girlfriend, who is also with BPP University studying the ACCA in accountancy. I think the fact that I knew people who had already enrolled at BPP University really became the deciding factor in me joining."

Unfortunately the paths of the brothers; who also have two other siblings in Jack, 18, and 16 year old Joe; didn't cross during university because Sam completed his LPC before Ben joined his AAT accountancy programme.

However, Ben admits to there being a little bit of competition despite Sam explaining that there 'wasn't any because we were on different courses'. "Well Sam would say that as he's managed to get a higher qualification degree than me!" joked Ben, "I actually think I set the benchmark and then Sam tries to beat me."

When it comes to having drive and determination for their chosen career paths, the former Crosby based Merchant Taylors' School pupils are certainly on the same page.

Sam is preparing to start a training contract with legal firm DWF in September, at its Liverpool office.

Ben wants to get more involved in the family's Knowsley based business, Florence Roby Ltd, one of the major suppliers of uniforms to the beauty, hair and spa industry. He is working towards an ACCA qualification.

Trams can provide fast connections between Blackpool and Lytham Station
THE group TramForward have told the media that they welcome the petition to Lancashire County Council by the "Trams to Lytham" Group.

TramForward applauds the moves by "Trams to Lytham" which wants to restore rail services from Squires Gate to Lytham Station and has launched an online petition to Lancashire County Council (LCC) to extend the recently upgraded Blackpool tram service.

The group's support of last November's announcement of a £160,000 joint project between LCC and "Sintropher", a European Union project to improve local and regional transport in a number of areas, to investigate extending the tramway will be crucial. Expanding the existing Blackpool tram system as a light rail link to Lytham using the railway infrastructure will be beneficial for residents, businesses and organisations of all types.

The "Sintropher" study had noted that the South Fylde railway line had become mediocre in recent years, and there is recognition that its services must be improved. The EU sponsored study envisages full or partial conversion of the line for use by Blackpool's tram fleet between Squires Gate and Lytham Station, involving a link between Starr Gate and the rail line.

International and UK tram expert Jim Harkins, Secretary of the All Party Parliamentary Light Rail Group, said:- "I'm pleased that this group has been formed. It is always key in studies such as "Sintropher" that there is a strong functioning local group to campaign for and assist the project, and the APPLRG, Tram Forward and the light rail's industry's trade organisation UKTram will be happy to assist Fylde Council."

TramForward is pleased that Fylde Council and Lancashire County Council are supportive of the project and that Fylde recognises that a multi-million pound investment project such as this will take some time to come to fruition but it could be a catalyst for growth.

Light Rail Transit Association Chairman Andrew Braddock said:- "I look forward to the results of the study when they are released in early autumn and I'm hopeful that in the not too-distant future St Annes and Lytham will be once again linked to the tram network in Blackpool and this will provide opportunities for economic growth, particularly by improving people's access to job opportunities."

Now some in Southport are asking if it would be possible to run a Tramline down the A59, from Preston to Southport?
Please email your views on these ideas to our newsroom via:- news24@southportreporter.com and let us know your thoughts!
Reminder - VE Day 70th Anniversary Commemoration - Formby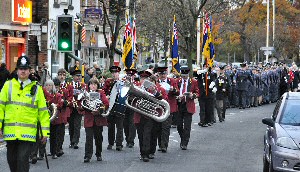 THE Formby Royal British Legion, on Sunday, 10 May 2015, will be holding a Service of Commemoration of the 70th Anniversary of VE Day, at 3pm. Following the Service at Our Lady of Compassion Church, School Lane, Formby, Merseyside, a reception at Formby Sports and Social Club, Whitehouse Lane, formerly the Royal British Legion Club. Marshside Brass Band will entertain there.
The Big Screen to be dismantled
LIVERPOOL'S Big Screen is set to be removed after coming to the end of its operational life. The digital screen, in Parker Street, was installed more than 12 years ago but has not been used by the BBC since early 2014 and is currently turned off. The structure has come to the end of its design life and some of the screen panels are not working or serviceable as parts are no longer manufactured so it cannot be put to meaningful use. It is 1 of the last remaining big screens which were rolled out nationally by Phillips Electronics UK. They will remove the screen at no cost to the City Council. Preparation work will start on 8 May 2015, with the main removals work taking place on the evenings of 10 May and 11 May 2015. The pavements where the screen stood will be fully reinstated.