Launch of Liverpool's largest drumming performance group will take place at this years 'Light Night'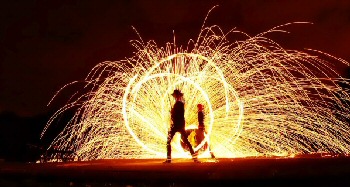 A 70 piece bloco, with a new sound, colourful look and high impact choreography, KATUMBA comes to Liverpool with bang!

The group will be joined by the:- "Liverpool Fire Tribe" from Bring the Fire Project and acrobats from Capoeira For All CIC totaling nearly 100 performers! Beats, kicks, and fire spits:- "Earth, Sound and Fire" will be a performance you won't forget!

After 10 years rocking the City the people who brought you Batala Liverpool have left the franchise and reformed into an independent, homegrown group that pushes the boundaries of music and performance; Katumba converges high quality music while being open to anyone; a boisterous street carnival feel with a smaller polished show band; and a strong commitment to ethical principles throughout.

Katumba is part of the BrazUKa International family, bringing a world of rhythms to Liverpool; with its music, projects international facilitators and taking Liverpool to the world Katumba will be featuring in the Brazilian carnival in 2016, and are headed to Twickenham to perform at the Rugby's Sevens World Series!

Katumba Directors, Ritchie Tunstall (former Batala Liverpool Music Director) and Juliana Landim (BrazUKa's Director) say they wanted to:- "merge Scottish and Brazilian culture, where we are originally from respectively, sprinkled with that special Liverpool flavor we love, representing the rich multiculturalism of Merseyside. We have players from a wide variety of communities and background, to create something truly unique as we can achieve amazing things when we come together! We chose to launch on Light Night as is a phenomenal night of events representing that diversity we are all about. We couldn't be happier with the Open Culture team and their support."

Bring the Fire Project is a Liverpool based collective of fire dancers, circus skills teachers and flow arts promoters.
They recently hosted with huge success the 1st Liverpool Fire Arts Festival, and were a highlight of the Light Night 2014 programme with "Japanese Fire."

'Capoeira For All' uses the sport and art form of Capoeira for positive social change, offering high quality workshops of movement, music, creativity and culture for educational organisations, community groups and businesses.

"Earth, Sound and Fire" takes place on Friday, 15 May 2015, 10pm / Wellington's Column, on the corner of William Brown St. and Lime St. / Outside St. Georges Hall / Walker Art Gallery / This is a Free Event!

4 arrested after spate of bike thefts and robberies in the North Merseyside area
4 teenagers have been arrested in connection with a spate of street robberies in the Sefton area of Merseyside. The arrested teenagers who are said to have conducted the spate of thefts and robberies within Formby and Southport area are reported to have targeted children on mountain bikes.

The 3, 2 aged 15 and 1 aged 14, are from South Sefton and had been arrested following a joint investigation by Sefton CID and Neighbourhood Officers in the 2 areas. It follows several incidents in March and April 2015 where teenaged boys were approached and threatened before having their mountain bikes stolen from them.

In 1 incident in Freshfield Road, on 21 April 2015, a 14 year old boy had just said goodbye to his friend when he was approached by 4 other boys who pulled him off his bike and assaulted him. The offenders also reportedly stole the boy's phone and damaged his glasses.

In another incident on Southport Pier, the evening before, 2, 14 year old friends were approached by 4 offenders and pushed over and punched before having both their bikes stolen and a mobile phone was also taken.

Other incidents have included mountain bikes stolen from outside houses and shops.

Officers involved in investigating the crimes have recovered several suspected stolen bikes during the search of a house in Aigburth, south Liverpool and efforts are being made to trace their rightful owners.

Neighbourhood sergeant Ian Allum said:- "These kind of crimes will not be tolerated by the Police and we have carried out operations to stop them happening in the 1st place and catch the perpetrators when they do. Young people rightfully expect to be able to enjoy riding their bikes where they live without fear of intimidation or having them violently taken off them. We will continue to do what we can to tackle this issue and I would urge bike owners to help us by ensuring their bikes are security marked and registered at Immobilise.com. This will help the Police reunite any bikes we find that we believe are stolen with their rightful owners."

A 15 year old from Bootle has been charged with 4 counts of robbery and 1 count of theft. 3 others remain on Police Bail pending further enquiries.
Formby Photographic Group (FPG) Annual Competition to be held
ON 14 May 2015, the FPG will be holding it's final meeting of the season 2014 to 2015, which is The Annual Competition. The best images for 2014 to 2015 season will be presented for assessment by an external judge now confirmed as Sheila Tunstall from Halton Photographic Society. Images for will cover all sections colour prints, mono prints and DPIs it promises to be a great evening with useful feedback on images presented. Visitors welcome to attened. Cost for attening as a visitor is just £2, that including refreshments! Venue is:- 193 Church Road, Formby. For more information call Alan Thomas on:- 01704 871 376.