Ecurie Ecosse Young Driver MacKay continues winning streak at Knochill
Photograph by Jim Moir.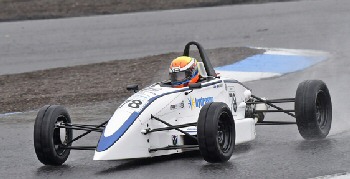 ADAM MacKay has continued to impress during the 2nd Scottish Formula Ford 1600 meeting of 2015, by adding yet another victory to his tally at Knockhill. Meanwhile, fellow Ecurie Ecosse Young Driver Initiative member Ciaran Haggerty showed flashes of his potential throughout rounds 3, 4 and 5 of BRDC Formula 4 Championship at Rockingham.

Ellon resident MacKay remains unbeaten this season after a 3rd victory in as many races during last weekend's rain hit event at Knockhill. Following a dry practice session on Saturday, treacherous conditions didn't stop the 17 year old from snatching pole position by a margin of 6/10 in Sunday's qualifying session.

By the afternoon, the amount of standing water on track was so great that it was decided Race 1 would start behind the Safety Car. The Graham Brunton Racing driver got off to a fantastic start at the green flag, building a three second gap by the end of lap 2 and eventually taking the chequered flag over 15 seconds clear of runner up Jordan Gronkowski.

Unfortunately, the weather won out for Race 2 and the meeting was cancelled due to fog.

Ecurie Ecosse Young Driver Initiative Ambassador, Dario Franchitti, was on hand to congratulate the young Scot on yet another commanding victory in the national single seater championship.

Adam MacKay:- "The race was extremely challenging. Driving in this weather without making any mistakes isn't easy to do, but thankfully I managed to just get my head down, put in consistently fast laps and build myself a nice lead. The car felt great and the guys at Graham Brunton Racing did an amazing job. I'm delighted that I was able to take another win for them and the Ecurie Ecosse Young Driver Initiative."

Meanwhile, Ciaran Haggerty had a tricky weekend at Rockingham for the 3nd instalment of the BRDC Formula 4 Championship.

Saturday's dry qualifying session proved difficult for the young Scot after a set up change that didn't quite go to plan saw Haggerty qualify 14th for Race 1. A fantastic start however saw him make up 9 places to 5th by the 1st corner, a position he maintained until contact with Sebastien Lanzetti forced him to spin and eventually cross the line in 13th.

Following a somewhat disappointing 1st race, Haggerty was determined to impress in wet conditions during Sunday morning's Race 2. Another brilliant start saw him dicing with the leading pack before the Safety Car was deployed. At the restart, Ciaran clung on to 2nd position before a bold move from Tom Jackson at Deene hairpin forced Haggerty to retire with a puncture.

Conditions improved for the final race of the weekend, in which the Ecurie Ecosse Young Driver lined up 10th on the grid eager to improve his luck. Haggerty made it 3 strong starts from 3, before a brave move at Deene backfired, putting an end to his race. In spite of a run of bad fortune, a resolute Haggerty left the Northamptonshire circuit ready to learn and return to form next time out.

Ciaran Haggerty:- "Overall it was a very difficult weekend but it's days like these that make you stronger for the future. Luck just wasn't with us at Rockingham but we'll be pushing hard to be back fighting at the front at Silverstone. Thank you to the Ecurie Ecosse Young Driver Initiative and all my sponsors for the support, and Graham Brunton Racing for doing a great job on the car."

Ciaran's next outing in the BRDC Formula 4 Championship will be May 30/31 at Silverstone, while Adam resumes his 2015 campaign 21 June 2015, at Knockhill.

Ecurie Ecosse takes Avon Tyres British GT Championship at Rockingham
Photographs by Gary Parravani / Xynamic Motorsport Photography.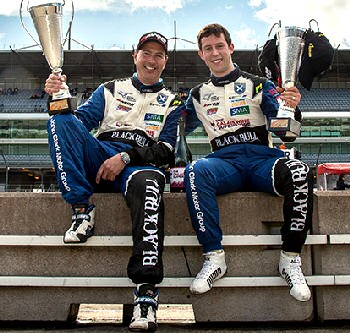 ECURIE Ecosse Powered By Black Bull produced a dominant display during round 3 of the Avon Tyres British GT Championship at Rockingham over 2 May to 3 May 2015, where pole position, race victory and fastest lap were all claimed by the legendary Scottish squad.

A vintage display from drivers Marco Attard and Alexander Sims, as well as swift pit work from the Barwell Motorsport crew, ensured a clean sweep of honours for their BMW Z4 GT3 at the Northamptonshire venue.

Their weekend began in perfect fashion when Attard and Sims combined to take pole position in Saturday's qualifying session.

Heavy overnight rain gave way to sunny mid-morning skies, ensuring that the race began on a largely dry circuit. Taking the green flag at the head of the field, Attard maintained the lead into turn one but slipped behind the Aston Martin of Andrew Howard later in the lap.

Following a brief Safety Car period Attard then went on the attack, seizing the advantage and passing Howard for top spot 20 minutes into the 2 hour contest.

Now in control of the race, reigning drivers' champion Attard drove a measured stint at the head of the field, eventually bringing the car into the pits shortly before ˝ distance to hand over to Sims.

The Ecosse machine was destined to lose the lead in the pits due to an extra 10 seconds on their stop time following a third place finish at Oulton Park last month.

But having watched his team mate deliver an excellent stint Sims was in no mood to surrender victory. Exiting the pits in P2, some 10 seconds shy of new leader Daniel Lloyd, the former McLaren Autosport BRDC Award winner produced a series of fastest laps to quickly close up on the rear of the Aston Martin.

Passing would prove a different affair with the Aston defending robustly from the Ecosse machine, but after several laps of pressure Sims' work paid off as Lloyd made a mistake that allowed the BMW to assume top spot. Next time across the line Sims' lead was a little under five seconds.

That increased to more than nine seconds over the next few laps before a second Safety Car period wiped out his advantage with 20 minutes left to run. But Sims was unmatched aboard the Z4. When the track went green again he made rapid work of rebuilding his lead, producing a stellar 1st lap and edging away thereafter. His margin at the chequered flag was a shade under 10 seconds, capping a perfect display from the Scottish squad.

Marco Attard:- "We're really pleased. I went deep at one point and Andrew [Howard] got past me, but he returned the favour later so I was able to take advantage. Then I could hand over to Alexander and didn't have to worry about it because he's just the best!"

Alexander Sims:- "It all felt pretty good in my little bubble! Fair play to Daniel [Lloyd], he did a really good job defending so the 1st 20 minutes were great fun. After I got through it was pretty plain sailing, so I just got my head down and pushed on."

Mark Lemmer:- "It was great to bounce back from Oulton Park with pole, fastest lap and the win. The fact that it was such a difficult start to the season pushed us even more to turn it around and I think we really deserve this. We're very much looking forward to Silverstone now."

Ecosse drivers Attard and Sims now head the British GT Drivers' standings, while the team assume second in their championship. The Scottish outfit will be looking for more of the same when the series resumes at Silverstone, on 30 May to 31 May 2015.