Ecurie Ecosse takes Avon Tyres British GT Championship at Rockingham
Photographs by Gary Parravani / Xynamic Motorsport Photography.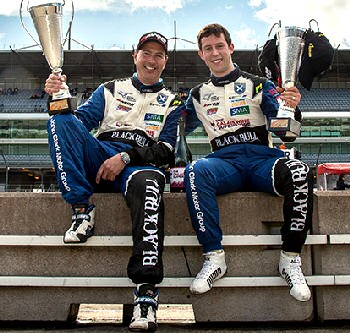 ECURIE Ecosse Powered By Black Bull produced a dominant display during round 3 of the Avon Tyres British GT Championship at Rockingham over 2 May to 3 May 2015, where pole position, race victory and fastest lap were all claimed by the legendary Scottish squad.

A vintage display from drivers Marco Attard and Alexander Sims, as well as swift pit work from the Barwell Motorsport crew, ensured a clean sweep of honours for their BMW Z4 GT3 at the Northamptonshire venue.

Their weekend began in perfect fashion when Attard and Sims combined to take pole position in Saturday's qualifying session.

Heavy overnight rain gave way to sunny mid-morning skies, ensuring that the race began on a largely dry circuit. Taking the green flag at the head of the field, Attard maintained the lead into turn one but slipped behind the Aston Martin of Andrew Howard later in the lap.

Following a brief Safety Car period Attard then went on the attack, seizing the advantage and passing Howard for top spot 20 minutes into the 2 hour contest.

Now in control of the race, reigning drivers' champion Attard drove a measured stint at the head of the field, eventually bringing the car into the pits shortly before ˝ distance to hand over to Sims.

The Ecosse machine was destined to lose the lead in the pits due to an extra 10 seconds on their stop time following a third place finish at Oulton Park last month.

But having watched his team mate deliver an excellent stint Sims was in no mood to surrender victory. Exiting the pits in P2, some 10 seconds shy of new leader Daniel Lloyd, the former McLaren Autosport BRDC Award winner produced a series of fastest laps to quickly close up on the rear of the Aston Martin.

Passing would prove a different affair with the Aston defending robustly from the Ecosse machine, but after several laps of pressure Sims' work paid off as Lloyd made a mistake that allowed the BMW to assume top spot. Next time across the line Sims' lead was a little under five seconds.

That increased to more than nine seconds over the next few laps before a second Safety Car period wiped out his advantage with 20 minutes left to run. But Sims was unmatched aboard the Z4. When the track went green again he made rapid work of rebuilding his lead, producing a stellar 1st lap and edging away thereafter. His margin at the chequered flag was a shade under 10 seconds, capping a perfect display from the Scottish squad.

Marco Attard:- "We're really pleased. I went deep at one point and Andrew [Howard] got past me, but he returned the favour later so I was able to take advantage. Then I could hand over to Alexander and didn't have to worry about it because he's just the best!"

Alexander Sims:- "It all felt pretty good in my little bubble! Fair play to Daniel [Lloyd], he did a really good job defending so the 1st 20 minutes were great fun. After I got through it was pretty plain sailing, so I just got my head down and pushed on."

Mark Lemmer:- "It was great to bounce back from Oulton Park with pole, fastest lap and the win. The fact that it was such a difficult start to the season pushed us even more to turn it around and I think we really deserve this. We're very much looking forward to Silverstone now."

Ecosse drivers Attard and Sims now head the British GT Drivers' standings, while the team assume second in their championship. The Scottish outfit will be looking for more of the same when the series resumes at Silverstone, on 30 May to 31 May 2015.