Launch of Liverpool's largest drumming performance group will take place at this years 'Light Night'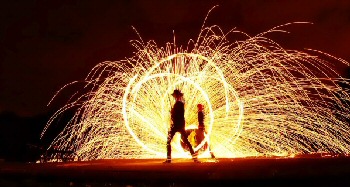 A 70 piece bloco, with a new sound, colourful look and high impact choreography, KATUMBA comes to Liverpool with bang!

The group will be joined by the:- "Liverpool Fire Tribe" from Bring the Fire Project and acrobats from Capoeira For All CIC totaling nearly 100 performers! Beats, kicks, and fire spits:- "Earth, Sound and Fire" will be a performance you won't forget!

After 10 years rocking the City the people who brought you Batala Liverpool have left the franchise and reformed into an independent, homegrown group that pushes the boundaries of music and performance; Katumba converges high quality music while being open to anyone; a boisterous street carnival feel with a smaller polished show band; and a strong commitment to ethical principles throughout.

Katumba is part of the BrazUKa International family, bringing a world of rhythms to Liverpool; with its music, projects international facilitators and taking Liverpool to the world Katumba will be featuring in the Brazilian carnival in 2016, and are headed to Twickenham to perform at the Rugby's Sevens World Series!

Katumba Directors, Ritchie Tunstall (former Batala Liverpool Music Director) and Juliana Landim (BrazUKa's Director) say they wanted to:- "merge Scottish and Brazilian culture, where we are originally from respectively, sprinkled with that special Liverpool flavor we love, representing the rich multiculturalism of Merseyside. We have players from a wide variety of communities and background, to create something truly unique as we can achieve amazing things when we come together! We chose to launch on Light Night as is a phenomenal night of events representing that diversity we are all about. We couldn't be happier with the Open Culture team and their support."

Bring the Fire Project is a Liverpool based collective of fire dancers, circus skills teachers and flow arts promoters.
They recently hosted with huge success the 1st Liverpool Fire Arts Festival, and were a highlight of the Light Night 2014 programme with "Japanese Fire."

'Capoeira For All' uses the sport and art form of Capoeira for positive social change, offering high quality workshops of movement, music, creativity and culture for educational organisations, community groups and businesses.

"Earth, Sound and Fire" takes place on Friday, 15 May 2015, 10pm / Wellington's Column, on the corner of William Brown St. and Lime St. / Outside St. Georges Hall / Walker Art Gallery / This is a Free Event!