Trust awarded Navajo charter mark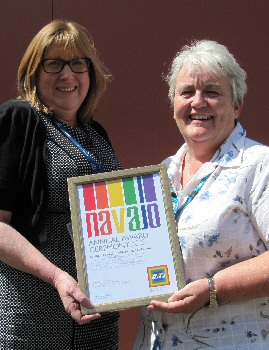 A NHS trust's inclusive attitude towards lesbian, gay, bisexual, transgender and intersex (LGBTI) people was recognised with the award of the Navajo charter mark.
The award to Southport and Ormskirk Hospital NHS Trust was presented at the annual Merseyside and Cheshire LGBTI partnership at a ceremony in Liverpool.
The Navajo movement started in Lancashire in1999. As well as tackling inequality and prejudice, it recognises that social well being and acceptance in society of lesbian, gay and bisexual people has a positive impact on their health. More recently the scheme has been extended to include transgender people too. The name Navajo was chosen in tribute to the traditions of tolerance, non discrimination and goodwill that historically formed a central part of the North American Navajo Nation's belief system.
Audrey Cushion, Deputy Director of HR, said:- "The charter mark assessment takes into account an organisation's practices and policies, how it trains and recruits, and how it engages with staff. We are very proud to be one of the 11 organisations in Merseyside and Cheshire to be awarded it."
Lin Douglas, Trust equalities lead, added:- "I am delighted we have achieved this award. We have taken positive steps in addressing these issues and the charter mark will support employees and users of our services who identify as LGBTI."
Sign Up To Save Lives in Southport and throughout on Merseyside
WITH thousands of patients receiving blood transfusions every year, NHS Blood and Transplant is challenging the people of Southport to make a date to donate and sign up to save lives. Donated blood is vital for a wide variety of life saving procedures in Local Hospitals.
Patients undergoing major surgery and emergency treatment often require blood transfusions, but perhaps less well known is the fact that blood is essential to the treatment for many different types of cancer and blood disorders.

Amanda Eccles, NHS Blood and Transplant's Senior Marketing Coordinator, said:- "Every time someone donates a unit of blood, their donation saves or improves the lives of up to three people. Blood donations are precious. Regular blood donors in Southport would have helped to save thousands of lives and we cannot thank them enough. Unfortunately, a number of these donors may no longer be able to donate in the future due to health or other reasons so we need people like you to come forward and help ensure patients always get the blood they need."

You can register as a donor, find out whether there is a session coming up in your area and book an appointment to donate whenever and wherever you are through:- Blood.Co.UK or by using the app on your Android, Windows or Apple device. To download an app for your device, search 'NHSGiveBlood' in the app store.

In general, as long as you are fit and healthy, weigh over 7 stone 12 lbs (50kg) and are aged between 17 and 66 (up to 70 if you have given blood before) you should be able to give blood. If you are over 70, you need to have given blood in the last 2 years to continue donating.
To find out more about donating blood or to book an appointment, call:- 0300 123 23 23 or visit:- Blood.Co.UK.

Tribute paid to Jacqueline Carol Lloyd who lost her in a fatal road traffic collision in Southport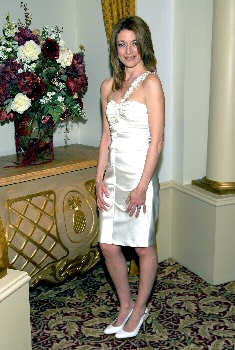 A tribute from the family of Jacqueline Carol Lloyd, who died following a road traffic collision on Butts Lane, Southport on Sunday, 17 May 2015:- "Jacqueline Carol Lloyd, known to everyone as Jackie, was born in Ellesmere Port, and moved to Southport in 2009 to be with her future husband Jonathan, who she married in Las Vegas in 2010. Mother to Daniel and James and step mother to Amy, Jackie was a driven ambitious women devoted to her family and her career. Nothing mattered more to Jackie than her family and friends, to whom she gave her endless energy. At the same time, Jackie devoted her life to a major blue chip company and had advanced to senior global management roles during her service of over 30 years. When not looking after the family, Jackie was a keen follower of fashion who never failed to maintain her high standards by taking pride in her appearance. She could always be seen wearing the very latest trends and looking immaculate, regardless of the activity or occasion. When time permitted, Jackie would not sit still and threw herself into numerous activities and hobbies. Over the years she had kept herself busy with her own Jet ski, various motorbikes and horse riding. Jackie was a very private individual, but at the same time a true people person. For many people across the globe, she was a loyal, trusted friend and had established long lasting relationships, from people from many different cultures and countries. Jackie was a happy person, with a great sense of humour, full of life and energy. When indoors, Jackie loved to cook, was an avid reader and had a strong passion for music. Above all nothing made Jackie happier than simply being at home with all of her family around her. Jackie has left a gap in all of our lives, that can never be filled, and she will be greatly missed by everybody that knew her." The family have now asked that they be left alone and allowed time to grieve. Merseyside Police Officers are continuing to appeal to anyone who may have witnessed the incident or who can help with the investigation to contact:- 0151 777 5747 and again they have thanked members of the public for their patience and understanding during the extensive road closures that took place on Monday, 18 May 2015. The 56 year old, man, bus driver, who was arrested in connection with the collision has been since been released on Police Bail, pending further enquiries.
Witness appeal after bikes stolen from Blundellsands and Crosby Station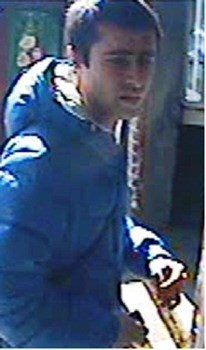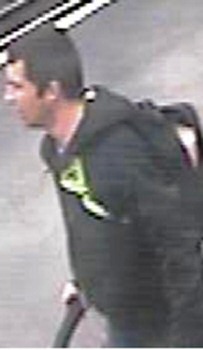 THE British Transport Police have released images of 2 men that BTP Officers want to speak to, after bikes were stolen in a matter of days from the same station. Do you recognise them? The 1st theft took place at around 11.25am on Tuesday, 21 April 2015, when a man who was carrying bolt cutters forced the door of the secure bicycle shed on the Liverpool bound platform, at Blundellsands and Crosby station, entered and stole a bike. The 2nd bike was stolen from the bicycle shed 3 days later, at approximately 10.55am on Friday, 24 April 2015. Investigating officer PC Jane McGee said:- "I would urge the men in the pictures or anyone who recognises them to come forward to assist us with our enquiries." Anyone with information is asked to contact British Transport Police on:- 0800 405040, or text them via:- 61016, quoting reference:- 'PSUB/B8 of 22/05/2015'. Information can also be passed anonymously to the independent charity Crimestoppers on:- 0800 555 111.