Ben can now travel safely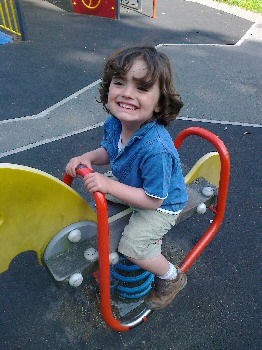 A Southport boy will be able to travel safely in the car without endangering the lives of himself and his family thanks to a new specialist car seat. Benjamin Pitchford-Emmett has autism as well as learning difficulties and is waiting to be assessed for ADHD. He needs a new specialist car seat as he had outgrown his previous seat.

The family needed the new car seat but could not find funding for the £665 purchase so they turned to leading UK children's disability charity Newlife Foundation for help. Thanks to Newlife's partnership with The Morgan Foundation, the equipment has been ordered.

Ben will no longer be able to escape from his car seat climbing around the car and distracting the driver. The 5 year old has been socially isolated, but he will be able to attend appointments and enjoy days out with his family whose quality of life will improve.

The new car seat will enable me to drive Ben home safely, mum Judith commented. "He will be able to fit in the new seat and I will be able to get him out of it comfortably. I need to take three other children on a regular journey, so Ben needs to be secure. When we take delivery of the new car seat it will be a lot less stressful all round."

The Morgan Foundation is working with Newlife to ensure more children with disabilities and terminal illness get the right equipment at the right time. This includes wheelchairs, buggies and walkers for mobility, specialist car seats and beds for safety and a range of other disability equipment including communication aids, walking frames, portable hoists and seating systems.

A Morgan Foundation fundraising golf day and gala dinner in support of Newlife held last year raised £450,000 to provide vital specialist equipment specifically for families across North Wales, Merseyside, West Cheshire, North Shropshire and parts of the West Midlands.

Steve Morgan, chairman of The Morgan Foundation, said:- "Having a vital aid like this means Ben will be able to travel safely and join in more activities with his family. Everyone who took part in our golf day or attended the gala dinner has helped; and will continue to help; make a real difference."

Newlife Foundation for Disabled Children is a national charity which works extensively with families across the region and has funded in excess of £12million of disability equipment for under 19's in the UK since 2005. £331,334 of this has been in Merseyside.

Newlife CEO Sheila Brown added:- "As local authority budget cuts continue to bite, more and more families are turning to charities like Newlife so their children can get vital equipment for everyday life. Having the support of The Morgan Foundation is an enormous boost for Newlife. We look forward to helping to transform more lives across The Morgan Foundation catchment area. Anyone struggling to access equipment through their statutory services should call our Newlife Nurse Helpline to discuss their individual situation."

For further information about The Morgan Foundation visit the website or call:- 01829 782800.

If you would like to find out more about Newlife Foundation for Disabled Children and how to access its services, call the Newlife Nurse Helpline on:- 0800 902 0095 (free from UK landlines) or alternatively you can also go to:- NewlifeCharity.Co.UK.