Save our Soles!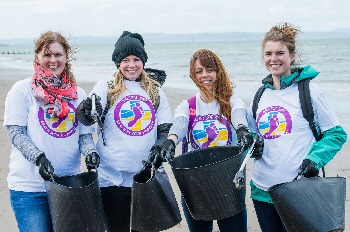 JUST outside Blackpool and across the river from Southport, St Anne's beach will play host to a sea of volunteers on Saturday 23 May, as the Barefoot Wine Beach Rescue Project; a nationwide initiative to keep the UK beaches 'Barefoot Friendly'; continues for the eighth year running. Members of the public are invited to come down and join the St Anne's beach clean from 2pm onwards, with everyone welcome.

Continuing the project's success from 2014, which saw over 800 volunteers remove almost 1,500 kilograms of litter from UK beaches, community volunteers are being called on to come out and clean St Anne's beach to make 2015 another great year for the beach clean-ups. Members of the public across the country have been invited to send images of their own beach SOS to @BarefootWineUK with the hashtag 'Barefoot Friendly' in a bid to get their own beach cleaned as part of the Barefoot Wine Beach Rescue Project.

To reward volunteers for their hard work, life size sandcastle bars made entirely of sand are being created at each of the chosen locations, complete with a Barefoot Wine drinks cabinet for the post clean party. Standing at over two metres wide, the Barefoot Wine sandcastles bars are sure to bring a refreshing close to the beach cleans.

Olga Senkina, Marketing Director EMEA at E&J Gallo, commented:- "We are really excited for this year's Barefoot Wine Beach Rescue Project and to help clean up Britain's beaches. Members of the public should tweet their own SOS signals using the hashtag #BarefootFriendly to be in with the chance to have their own beached cleaned this summer. Our own 'Barefooters' will be on hand at St Anne's beach to support the event, and we look forward to seeing a record number of volunteers getting stuck in!"

The project will run across the country throughout the spring and summer in partnership with environmental charity, Surfers Against Sewage (SAS), who, for the last 25 years, have worked tirelessly to protect the UK's oceans, waves, beaches and wildlife. It's a welcome return for the group, which will be working with the Barefoot Wine Beach Rescue Project for the eighth year running and helping communities make Britain's beaches barefoot friendly for all to enjoy.

Dom Ferris, Projects Manager at Surfers Against Sewage, said;- "Every year we are blown away by the amount of support from our coastal communities. Our aim is to reduce UK beach litter by 50% by 2020 and we're really looking forward to working with local communities once again this year to make Britain's beaches cleaner than ever."

Those keen to get involved are invited to join the clean on St Anne's beach on the promenade (FY8 1SB) with friends and family from 2pm on Saturday 23rd May. Members of the public can register their interest and ask the Surfers Against Sewage team any specific questions via email. To find out more visit:- Twitter.com/BarefootWineUK, and use #BarefootFriendly to follow the nation's entries.