Dame Sarah Storey DBE opens new mammography machine at Broadgreen Hospital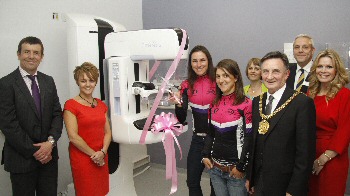 BRITAIN'S most decorated female Paralympian Dame Sarah Storey DBE took time out from her Rio 2016 training regime to officially launch a new mammography machine at Broadgreen Hospital in Liverpool.

The state of the art HologicSelenia Dimensions Mammography equipment was gifted to the breast screening unit at Broadgreen Hospital by breast cancer charity Boot Out Breast Cancer. The charity, of which Dame Sarah is a patron, raised around £130,000 for the breast screening machine through a range of fundraising activities including a glamorous Vegas themed ball in March 2015, which raised over £96,000.

Dame Sarah was joined by the Lord Mayor of Liverpool Cllr Tony Concepcion, Boot our Breast Cancer Founder Debbie Dowie, Trust chief executive Aidan Kehoe,DrCathryn Beattie, director of the Liverpool NHS Breast Screening Programme and members of the breast screening team.

Dame Sarah said:- "I am very proud of the work of Boot Out Breast Cancer in raising funds for the equipment, whatever the requirement, Debbie and her team are able to meet the fundraising target through hard work and amazing support. It is so fantastic to know that the equipment we are presenting today will make such a difference to the people of this community and beyond."

Dr Cathryn Beattie, director of the Liverpool NHS Breast Screening Programme said:- "We are extremely grateful to Dame Sarah for taking the time out to officially open our new facility. We would like to thank Boot Out Breast Cancer founder Debbie Dowie and everyone who helped to fund our new mammography machine. Having this additional machine will enable us to provide screening to more women across Merseyside, helping to detect breast cancers sooner and save lives of many more women."

The Lord Mayor of Liverpool Cllr Tony Concepcion said:- "It was fantastic to meet Dame Sarah, Debbie Dowie and the Boot Out Breast Cancer team. Their work in raising the money for this new machine will save the lives of women in Liverpool and on behalf of the city of Liverpool I would like to offer Dame Sarah and Boot Out Breast Cancer our sincerest thanks."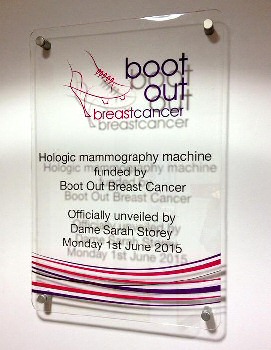 On Twitter Dame Sarah Storey DBE said that:- "Proud to attend to unveil the latest piece of equipment bought for them by ."


RSPB partner with supermarket Aldi to connect more than ½ a million children with nature
ALDI'S partnership with the RSPB will see the supermarket donate all profits from carrier bag sales throughout England and Wales to the RSPB from July 2015.

Money raised through the 3 year partnership will allow Aldi and the RSPB to work together to connect more than ½ a million children to nature. The activity is set to improve children's health and well being while inspiring them to love and understand the natural world.

Profits from Aldi's carrier bag sales in England and Wales are expected to see the charity receive donations in excess of £2m over a three year period. The supermarket has always charged for carrier bags since it first opened in the UK in April 1990 in an effort to reduce its environmental impact.

In October this year, UK Government department Defra will introduce a minimum 5p charge for single use carrier bags in a bid to reduce consumer usage and protect the environment. The move follows similar charges that have been introduced in Wales, Scotland and Northern Ireland in recent years.

Giles Hurley, Managing Director of Corporate Buying at Aldi, commented:- "We are proud to have been among the first supermarkets to charge for carrier bags. This approach helps encourage responsible usage among customers and saves them money on their shopping."

As part of its 25th anniversary celebrations, Aldi, in partnership with the RSPB, is planning to create 25 RSPB 'Giving Nature a Home' gardens in schools. The gardens will provide children with the opportunity for hands on learning experiences and the ability to connect with nature. Schools will be invited to take part in a competition to set-up the gardens.

Giles Hurley added:- "It is an honour to partner with the RSPB. They are the UK's biggest nature conservation charity, playing an important role in protecting our wildlife. Our partnership will leave a long-lasting legacy; a generation of children who are connected to nature, benefit from it, value our wildlife and care and understand enough about it to make a real difference."

Martin Harper, the RSPB's conservation director, added:- "UK wildlife is in serious trouble. Around 60% of bees, birds, bugs and mammals are declining and the natural places they depend on are vanishing. Exciting the next generation about nature is vital. Our partnership with Aldi will create RSPB Giving Nature a Home gardens in school grounds and local green spaces, connecting more than half a million children with nature and helping turn the fortunes of UK wildlife around. Through engaging with communities who live, work and shop in or around Aldi stores we can make a real difference, together."

Aldi currently charges 3p for a single use carrier bag, which will increase to 5p in July 2015. All profits generated from single use carrier bag sales in England and Wales from July 2015 will be donated to the RSPB, followed by donations from single use carrier bag sales in Scotland from the new year.
Letters to Editor:- "Formby Books To Close"
"AS you all know times have been tough and very trying. I have tried to sustain a much needed Independent Bookshop in Formby since Pritchards sadly had to close just over 3 years ago. I did feel that a village with so many schools would value and use the services of a shop within it's community with staff who are passionate and knowledgeable, sadly this hasn't proved to be the case. I also have championed shopping locally and tried to keep engaging with the media as well as doing my own via social media and my radio work and library and school visits. The simple truth is, that too much damage to society has occurred with online shopping and perceptions of value, convenience and need. I could go on! We signed a 5 year lease with a break clause after 2½ years, that period is now and we have made the decision to hand the else back to the landlord. Bob and Holly have moved on to start a new venture 'Write Blend' in Waterloo and I have been helping them with setting it up and free labour! I would have soon been celebrating 30 years in Formby, but sadly that can't happen now. I really hope the village and nearby realises that platitudes of 'shame' and 'my shops' are not good enough, the Independent traders are struggling and need constant media and public support. We cease trading on Monday, 23 June 2015, I am running a closing down sale of good quality new and some second-hand books. Thanks for the support you guys have given us I hope that things for others improve." Tony Higginson, Beyond Books CIC, T/A Formby Books.