Special science day is a sensation with young boffins at Church Square Shopping Centre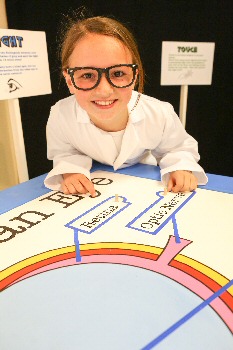 A team of crazy scientists made sure kids enjoyed a truly sensational time at a St Helens shopping centre. The trio of barmy boffins, whose mission was to cook up a magical interactive experience for youngsters with a hunger for knowledge, were on hand at Church Square to present their free Sensational sessions.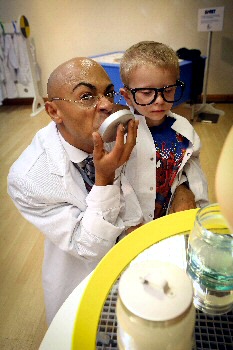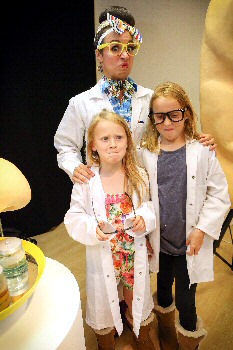 The workshops, which ran from 11am to 4pm, on Friday and Saturday, in St Mary's Arcade, helped youngsters find out in a fun way about the senses of sound, sight, touch, smell and taste.

Kids turning up for the sessions were invited to play a hands on role by using ingenious devices including the Massive Nose Mask; a big polystyrene carved nose they put on to put to sniff out the mysteries of their sense of smell.

The Big Ear Soundscape Game, in which a speaker was concealed inside a large false ear, helped inquisitive youngsters sound out how human hearing works. And the team's Eye Jigsaw; a magical light box featuring an image of the eye and its component parts; showed inquisitive kids how to focus on the various things they see around them.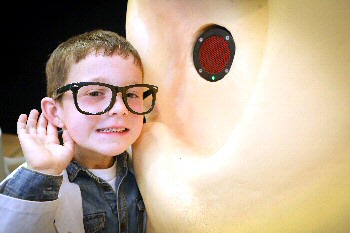 More pieces of terrific kit for young experimenters to use were the Texture Wheel to give them a feeling for touch and Taste bud Locator to help them understand how different tastes are sensed.

Amongst the 1st try out the experiments on Friday were 9 year old Kady Saunders and her sister Macy, 6. They came along to Church Square with their mum, 39 year old Linsey Saunders, who said:- "I'm originally from Haydock but we now live in Milton Keynes. We were up here to visit my mum in hospital and decided to come along to the centre for breakfast. We saw Professor Sniffit from Sensational and she directed us to the experiment area. Both girls are really interested in science so it was a great morning out for them. They had a go at everything and they particularly enjoyed the one testing their sense of touch where they had to identify different textures while they were blindfolded. They also liked doing the experiment where they had to pick out different smells. They got coffee, curry and mint mouthwash. It was very nice to find something like this to keep the children occupied, especially as it was raining outside."

A delighted Kady said:- "I dressed up like a real scientist in a white coat and glasses to do the experiments. We were testing out the different things for quite a long time and the ones I liked best were about touch and smell. We've had a great time and I'm glad we came."

It was a similar story with another junior experimenter, 4-year-old Gabriel Campbell from Billinge, who was there with his little brother Malachy, 2, and their dad, Paul Campbell. Paul, 40, said:- "We saw details about the event online and decided it would be good to come along and see what was going on. As we live in Billinge we hadn't been to Church Square before but I'm really glad we came. Gabriel tried out all the experiments and was having an absolute ball doing them. It was good to find something educational like this in the half term holidays and was much better than just sitting in front of the TV set all day."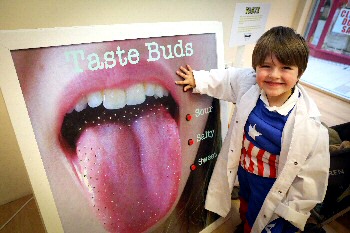 Gabriel said:- "I've had a great time doing the experiments and the one I liked best was where you had to smell different things and say what they were."

Church Square Shopping Centre manager Steve Brogan said:- "The Sensational event has been really popular with youngsters, and they seem to enjoy finding out about the 5 senses. We wanted to put on something that was both fun and educational to keep youngsters entertained during the holiday week, and it certainly seems to be a hit."

Church Square Shopping Centre is open daily and home to a range of big name stores; such as River Island, BHS, Boots and Superdrug; along with independent retailers plus the busy St Mary's Market. Details on what's happening at the centre at:- ChurchSquareStHelens.Co.UK.
LJLA passenger growth continues with 7.5% increase in May
LIVERPOOL John Lennon Airport experienced a growth in passenger numbers of 7.5% in May 2015; the 4th consecutive year on year monthly increase in passenger throughput. Passenger figures for the 1st 5 months of 2015 are now over 5% higher than for the same period in 2014 and reflect the recent upsurge in business at the Airport. May's figures follow previous encouraging monthly increases and follow on from a number of recent new route announcements which are expected to help the growth in passenger numbers continue throughout 2015. These include Flybe flights to Amsterdam with onward worldwide connections starting in September and Aer Lingus flights to Dublin with onward US connections starting in October 2015.

A Unique Donation from a Founder Patron
1 of The Atkinson's Founder Patrons has donated a special item to the museum that really brings to life the role Southport played for artists within the arts and entertainment industry and their appearances in the town.

Arthur Pedlar, Southport's iconic clown and well known Sefton resident is himself an international performing star. He recently presented The Atkinson team with a unique autograph album featuring the many theatre stars of the 1920s.

The autograph book contains photographs and inscriptions from some of the great stars of the stage. All collected by Mr George Jackson, an electrician at Southport Opera House from 1913 to 1929, when it burnt down.

The singer Gracie Fields, male impersonator Vesta Tilley and comedy star Arthur Lucan (Old Mother Riley) are just some of the many major acts to appear at the Opera House in the 1920s and '30s and to have left their calling cards.

Following his father spotting an advert for a clown in World's Fair magazine, Arthur applied and was successful in becoming a member of Spider Austin's 6 clown troupe, working at Cirque Medrano in Paris and appearing alongside Buster Keaton. During his career Arthur has performed around the globe; in Australia, Israel, Singapore, Japan, Russia, and throughout Europe and Scandinavia.

He is also a known personality throughout the business community, having managed Wayfarers Arts, the department store in Wayfarers Shopping Arcade, until his retirement in 1997. Arthur was given the autograph album by George Jackson's son who worked at the Arcade.

Remarkably Arthur Pedlar's donation complements another recent gift of actors' photo cards collected by Jack Henderson, the doorman at the Opera House in the 1920s. Both albums are on show at The Atkinson in a display called:- 'The Stylish Resort' which looks at Southport's glamorous heyday between the wars, featuring costume and accessories, theatre programmes and fixtures and fittings from the Garrick Theatre which replaced the Opera House in 1934.

The Atkinson has received a huge number of fascinating gifts and donations in recent weeks following the opening of the new museum Sefton Between Land and Sea; 10,000 years of Sefton's Coast. The museum has seen 46,272 visitors since it opened in October 2014.

The museum will continue to develop and grow with new stories and artefacts on display as more people come forward with their special objects and artefacts. If you think you have something that helps tell the story of Sefton and you would like to donate it to The Atkinson, please call:- 0151 934 2024 or email stephen.whittle@sefton.gov.uk.
Revolution Wood Street's official launch party
THE iconic Revolution Wood Street venue in Liverpool is now open, and looking forward to its official grand weekend launch over Friday, 5 June and Saturday 6 June 2015, which will be the talk of the City. The weekend will feature some brilliant entertainment to get everyone in the party spirit, including singer Joe Valentine, fun and games from early evening including a bungee stilt walker, free cocktail cakes and drinks samples and a DJ on the decks from 9pm. Then on Saturday there's a live saxophonist who will keep the official launch party rocking. As a special treat, anyone who shares #getblended on Facebook, twitter or instagram for can quality for drinks tokens delivered to their door in City and to be used for Friday, 5 June 2015. After an 8 week long refit, the bar now has a completely new look, with a revamped layout, changed booth arrangement and a brighter and more airy feel, and is 1 of the most contemporary looking bars in the neighbourhood. An exclusive blended drinks menu featuring a wide range of dynamic vessels and garnishes is now on offer exclusively at Wood Street, before being rolled out across the rest of Revolution, making this the only place to experience the new range on offer. The very popular Cocktail Masterclasses are now back too, with the chance to create drinks like a professional as well as learning all the tricks of the trade along the way, and having a brilliant party too. Revolution Wood Street is the original Liverpool venue and one of the first to open in the UK, part of the thriving network now spread across the UK, and over the years it has grown into one of the area's leading bars. The extensive refit will continue its evolution as a part of the heart and soul of Liverpool's burgeoning night life.
Convicted fraudster nurse to repay more
A Merseyside nurse, who claimed her child was severely disabled to increase her Tax Credits has been ordered to repay over £110,000 or go back to jail for a year. Cheryl Henwood, 48, of Heswall, Wirral, was convicted of fraudulently claiming over £92,000 Tax Credits, over 6 years and was jailed in 2013. She used the money to pay for family holidays to Florida and Dubai, to buy a holiday home in Wales and a BMW with personalised number plates. Henwood repaid the money before her original sentencing in 2013, but later appealed the sentence and repayment through the courts in 2014. After extensive investigations into her financial transactions by HM Revenue and Customs (HMRC), His Honour Judge Watson QC ordered that the full cost must be repaid, in addition to over £18,499 in interest, within three months or Henwood must return to jail for 12 months. Adrian Farley, Assistant Director, Criminal Investigation, HMRC, said:- "Cheryl Henwood lived a life most of us can only dream of all at the expense of the taxpayer. She deliberately lied, knowing that she would get more money and didn't care that she was cheating honest Tax Credits customers who are entitled to greater payments because of genuine disability. Our investigators discovered that Henwood and her family had enjoyed trips costing thousands of pounds, including a Disney cruise and holidays in Dubai and Florida, while committing the fraud. Henwood also bought a holiday chalet in Abersoch, Wales, and spent large amounts of cash on luxury goods, a jet ski, horse box and other vehicles. Tax Credits fraud isn't a harmless fiddle; it's cheating, pure and simple. HMRC will track down people like Henwood we won't hesitate to investigate and recover stolen public funds." Henwood's lies to HMRC began in 2004 when she made her 1st Tax Credits claim. For the next 6 years she renewed the claim saying that her circumstances had not changed. But HMRC investigators discovered that she had been living with her husband throughout that period and falsely claimed that her eldest child was disabled.
Trio of New Routes from Jet2.com and Jet2holidays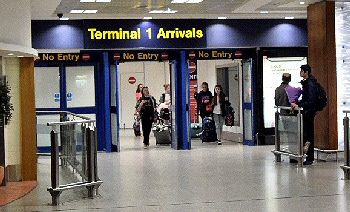 ON 4 June 2015, Jet2.com and Jet2holidays, at Manchester Airport, launched 3 new destinations, Girona (Costa Brava), Krakow and Naples. The addition of these popular holiday getaways means people in Manchester now have even more European hotspots to choose from for their break next year, and 47 destinations overall.

With Girona, holidaymakers can take their pick from some of the most popular holiday resorts on the Costa Brava including Lloret de Mar and Tossa de Mar. Polish city Krakow is home to stunning architecture and an impressive selection of bars and restaurants while Naples the gateway to the iconic Amalfi Coast plus the fashionable island of Capri. Flights begin operating from April 2016.

Steve Heapy, CEO of Jet2.com and Jet2holidays said:- "We promised next summer is going to be our biggest one yet. We're now making it even bigger with the launch of these three stunning new destinations from Manchester Airport. Our Spanish and Italian routes are some of the most popular so we're thrilled to be further expanding these with Girona and Naples, plus the addition of Krakow, giving our customers even more new and exciting places to visit. All are fantastic additions and show our ongoing commitment in giving people the best choice of holiday spots direct from their local airport. I'm confident they will be extremely popular for us next year and beyond."

Stephen Turner, Commercial Director at Manchester Airport added:- "It is pleasing to see Jet2.com and Jet2holidays launch these three new routes from Manchester Airport, the UK's global gateway from the North. With over 22 million people living within our 2 hour catchment, 2 full length runways and all time record passenger numbers, Manchester Airport has, and will continue to have, the available capacity and demand to meet the needs of our catchment that extends as far North as Scotland and South to the Midlands."

New destination information:-

► Girona (Costa Brava):- Twice weekly departures run from 20 May to 26 September 2016.

► Krakow:- Twice weekly departures run from 28 April to 27 October 2016.

► Naples:- Twice weekly departures run from 29 April to 28 October 2016.