Special science day is a sensation with young boffins at Church Square Shopping Centre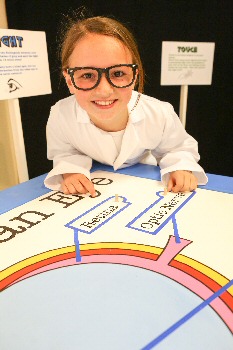 A team of crazy scientists made sure kids enjoyed a truly sensational time at a St Helens shopping centre. The trio of barmy boffins, whose mission was to cook up a magical interactive experience for youngsters with a hunger for knowledge, were on hand at Church Square to present their free Sensational sessions.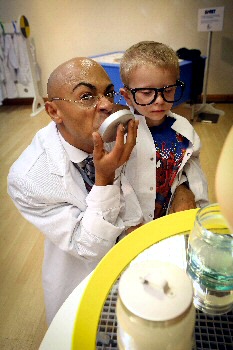 The workshops, which ran from 11am to 4pm, on Friday and Saturday, in St Mary's Arcade, helped youngsters find out in a fun way about the senses of sound, sight, touch, smell and taste.

Kids turning up for the sessions were invited to play a hands on role by using ingenious devices including the Massive Nose Mask; a big polystyrene carved nose they put on to put to sniff out the mysteries of their sense of smell.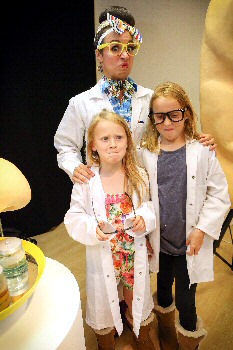 The Big Ear Soundscape Game, in which a speaker was concealed inside a large false ear, helped inquisitive youngsters sound out how human hearing works. And the team's Eye Jigsaw; a magical light box featuring an image of the eye and its component parts; showed inquisitive kids how to focus on the various things they see around them.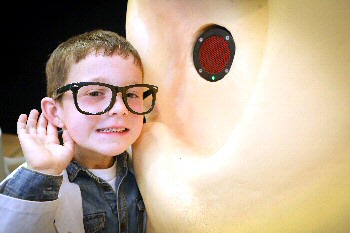 More pieces of terrific kit for young experimenters to use were the Texture Wheel to give them a feeling for touch and Taste bud Locator to help them understand how different tastes are sensed.

Amongst the 1st try out the experiments on Friday were 9 year old Kady Saunders and her sister Macy, 6. They came along to Church Square with their mum, 39 year old Linsey Saunders, who said:- "I'm originally from Haydock but we now live in Milton Keynes. We were up here to visit my mum in hospital and decided to come along to the centre for breakfast. We saw Professor Sniffit from Sensational and she directed us to the experiment area. Both girls are really interested in science so it was a great morning out for them. They had a go at everything and they particularly enjoyed the one testing their sense of touch where they had to identify different textures while they were blindfolded. They also liked doing the experiment where they had to pick out different smells. They got coffee, curry and mint mouthwash. It was very nice to find something like this to keep the children occupied, especially as it was raining outside."

A delighted Kady said:- "I dressed up like a real scientist in a white coat and glasses to do the experiments. We were testing out the different things for quite a long time and the ones I liked best were about touch and smell. We've had a great time and I'm glad we came."

It was a similar story with another junior experimenter, 4-year-old Gabriel Campbell from Billinge, who was there with his little brother Malachy, 2, and their dad, Paul Campbell. Paul, 40, said:- "We saw details about the event online and decided it would be good to come along and see what was going on. As we live in Billinge we hadn't been to Church Square before but I'm really glad we came. Gabriel tried out all the experiments and was having an absolute ball doing them. It was good to find something educational like this in the half term holidays and was much better than just sitting in front of the TV set all day."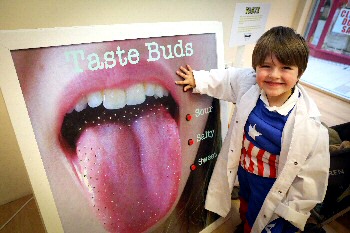 Gabriel said:- "I've had a great time doing the experiments and the one I liked best was where you had to smell different things and say what they were."

Church Square Shopping Centre manager Steve Brogan said:- "The Sensational event has been really popular with youngsters, and they seem to enjoy finding out about the 5 senses. We wanted to put on something that was both fun and educational to keep youngsters entertained during the holiday week, and it certainly seems to be a hit."

Church Square Shopping Centre is open daily and home to a range of big name stores; such as River Island, BHS, Boots and Superdrug; along with independent retailers plus the busy St Mary's Market. Details on what's happening at the Centre at:- ChurchSquareStHelens.Co.UK.