Southport to host Charles Chipperfield Circus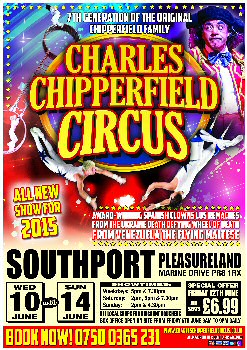 THE Charles Chipperfield Circus is making the 1st ever visit to Southport in over 25 years. A performance not to be missed full of fun excitement and danger featuring from Venezuela Flying trapeze award winning clowns and Wheel of Death. The Chipperfield's Circus is a long running English family show that can be traced back to the Thames Frost Fair of 1684. The show takes place from, Wednesday, 10 June to Sunday, 14 June 2015, at Southport's Pleasureland Car Park, on Marine Drive, PR8 1RX. Show times are from 5pm to 7:30pm Wednesday to Friday and Saturday 2pm, 5pm and 7:30pm, with Sunday showings 2pm and 4:30pm. To get 50% off voucher that is able to be used every night except on Friday, please click on here and print it off, but do not forget to take it with you! If booking on the phone in advance please say:- "Please can you accept the Southport & Mersey Reporter 50% Offer." when booking. Book now on:- 07500365231. Please note that terms and conditions can be found on the Circus Facebook Page and also on their main website.

SouthportReporter.com, PBT Media Relations Ltd. or PCBT Photography take no responsibility for this event or the offer. The voucher has no monetary value.