Africa Oyé partners with Merseyrail ahead of 2015 Festival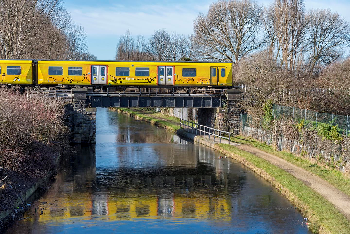 AFRICA Oyé have announced a partnership with Merseyrail, making it easier than ever for people to get to the UK's largest free celebration of African music and culture taking place in Sefton Park this summer.

With the park in walking distance from St Michaels station on the Northern line, local residents and visitors from further afield alike can access the festival using the Merseyrail network. Bike and Go, the UK's only national bike hire scheme, is available at both St Michaels and Aigburth stations, and another great way of getting there.

Jamaican reggae legend Frankie Paul and the UK's Omar will be the headline acts at the festival, which is now just a few weeks away. They will be complemented by the usual eclectic 'Oyé Village', and there will be an array of foods from across the globe, as well as kids' entertainment to keep Sefton Park buzzing throughout the weekend

Africa Oyé's Artistic Director Paul Duhaney said:- "We're delighted to be working with Merseyrail again in 2015. With the festival audience growing year on year it's vital that we promote and provide festival goers with sustainable transport options and this partnership allows us to do just that."

Kaj Mook, customer services director at Merseyrail, commented:- "Merseyrail is keen to support events such as Africa Oyé, which enhance Liverpool's rich cultural offering. And, with a service as frequent as ours, being able to get to and from an event easily, conveniently and cheaply, simply adds to the overall enjoyment of a day out."

Merseyrail offers a variety of ticket products at affordable prices....
► A family ticket for up to 2 adults and 3 children costs £10 and can be used on the network for an entire day.
► Day Savers start from £3.70 for adults or £1.85 for children.
Both these tickets are off peak and can be used after 9.30am, Monday to Friday. and all day on weekends and bank holidays. You can visit:- Merseyrail.Org, to check timetables or plan your journey. Alternatively, you can plan your journey using the Merseyrail App, and also get live departure times and directions to each station. The Merseyrail App is available to download for free from the Apple App Store and Google Play for Android. You can also follow:- @merseyrail on Twitter for live travel information.

Play our phone interview with local legend Ray Quinn
THIS is our audio interview with the amazing and multi talented Scouser, Ray Quinn. Ray 1st got the publics attention when he arrived on the set of:- 'Brookside', back in 2000 to 2003. On the TV side he later came back into the spotlight when he auditioned for the 3rd series of:- 'The X Factor' in 2006. He later finished in 2nd place behind Leona Lewis. That led on to 4th series of:- 'Dancing on Ice,' back in 2009 and the final of:- 'All Stars' series in 2014. His latest big TV hit came in February 2015, when he became the winner of the very first series of:- 'Get Your Act Together.' All that and he has managed to make yet another new album, that he is now showcasing on a UK Tour. Plus he is also still doing TV shows, and even performing in the Judy Garland Song Book production. So click on and play to hear what he has to say about Liverpool and his musical career, plus his Tour. For full dates of all the shows and for the latest information about him, do not forget to follow him on both Twitter and on Facebook. Also don't forget to log onto his personal website, as well as his fan website! Plus if you are interested in getting Ray's Biography, the ISBN is:- 978-0-99-29-298-79. Cost £8.99, available from all good bookshops.
Read this page.

Loving Lodge Lane
THERE will be a 3 day 'love-in' for Liverpool neighbourhoods next week. "Loving Lodge Lane" celebrates all that is good in the area around Lodge Lane and gets communities working together while having some fun. The event started in 2011 in response to media coverage of the 30th Anniversary of the Toxteth riots and was aimed at making the area cleaner and greener. "It is an opportunity for local people to show they love the area where they live. Loving Lodge Lane has been growing each year and this year's event will involve a lot of cleaning, greening, and positive community activity in the three wards around Lodge Lane." said local Councillor Laura Robertson Collins.

The programme includes:-

Wednesday 17 June in Picton Ward, will be:-

► 10.30am A short walk around the ward.
► 10.30am Cake and a Cuppa at Granby Toxteth Development Trust.
► 4pm to 6pm Come Along to Cullen Street; where there will be children's entertainment, La Bamba drummers, craft stalls and a community picnic.

Thursday 18 June in Greenbank Ward, will be:-

► 10.30am Routes to recycling; with the 'Recycling Champions' who will be out and about to provide information.
► 10.30am Cake and a Cuppa at Granby Toxteth Development Trust.
► 3pm to 6pm Fun on Fern Grove Garden including healthy eating with 'Happy Go Cooking', local produce stalls, compost bins for sale and a plant giveaway.

Friday, 19 June in Princes Park Ward, will be:-

► 10am Liverpool Mutual Homes Impact day on the Coltart Road estate.
► 10.30am A short walk around the ward.
► 10.30am Cake and a Cuppa at Granby Toxteth Development Trust.
► 1.30pm to 5pm Get busy at the Baths Site (Lodge Lane / Grierson Street) with arts and crafts, Bulky Bobs On the Road stalls, the results of a wheelie bin competition and a lot more.

Community skips will be available each day at different locations. Loving Lodge Lane is coordinated by the Granby Toxteth Development Trust.